By Chris McKhann
Shares of New Oriental Education & Technology Group (NYSE:EDU) are climbing back toward the highs, but option traders don't see much more upside.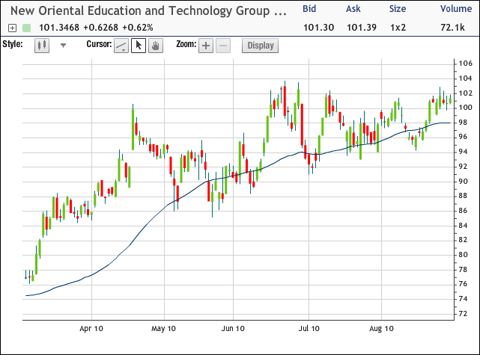 (Click to enlarge)
New Oriental is the largest provider of private education in China. The price currently sits at $101.22, up 0.50 percent of the day. Shares have doubled in the last 16 months, and hit a new high of $103.76 on June 22. Since then, volatility has declined as EDU struggled against resistance several more times.
The volume in the September 105 calls is 20 times the total average daily volume and 20 times the open interest at that strike. Our systems show 4,800 contracts changed hands, with a block of 4,004 sold for $1.00. (An earlier trade for $1.05 was broken.)
The transaction was likely done against long stock in a covered-call position, so the maximum gain will occur if shares are at or above $105 at expiration. The strategy caps potential gains to the upside for the long stock trade, but the extra income from the short calls provides a hedge by reducing the cost basis.

Disclosure: No positions