One of the biggest stories in the technology space in 2014 to watch is Intel's (NASDAQ:INTC) push into tablets. The chip giant fell way behind in the mobile revolution, and is now trying to play catch-up in a huge way. The company will be making a large push into tablets this year, but recent news may show those efforts are hitting a rough patch. Today, I'll discuss the latest news and what it means for investors.
An Android compatibility problem?
I recently read an article published by former SA contributor Ashraf Eassa discussing an Android issue for Intel. The article discusses Intel hitting a speed bump in terms of its Android compatibility. Ashraf used the following image from ARM Holdings (NASDAQ:ARMH) to detail his main argument. His main point, detailed by the article's title, was that ARM had dropped a compatibility bomb on Intel.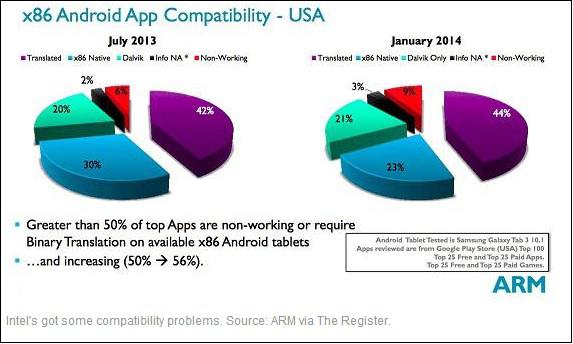 (Source: Article linked above - ARM via The Register)
So what does this all mean? Well, the ARM instruction set has been the standard on Google's (NASDAQ:GOOG) (NASDAQ:GOOGL) Android operating system. Intel is trying to break into Android in a big way this year. Unfortunately, the image above shows a major problem. Here are some of Ashraf's main points:
The upshot of this slide is that as of January 2014, a whopping 53% of the top apps on the Google Play Store either outright don't work on Intel-based chips or run much more slowly as a result of binary translation. The question that investors need to ask now is whether Intel can remedy this situation or if the ecosystem is just too far advanced for Intel to ever hope for X86 to be a first-class citizen on the Android platform.

In order for Intel to be successful in smartphones and tablets, it needs to be successful on Android. The problem is that less than half of the top 100 applications on the Google Play Store run optimally on Intel-based devices. Without the hardware install base, the software won't come, and without the software base, OEMs will be hesitant to adopt Intel-based hardware -- a classic chicken-and-egg problem.

This, however, explains Intel's 40 million tablet campaign. If the majority of these tablets are Android-based (and Intel indicated that during 2014, this has been the case) then developers should, in theory, begin to start more aggressively targeting both ARM and X86 for their programs. Further, Intel should probably get more aggressive in paying developers to port their programs to X86 to put these compatibility problems behind it as quickly as possible.

It is simply unacceptable for over 50% of the top applications on the Google Play Store to run sub-optimally on Intel hardware. The Intel 40 million tablet campaign should help, but until these compatibility issues are more or less dealt with, it's going to be very difficult for Intel to win any tier 1 sockets in either Android smartphones or tablets.
Obviously, Intel needs to break into this space in a major way. Android grabbed nearly two-thirds of all tablet sales in Q1 2014, according to a recent report. Don't forget that another 28% of the market was cornered by Apple (NASDAQ:AAPL). Apple uses ARM chips in the iPad, and Intel seems unlikely to break into the iPad anytime soon.
A troubling report:
Intel's 2014 goal is to ship 40 million tablet application processors in 2014, up from 10 million or so a year ago. A push into Android is obviously a part of this campaign for 2014. Intel reaffirmed this goal on the Q1 conference call and provided this update:
We set an aggressive goal of shipping 40 million tablet SOCs this year. And I'm happy to say we've tallied more than 90 designs on Android and Windows and shipped 5 million units in the first quarter, placing us squarely on track to that goal.
However, a recent Digitimes report believes that Intel's goal is too aggressive. Digitimes Research believes that Intel will ship 32 million processors in 2014, which would be "achieving 80% of its [Intel's] goal." Obviously, 32 million would seem to be a clear disappointment for Intel, but the number above doesn't tell the whole story. Yes, 32 million out of 40 million is 80%. However, Intel shipped at least 10 million units last year. So if you start at 10 million, Intel would be increasing its tablet shipments by 22 million out of a 30 million goal. That's about 73.33% of its goal, a bit less than 80%.
Intel is trying to make a big push into the low-end tablet market, something that competitor Advanced Micro Devices (NASDAQ:AMD) is unwilling to do currently. As I've detailed in several past articles, Intel is using contra-revenues (some may call them subsidies) in an effort to break into this space. These contra revenues are expected to increase a bit as 2014 progresses as Intel's tablet shipments pick up. Remember, the company only shipped 5 million units in the first quarter, leaving the majority for the remainder of 2014. These contra revenues are expected to decrease as we move into 2015.
However, if Intel's 40 million plan falls short this year, the situation may have to be evaluated again for next year. Intel's major tablet push this year will be costly in 2014, but if the company meets its targets, it could set up Intel for an even bigger move in this space. Intel would surely love to steal the iPad business away from ARM, but I don't know if Apple will make a move like that anytime soon. Intel needs to prove itself in this space first, and the chip giant has continued to admit that it is behind in this race.
Where Intel stands now:
When Intel reported Q1 results about a month ago, the company missed on revenues but beat on EPS. Gross margins were better than expected and the company raised its full year GM% forecast. Investors were a little disappointed that Intel's revenues missed given how much we had heard about Q1 PC sales coming in better than expected. Furthermore, Intel did not raise its yearly revenue forecast, which some were looking for the company to do. Most likely, as I've said before, Intel will make revenue forecast changes at its Q2 report, assuming there are any changes. Intel could reiterate its forecast for flat revenues in 2014, which would be a disappointment when looking at current estimates.
Unless the PC industry really improves during the rest of 2014, or Intel's tablet campaign pays off in a big way, Intel is unlikely to set a new yearly revenue record. However, after two years of revenue declines, Intel investors probably will be satisfied with a little growth. 2% revenue growth may be asking a lot, so just 1% would hopefully please the masses. Intel's earnings per share are likely to be right around last year's as well. 2014 was supposed to be the turnaround year, but so was 2013 and that didn't happen. Now, investors really are looking at 2015 as "the year", as current revenue estimates call for a new yearly record. Intel's net income and EPS most likely won't get back to record levels this year or next, as gross margin declines and operating expense increases ding the bottom line. The fact that Intel's buyback has slowed down has stopped a decrease in the share count, which has pressured EPS in recent quarters.
Besides hoping for a PC industry turnaround and a big move in tablets, Intel investors are watching one other key item in 2014, and that's the dividend. The last dividend raise came in 2012, and a dividend raise seems unlikely this year without a change in payout strategy. Intel has been paying out dividends at a level above its target in recent years, and with free cash flow likely to fall a bit this year, the company seems destined to exceed that target again. While Intel still leads its large cap tech peers in terms of dividend yield, the lack of raises has sent some dividend investors away. In the coming weeks, I'll discuss Intel's dividend in more detail.
So what should the key takeaway be for investors regarding the most recent set of news? Well, what I detailed today shouldn't impact Intel in the very short term. If you believe Intel's tablet strategy is hitting a speed bump, the implications are more longer term. It probably would mean a small decrease to Intel's revenues. Also, Intel might need to provide more contra-revenues/subsidies if the company is missing its targets. If that is the case, long-term Intel bulls may need to readjust their expectations. If you had this stock going to say $30 or $32 within two years, maybe you now have to think about $29 or $31 instead. The information I covered today won't kill Intel, it would just make the turnaround process a little longer and tougher.
In my most recent Intel article, I detailed Intel as a decent play for 2015, and stated I currently favor the name for its income potential. I don't view Intel as a screaming buy here, but I wouldn't go out and short it at current levels either. Above $26, for current investors, Intel is a hold with a decent yield. For those looking to get in, I recommended in my latest article a starting position at $25.71, which represents a 3.50% annual dividend yield. Late last week, Intel missed that price point by three cents, but the stock isn't well above that level now. One big down day in the markets could easily push Intel down to that level, where investors could start a position and build if shares go further lower.
Final thoughts:
Intel is attempting to make a large push into tablets in 2014, but recent news may show those efforts are hitting a speed bump. A large number of the top apps at the Google Play story either don't work on Intel based chips or run much slower due to binary translation. Digitimes Research also thinks Intel will fall well short of its 40 million tablet processor shipment goal for the year. While none of this news is a tremendous negative for Intel, investors may need to reduce the top end of their expectations for the chip giant. Intel's turnaround is already taking longer than expected, so another delay would not be a huge surprise.
Disclosure: I have no positions in any stocks mentioned, and no plans to initiate any positions within the next 72 hours. I wrote this article myself, and it expresses my own opinions. I am not receiving compensation for it (other than from Seeking Alpha). I have no business relationship with any company whose stock is mentioned in this article.
Additional disclosure: Investors are always reminded that before making any investment, you should do your own proper due diligence on any name directly or indirectly mentioned in this article. Investors should also consider seeking advice from a broker or financial adviser before making any investment decisions. Any material in this article should be considered general information, and not relied on as a formal investment recommendation.