25% percent gains in less than a month

The two biggest fertilizer companies are too expensive

Buy shares of this company under $61
Last week fertilizer stocks all surged in unison after the world's largest mining company BHP Billiton (NYSE: BHP) tried, and failed, to acquire the world's largest potassium company Potash Corp. (NYSE: POT).
Right now, there's only one company in the sector that's still (relatively) inexpensive. More on that company in a minute…
First, a little tooting of my own horn: just over a month ago, I recommended you pick up shares of another fertilizer company (now the second largest) -Mosaic Co. (NYSE: MOS).
Here's what I said on July 22:
"I like this company because they have a track record of solid profits, they have very little debt, and buying them today [is] a bet that the world will continue eating more food…

It's a great time to buy this company. It's selling near 52 week lows, and fertilizer is still one of those sectors that is largely unloved by the broad market. When mom and pop start seeing their grocery bills go higher… Mosaic will be pocketing the profits.
I love this company under $45 (the 50 day moving average), but I think it's safe to nibble under $54 (the 200 day moving average). Buying blue chips under their moving averages is a simple and safe strategy to make sure you're getting a relatively inexpensive entry point."
Even before the take-over bid made headlines, Mosaic's stock made significant gains. But after the bid, shares jumped about 10% in one day.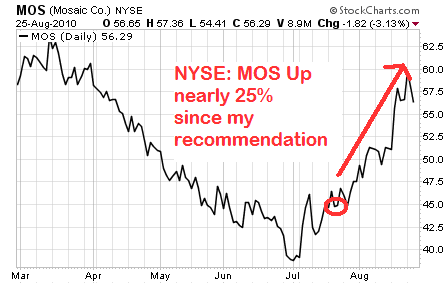 I hope you were able to take advantage of this recommendation to pick up 25% gains in about a month. That's tough to do in any market, but this past month, you would have been lucky to break even if you invested in the broad stock market.
Today, Mosaic is over my buy-price of $54. I wouldn't sell the whole position, because I really like Mosaic, but it wouldn't be foolish to take some money off the table at this point.
There aren't many fertilizer companies with a global reach - and right now there's only one company in the sector that's attractively valued.
Potash and Mosaic are #1 and #2 in terms of market cap and total income, and they're both selling for more than 30 times earnings.
But the third largest fertilizer company, Agrium Inc. (NYSE: AGU), currently sells for less than 20 times earnings. That's about a 45% discount on a valuation basis. This company has very little debt, international sales, a diversified product lineup split between wholesale fertilizer and agriculture products as well as retail home and garden products.
This company has all the appeal of Potash and Mosaic, with the additional benefit of being cheaper on a valuation basis. And it's in the same potassium-rich location as Potash (Saskatchewan, Canada), so it could just as easily be a takeover candidate, especially since it's not as richly valued.
It's seen some share price appreciation over the past week, but not as much as its peers.
Okay, so it's the cheapest international fertilizer company, but at a PE of just over 19, it's not necessarily cheap. I think we'll see strong growth in this sector going forward, especially as the burgeoning middle class in China demands more fertilizer intensive foods such as beef and pork. But there's no sense in putting your capital at risk at expensive valuations.
I'd wait for a pullback over the next few weeks, and look for a price target of $61 or lower.
Disclosure: Author holds a position in MOS.