Netflix (NASDAQ:NFLX), the world's biggest internet television network, continues to add millions of new subscribers in each quarter, despite the increasing threat coming from competitors.
The company is working to improve the quality of its services at home while it is nearing profitability in its international operations in the near future.
Improving Streaming Quality
In the first quarter, Netflix added 2.25 million new subscribers in the U.S, taking the total number of streaming subscribers to 35.67 million, of which 96% are paid members. The company's domestic streaming revenues climbed 25% from last year to $799 million while contribution margin increased to 25.2% from 20.6% last year.
Netflix is working to improve the speed and quality of its services to its growing pool of domestic subscribers. The company has signed deals with two of the leading internet service providers, Verizon Communications (NYSE:VZ) and Comcast Corporation (NASDAQ:CMCSA).
For subscribers, so far, the results of these deals have been mixed. According to Netflix's ISP Speed Index, in April, Comcast's streaming speed increased by 31% from April, last year but on the other hand, Verizon's FiOS and DSL subscribers witnessed an 8.3% and 24% drops in streaming speeds. This is shown in the picture below.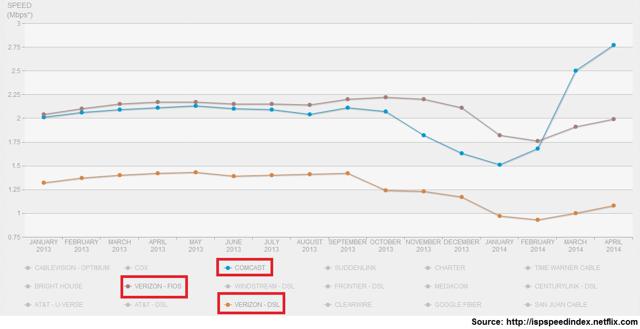 Click to enlarge
Due to the absence of an increase in speed on Verizon, Netflix has been criticized in a recently published article, which, I believe, was unfair.
The Comcast deal was signed in late February while its impact became apparent in March with a big jump in streaming speed. Similarly, the Verizon deal was signed in late April therefore its impact will likely become visible in May.
Expanding Globally
In international markets, Netflix added 1.75 million new customers, taking the total international subscriber count to 12.68 million, of which 93% are paid members. Here, the company reported year-over-year revenue growth of 88% to $267 million, easily outperforming the growth in domestic market.
Meanwhile, the international contribution margin shrunk to -13.1% from -54.2% a year ago.
For the current quarter, Netflix has forecast a 54% year-over-year growth in international subscribers, despite the headwinds coming from the FIFA World Cup as audiences shift their focus on soccer.
The company has, however, said that it will continue making heavy investments in Europe. France and Germany could be the next big markets for Netflix, following its success in the U.K. The management has said that Netflix will be premiering shows in these and other markets that it "won't necessarily have in the United States."
Besides these markets, Netflix's success in Mexico, Argentina and the Nordic countries has also given a boost to its international expansion.
Due to its focus on expansion rather than earnings, Netflix has forecast "modest" profit expectations from the international markets.
However the company's loss making international streaming business is on track towards profitability in the current year (see picture below), which could be a big achievement.
Improving Contribution Margins
Over the last several quarters, Netflix has consistently improved its contribution margins driven by better results in domestic and international streaming units.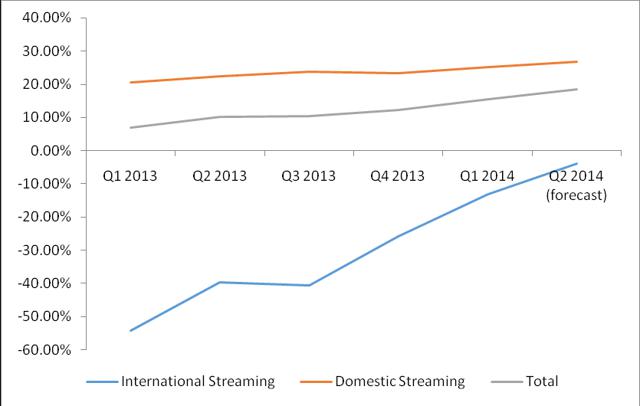 Click to enlarge
The company has also recently increased the price of its monthly streaming service by a dollar to $8.99, for the new subscribers. Besides Netflix, Amazon (NASDAQ:AMZN) has also increased the price of its streaming service to offset the negative effects of rising costs.
For Netflix, the price hike can also give a boost to its top and bottom line growth and support its profitability. According to Seeking Alpha contributor Trefis, the company can generate additional revenues of nearly $500 million over the next three years from just the domestic market.
Increasing Competition
Netflix has been facing tough competition from Amazon's Amazon Prime Service, which has recently signed a deal with HBO to offer the latter's older shows to Prime customers. The deal, however, does not include some of the extremely popular series such as "Game of Thrones".
Meanwhile Yahoo! (NASDAQ:YHOO) has also emerged as a serious competitor. The company has recently announced two original comedy series called Other Space and Sin City Saints. These will be shown, for free, on the company's website and mobile apps as well as on Apple TV and Roku devices from 2015. Unlike Netflix, Yahoo will primarily rely on the video ads as its main source of revenues.
Other Space is the brainchild of Paul Feig, the director of the movie Bridesmaids, the creator of television series Freaks and Geeks and director of The Office. Sin City Saints is being produced and directed by Mike Tollin and Bryan Gordon, who have previously worked on some of the highly acclaimed shows such as Smallville, One Tree Hill and Curb Your Enthusiasm.
Moreover, Yahoo will launch a new Yahoo music channel from July which will show one concert daily, thanks to its partnership with LiveNation. Consequently, Yahoo's Evntlive team will likely play a bigger role in this new channel.
Last year, Yahoo acquired Evntlive, a startup co-formed by Cisco's former CTO Judy Estrin which works on improving the streaming concert viewing experience.
In the meantime, Microsoft (NASDAQ:MSFT) has also announced several new original programs that will be streamed on its Xbox consoles.
Netflix, however, sees HBO (NYSE:TWX) as its main competitor and is quickly catching up with the premium cable giant in terms of the number of subscribers.
Have a look at what the company says at the end of its earnings letter.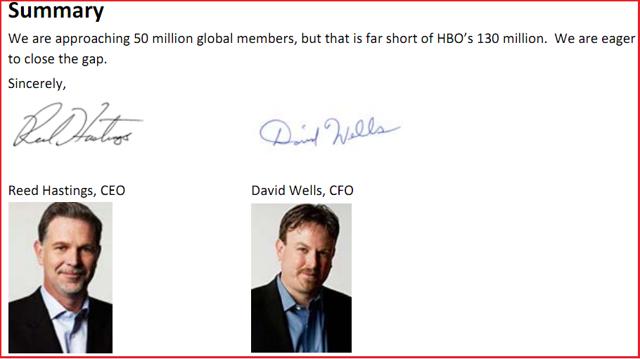 Click to enlarge
Bottom Line
Netflix is working on improving the quality of its service to domestic subscribers. In the international markets, Netflix is eyeing profitability in the current fiscal year but due to continued expansion efforts, the margins will be modest.
Meanwhile, the streaming industry is becoming increasingly competitive, but most of Netflix's competitors are also engaged in other businesses. None of them count online streaming as their primary source of revenues or income. Netflix is still the only pure play here, which is one of the reasons why its stock continues to trade at lofty valuations (in terms of price-to-earnings ratio).
Additional disclosure: This article was written by Sarfaraz A. Khan, with valuable contribution from Gohar Yousuf, research assistant at Half Bridge Business Review. Neither Sarfaraz A. Khan, nor Gohar Yousuf have any positions in the stock(s) mentioned in this article.
Disclosure: I have no positions in any stocks mentioned, and no plans to initiate any positions within the next 72 hours. I wrote this article myself, and it expresses my own opinions. I am not receiving compensation for it (other than from Seeking Alpha). I have no business relationship with any company whose stock is mentioned in this article.