Based on one of my previous articles entitled 2 Tech Stocks With Low P/E And High Margin, which highlighted IBM's (NYSE: IBM) undervalued P/E, a comment was made by bneill about whether or not the lack of revenue growth and borrowing for stock buybacks justifies the low P/E. I think it's a valid question. In this article I'll be analyzing IBM's revenue growth prospects and recalculating an adjusted P/E based on zero stock repurchases for the year.
Preface on revenue growth
Revenue growth is not essential for earnings creation, in fact revenue growth only means that a company sold more, which any company can do at a discount to cost. The mark of a good business model is not revenue growth but profitability -- Wal-Mart's stated strategy is to increase revenues faster than operating expenses. That said, a company that is consistently focused on higher margins may experience times of decreased revenues as resources shift to higher margin areas. IBM is in the process of trying to shift away from hardware and into software, a higher margin segment.
Buybacks
Before we delve into revenue growth, I want to discuss the effect of stock buybacks on P/E. Management tends to justify stock buybacks, especially when taking on additional debt, by showing that the company can borrow money at a rate that is much lower than the return generated from investing in its own stock, and IBM's P/E is low enough for this scenario to be a distinct possibility, but it's still a risk -- as Miller & Modigliani would say, the bird is not yet in the hand. Still, a stock buyback decreases the number of shares outstanding which increases EPS and lowers P/E so its worth looking into.
We know from the Q1 10Q that the weighted average shares outstanding went down 7.3% compared to last year. If we use last year's weighted average shares outstanding as a proxy for a share count without buybacks, EPS declines by 7.8%. The company barely beat consensus estimates of $2.537 with EPS of $2.540 -- needless to say the buyback was most likely planned as a way to manipulate earnings up, but this is not unusual.
IBM is currently trading at $190.08. If the current GAAP ttm EPS for IBM is ~$15.00, and we assume a 7.8% decrease due to buybacks, full year EPS declines to $13.64 and P/E increases from 12.8x to 13.9x -- not much of a difference, but slightly better. Furthermore, the 45.2 million share buyback cost $8.2 million, $3.7 of which came from an increase in debt transactions, both short- and long-term. The average fixed rate cost of interest at the end of last year was 3.07%. So, if IBM's stock goes up to $197 the stock buyback can be justified.
That said, the amount of the buyback was large, as was the decline in cash on hand, which is something an analyst from UBS pointed out on the last earnings call:
You talked about a couple of financial measures first your share repurchase was very large this quarter, could you talk what you anticipate going forward. I am assuming it was pretty front end loaded but kind of what do you see for the full year. And perhaps related to that you had roughly doubled your non-financed debt over the last year, did you say that you would take that ratio from 55% down to roughly 39% by the end of the year which is where you have ended last year?
The CFO, Martin Schroeter had this to say in return:
So on share repurchase we did front end load this year's share repurchases. So we would expect on a full year basis to finish probably a little bit less than where we were last year. So we will continue to return capital to shareholders through the rest of the year, but it will be at a reduced rate relative to the first quarter. And then on a debt to capitalization ratio which you noted was 55%, we will probably run in the 50s in the next couple of quarters, but we will be back down to that where we started the year again by the end of the year.
In other words, the issue is being blamed on timing. IBM knows the buyback was large, and will be reducing the amount of repurchases for the rest of the year. Additionally, free cash flow at IBM tends to be backloaded -- net/net investors will see an improved debt to capitalization ratio by the end of the year.
Moving towards higher margin
Now, let's go back to revenue growth. Revenue was down 5 percent, 3% adjusting for currency, with software up 4% and systems and technology revenue down 26%. That said, systems and technology is a lower gross margin product than software so this drop in revenue may be intentional.
This "profitable markets" strategy is outlined on IBM's website. It consists of a business model which specifically targets higher margin lines of business for growth opportunities.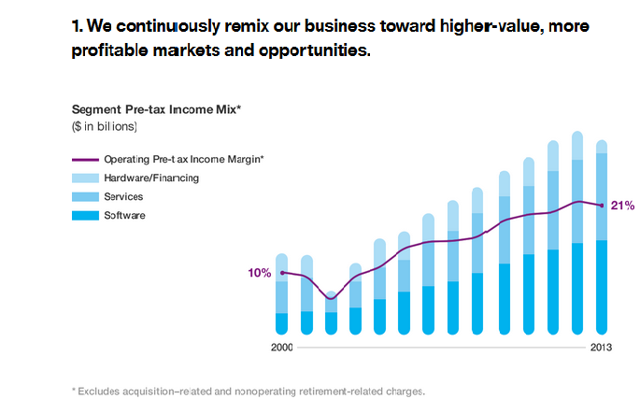 Source: IBM
The segment with the highest gross margin is software, which is where IBM is shifting its business. As you can see from the chart below, the highest margin product area is indeed software at 87.5% and the lowest margin area is systems and technology.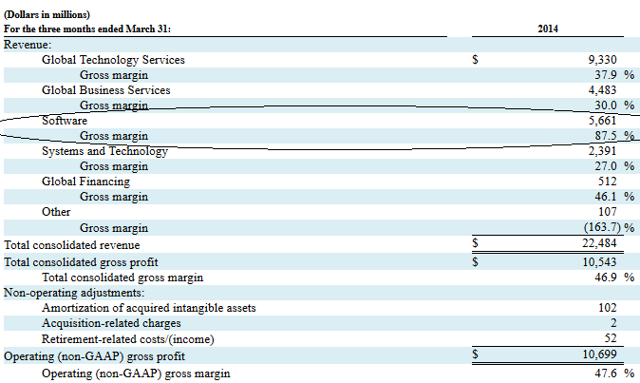 Source: IBM Q1 10Q
It is this shift to higher margin businesses with higher earnings growth potential that, according to the company, will propel EPS to $20 per share in 2015.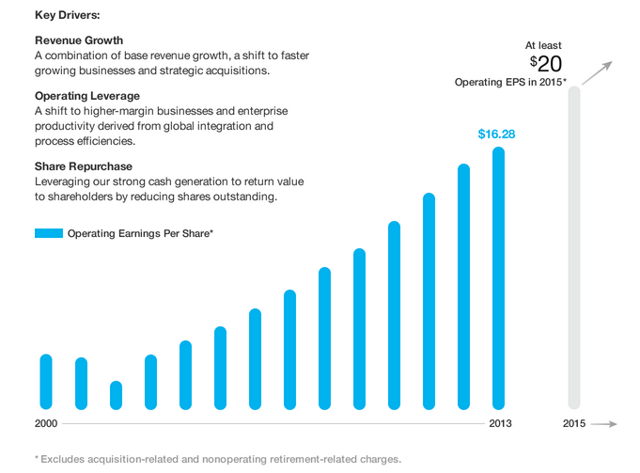 Source: IBM
Given the company's current GAAP EPS is at ~$15, this target may appear overly ambitous. However, on the last earnings announcement the company said it expects EPS to be at $18 for the full year, which makes $20 EPS an achievable target for 2015. It's also worth noting that this expectation does not include the sale of Lenovo, so GAAP EPS will likely be even higher.
Conclusion
Here's an excerpt from the company's 10Q to ally investor concerns:
The company measures the success of its business model over the long term, not any individual quarter or year. The company's strategies, investments and actions are all taken with an objective of optimizing long-term performance. A long-term perspective ensures that the company is well-positioned to take advantage of major shifts occurring in technology, business and the global economy.
This is the foundation of a good value investment and something investors should be mindful of when temporary dips in revenue and cash flow arise. Indeed, this business model is what gives IBM the ability to generate cash for its investors with an annual dividend of $4.40. International Business Machines, nicknamed "Big Blue", has been around since 1911 for a reason, and the reason has a lot to do with the business model.
I try to buy stock in businesses that are so wonderful that an idiot can run them. Because sooner or later, one will. -Warren Buffet, Source: At a panel discussion after the premier of the documentary "I.O.U.S.A" (2008)
So, in answer to your question bneill, I think the P/E is unjustified. IBM is on sale -- this is a buying opportunity for a bellwether company with one of the best business models in the industry.
Disclosure: I have no positions in any stocks mentioned, and no plans to initiate any positions within the next 72 hours. I wrote this article myself, and it expresses my own opinions. I am not receiving compensation for it (other than from Seeking Alpha). I have no business relationship with any company whose stock is mentioned in this article.