With a population of over 1.3 billion people, more than 4 times the population of the US, China is flush with opportunities. We at Valuentum think one of the greatest long-term investment opportunities in the country has to do with ongoing Internet penetration, specifically related to search engine use and technology. Baidu (NASDAQ:BIDU) is at the forefront of increased Internet penetration in China, and its recent results have showed fantastic sales expansion. For example, the firm noted that total revenue advanced nearly 60% in its most recently-reported first quarter from the corresponding period in 2013. For me, the relationship with Baidu goes back almost ten years when I worked at a buyside firm that was lucky to receive an allocation on the initial public offering thanks to my efforts. I even held on to the prospectus as a souvenir.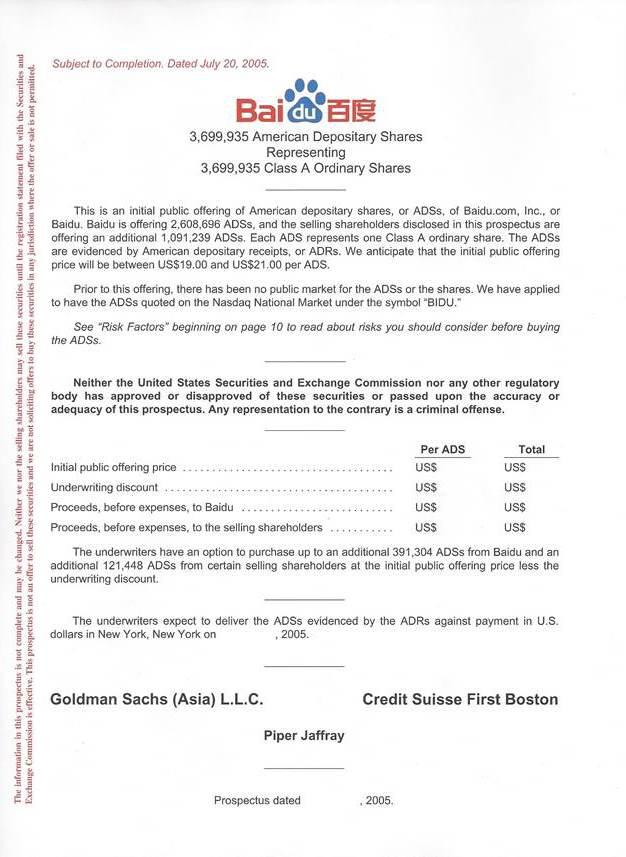 Image Source: Baidu Tombstone
Most investors associate Baidu with the general industrial economy in China, but we don't think this is a fair association. An overheated real estate market, an undefined shadow banking system, and a commodity-driven trade environment in China have little to do with whether a Chinese consumer is going to go on the Internet. Baidu's mission is simple: provide the best way for people to find what they're looking for online. The firm continues to invest in its technology and applies its deep understanding of the Chinese language and culture to tailor search results to a user's needs. In the Chinese language, for example, there are 38 ways to say "I" - so Baidu benefits greatly from significant barriers to entry in the language alone, absent technological advancements.
Though there are much smaller peers in Chinese search such as Qihoo's (NYSE:QIHU) 360, Sohu's (NASDAQ:SOHU) Sogou, and Tencent's (OTCPK:TCEHY) Soso--and Alibaba's (ABABA) future ambitious plans could impact Baidu to a degree--we doubt any firm that is not natively based in China will ever develop a platform that better serves the country's 1.3 billion people. And for those firms based in China, Baidu has a significant first-mover advantage that would be nearly impossible for existing peers to overcome (even if they consolidate), in our view. Depending on how search traffic is measured, for example, Baidu controls roughly 60%-80% of the country's search market. China is massive and growing, and Baidu is the undisputed leader in search there, with a unique opportunity to also expand into ancillary products.
That said, we've been puzzled at Baidu's share price performance as of late. For what has traditionally been considered a high-beta company with fantastic growth prospects, usually the majority of attention is placed on the pace of top-line expansion, which accelerated in Baidu's first quarter. Most fast-growing companies are plowing significant investment into the business to grow the top line, so it should be implied that operating profit leverage won't be apparent in the business model until many years ahead - when investment slows. This should be assumed within any analytical framework. However, the Street is focused more on current reported profit growth (which is not as fast as revenue growth) than on the pace of profit expansion that could be achieved once investments slow -- the long-term view. Baidu can slash investments to achieve fantastic bottom-line growth in the near term (at will), but we don't think this is the right move at present and may hurt its long-term position. However, the Street seems to be asking Baidu to do this, which we view as wrong. In any case, we weren't at all disappointed in the firm's 7% growth in operating profit and 24% increase in net income during the first quarter on accelerating revenue expansion. The market is being a bit too harsh on the firm, in our view.
Clearly, Baidu has an enviable stranglehold on Chinese Internet search, and the firm is investing heavily to make sure that remains the case. Looking ahead to the second quarter of 2014, Baidu expects to generate total revenue growth between 56%-60% on a year-over-year basis, so investors should expect profit expansion to remain lower than the breakneck sales pace as the firm will inevitably have to invest to achieve that performance. We like the company's long-term prospects quite a bit and think that once its bottom-line growth starts to mirror the pace of top-line expansion or better, investors will come around to giving the firm an even better valuation.
At the very least, we think Baidu is immune to the country's headline economic news (and stands out versus some of its speculative peers) and has years of fantastic secular (not economic-driven) expansion ahead of it. Valuentum values shares at more than $225 each (please view its landing page here). The company remains a holding in the portfolio of the Best Ideas Newsletter.
Disclosure: I have no positions in any stocks mentioned, and no plans to initiate any positions within the next 72 hours. I wrote this article myself, and it expresses my own opinions. I am not receiving compensation for it (other than from Seeking Alpha). I have no business relationship with any company whose stock is mentioned in this article.
Additional disclosure: BIDU, GOOG, and AAPL are included in the actively-managed portfolios.
Editor's Note: This article discusses one or more securities that do not trade on a major U.S. exchange. Please be aware of the risks associated with these stocks.