Vodafone (NASDAQ:VOD) reported its earnings for the full fiscal year, and the market is not happy. ADR Shares are down by over 5% mid day today. In a previous article written on April 21, I recommended caution for the same reasons which the market punished Vodafone shares today: Continued long-term declines in revenue and profit. In that article, I said that Vodafone would be worth looking at again down at $30 or lower. This article is, among other things, a follow-up to the April 21st article.

Courtesy of Investor Relations
Green Shoots
Overall, revenue in fiscal 2013 was down by two percentage points. Results like those shown above should look familiar to anyone following Vodafone over the past few years. In accordance with the apparently multi-year trend of Europe-lead declines, most of southern Europe declined by double-digits. Northern Europe continues its mid-low single digit decline, with Germany leading the charge at a near 5% drop in revenue. Emerging markets, while strong, were not enough to totally offset weakness in Europe.
But when compared to the latest interim-year results, where revenue declined by 4.8%, this 2% decline is a significant improvement and is indeed a step in the right direction.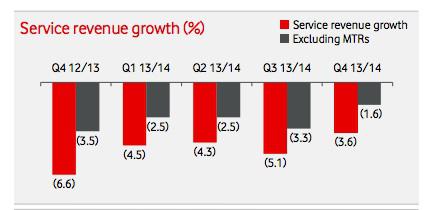 The UK was key to this improvement. As you can see, declines here narrowed significantly. Churn rates were down by 0.4 percentage points and the company added another 148,000 contract subscribers as customers migrate to Vodafone Red. This migration to Red should lead to better ARPU figures in the future.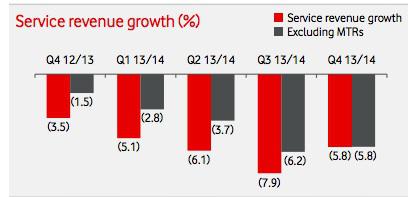 Germany, another very important market for Vodafone, continues to be weak. ARPU here continued to decline. However, Vodafone added 119,000 net contract customers, which could eventually flow through to flattish ARPU numbers going forward. Also, Kabel Deutschland delivered 4% revenue growth. While revenue continues to shrink in Germany, Vodafone is showing some green shoots.
Valuation
In my previous article I said Vodafone would only be worth looking at again if the share price dropped to $30 per ADR share. My reasoning was that business continued to decline, and the dividend yield was quite low compared to that of Verizon and AT&T.
Thanks to today's price action, shares of Vodafone are now considerably closer to $30, which is something I see as a step in the right direction. With a forward P/E of just ten times, Vodafone's value proposition is better than it was a month ago.
However, Vodafone's dividend is still about average. Assuming a flat year-end dividend, the yield on Vodafone ADR shares is still only 4.69%. Granted, the year-end dividend will likely be at least a little higher, which should boost the yield up by a little bit. Despite the modest operational improvement, I still see $30 as a fair price for Vodafone ADR shares, but with some flexibility to the upside now. For example, at $31, Vodafone would have a yield just under 5.25%. That might not be so bad.
When compared to AT&T's yield of 5.17% and Verizon's 4.35%, Vodafone is now somewhere in the middle. That's better than a month ago. However, Vodafone's recovery is by no means certain, and I would caution ADR shareholders to hold out for a yield of around 5.25%. The bottom line is this: Vodafone is a very well-managed company, but it is still best to wait for a better price, if possible.
Disclosure: I have no positions in any stocks mentioned, and no plans to initiate any positions within the next 72 hours. I wrote this article myself, and it expresses my own opinions. I am not receiving compensation for it (other than from Seeking Alpha). I have no business relationship with any company whose stock is mentioned in this article.