It's another ugly day for retail stocks with the SPDR S&P Retail (NYSEARCA:XRT) down nearly 2% and the Retail HOLDRS (NYSEARCA:RTH) down roughly 1%. The difference between the two ETFs is very much a matter of consumer demographics with Wal-Mart Stores (NYSE:WMT) making up more than 20% of RTH.
As consumers tighten the belt, luxury and middle-class retailers are feeling the pinch – while low-end retailers are picking up some of those trade down discretionary dollars. So it stands to reason that low end stores like WMT or TJX Companies (NYSE:TJX) could hold up better than their peers – at least for a while.
Friday's trade gave us a particularly insightful look into the luxury and mid-tier retail space – and the picture wasn't particularly bullish
To begin with, Lululemon Athletica (NASDAQ:LULU) traded below a key support level near $35 on heavy volume. From a technical perspective, this was important not only because the stock has found support above this level three times this summer, but also because the 200 EMA offered absolutely no support.
The action came as Jefferies & Co. cut the stock to "underperform" citing inventory expansion and slowing same-store sales. Now I don't usually put too much credence into the buy, sell, or hold recommendations of most retail outfits, but it is helpful to understand that when Jefferies says "underperform," it means that their brokers can no longer recommend this well-known retail stock to their clients.
Taking a number of "mom and pop" investors out of the buying pool could serve to accelerate the trading trend that we identified in our Luxury Retail SIR. The weak action in the face of a rising market was particularly disturbing and it is not much of a surprise to see the stock off another 10% Monday as investors continue to bail out and this time with an unfriendly market at their backs.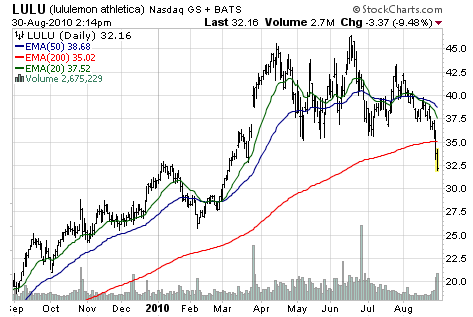 (Click to enlarge)
Tiffany & Co. (NYSE:TIF) is another name that traded off sharply even in the face of a rising market. We already discussed the TIF earnings report which failed to inspire confidence despite management's reassuring words:
Tiffany remains strategically and financially well positioned…
Beating earnings expectations is no longer the standard by which investors judge success or failure. Luxury retail management teams must be able to point to strong demand visibility in the near term – a dynamic which appears impossible given the state of the luxury consumer.
Now that the market is turning south once again, TIF is adding to Friday's losses and is not likely to find support until it has fallen another 10% or more. The price action offers yet another confirmation that when a fundamentally weak stock can't rally in a strong market, then you had better not be long once the market begins to retreat again.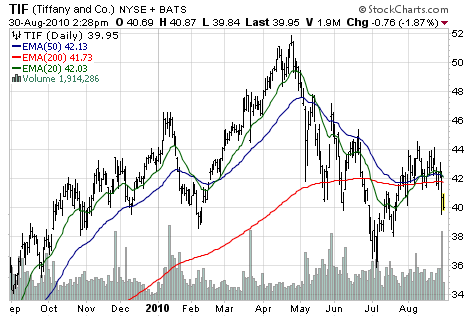 (Click to enlarge)
Whole Foods Market (WFMI) is another high-end retailer that bucked the positive trend on Friday. Last Thursday I mentioned that there was a good argument for a 50% decline in the stock price, and noted important support between $34 and $35.
The level has yet to actually be broken, but with this stock slumping on Friday and down another 2% or so in today's trade, it appears the break is only a matter of time. Retail investors are not likely to put their capital at risk until the fundamental picture becomes clearer – and at present there doesn't appear to be much in the way of newsflow that would cause Wall Street analysts to increase their projections.
This morning's View From The Turret included a chart of J Crew Group Inc. (JCG) which is a good example of a mid-tier retailer which disappointed investors on Friday and continues to trade lower today. Rival Guess ?, Inc. (NYSE:GES) also reported earnings last week much to the chagrin of investors.
With a "swing and a miss" Guess beat analyst estimates for the quarter but management's guidance failed to live up to Wall Street's optimistic standards. As more and more mid-tier and luxury companies offer disappointing guidance, traders will likely become more confident in the bearish trends – pushing shares lower even while price multiples look like good values.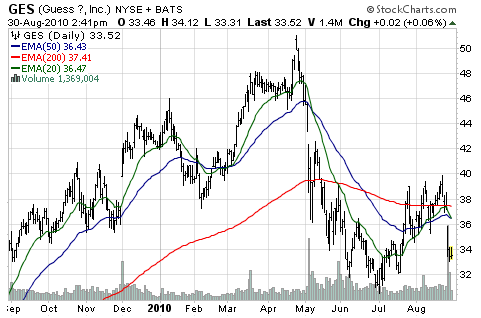 (Click to enlarge)
Disclosure: No positions