Last week Goldman Sachs (NYSE:GS) added Kinder Morgan, Inc. (NYSE:KMI) to its Conviction Buy list, a notch above a regular Buy recommendation and a much coveted category in the Goldman Sachs' rating spectrum. It's like the highest honor being given by the elite round of the Knights Templar. KMI is now featured on the Conviction Buy list with a price target of $44 per share -- representing about 32% upside potential from yesterday's closing price of $33.24.
Natural gas growth story not new information
In the research note send to clients, the Goldman Sachs analyst argued:
After a large wave of long-haul natural gas pipeline construction across North America in the 2007-2011 timeframe, construction has slowed significantly over the last several years. We believe the midstream industry is now entering a new wave of long-haul natural gas infrastructure investment focused on supply and demand opportunities, including Appalachia takeaway, gas-fired power generation, LNG, and Mexico exports. As the largest gas pipeline operator in North America, we expect Kinder Morgan will win multiple growth projects in coming years. Kinder has identified $15bn of potential natural gas growth projects, of which only $2.7bn is in its current backlog as of its late January analyst day, and we therefore see large potential upside to its organic growth capital spending in gas alone.

Kinder also provides well diversified, highly stable, fee-based cash flows and solid 8-10% annual dividend growth. We believe shares are attractively valued on an absolute basis, and relative to peer midstream C-corps.
My first reaction to the announcement of Goldman Sachs' Kinder Morgan upgrade: 'Duh. Why don't you tell us something that we don't know?' The growth opportunities in the natural gas business have been widely discussed and Kinder Morgan has repeatedly pointed the business segment out for extraordinary growth opportunities.
The charts below highlight Kinder Morgan's natural gas footprint, projected natural gas supply/demand figures in five year increments until 2024 and Kinder Morgan's natural gas growth opportunities -- charts have been taken from Kinder Morgan's most recent investor presentation (see source below):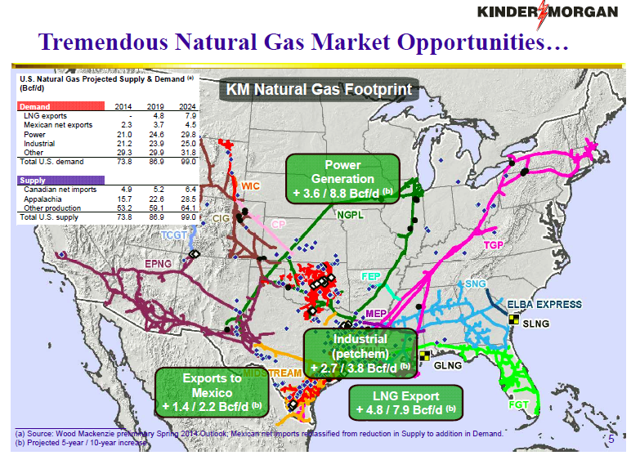 (Source: Kinder Morgan, Companies Run By Shareholders, For Shareholders Presentation, May 15, 2014)
The next slide summarizes that Kinder Morgan's energy business is largely going to be driven by its natural gas segment, which isn't that surprising since Kinder Morgan controls the largest natural gas network in the United States. Furthermore, the natural gas segment contributes to approximately 54% of Kinder Morgan, Inc.'s cash flow and approximately 43% of Kinder Morgan Energy Partners' (NYSE:KMP) cash flow.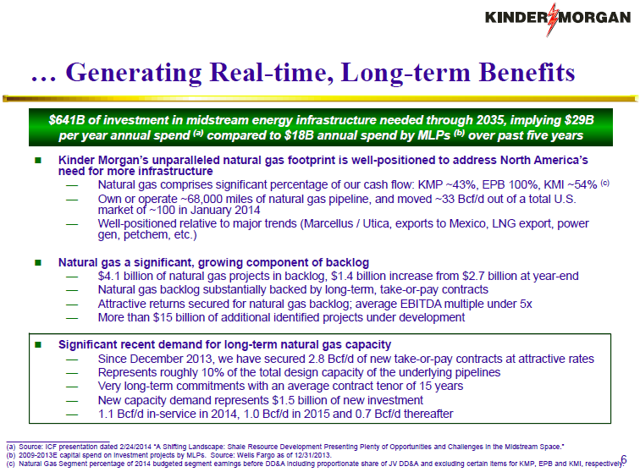 (Source: Kinder Morgan, Companies Run By Shareholders, For Shareholders Presentation, May 15, 2014)
Apparently, some investors questioned Goldman Sachs' stance on Kinder Morgan's energy business. As a consequence, Goldman Sachs analyst Theodore Durbin felt compelled to defend last week's upgrade (Source: Streetinsider):
Sentiment in KMI has been poor over recent months/quarters, and we found a similar negative reaction to our report. Investors continue to pushback most on (1) growth and (2) financial flexibility. On growth, the market remains skeptical that KMI's primary MLP, KMP, can hit its stated 5% annual distribution growth target, which would then slow KMI's stated 8% growth target. Skeptics believe KMP capex and/or returns on capital will decline over time. And bearish investors correctly point out that KMI is not a pure play on Marcellus/Utica infrastructure growth. On financial flexibility, the market remains focused on Kinder's tight coverage ratio, KMI-level taxes, warrant dilution, and maintenance capex.

On growth, we acknowledge Kinder is not a pureplay on Appalachia infrastructure, but we believe its announced (~9% of consolidated EBITDA) and potential incremental projects can add meaningfully to cash flow and backlog growth. With gas infrastructure becoming increasingly in focus, we believe Kinder will benefit from growth in Appalachia and across the continent at strong returns. On financial flexibility, we believe Kinder can manage coverage given its highly feebased/hedged cash flow profile. We agree KMI-level taxes and warrant dilution are headwinds, but believe Kinder has sufficient time (3 years) to address these issues. On maintenance capex, we acknowledge Kinder spends a relatively low amount on E&P, however E&P represents only ~15% of cash flows and generates strong returns, and we believe its midstream maintenance is appropriate. We continue to believe shares are attractively valued on an absolute basis and relative to peer C-corps.
Distribution growth targets remain top of the class
Kinder Morgan also reaffirmed its long-term distribution growth targets which will largely be dependent on the success of its natural gas projects. KMI expects to grow distributions by an annual growth rate of 8% and KMP by 5% going forward.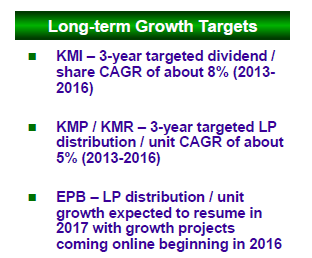 (Source: Kinder Morgan, Companies Run By Shareholders, For Shareholders Presentation, May 15, 2014)
Technical picture
From a technical perspective, I like Kinder Morgan Energy Partners much better than KMI, because the units of Kinder Morgan's midstream business sold off sharply in February after a negative Barron's article questioned the distribution prospects of the company. I have been pushing hard to make the case for Kinder Morgan Energy Partners for a variety of reasons: First of all, I think Barron's article was misguided and downplayed the success Kinder Morgan had in expanding its energy business. Secondly, distributable cash flow, a key metric for high cash flow/high distribution pipeline businesses has been growing strongly for Kinder Morgan. Just a short while ago, I pointed out the importance of Kinder Morgan Energy Partners' y-o-y cash flow improvements:
KMP's distributable cash flow before certain items actually increased a whopping 26% y-o-y from $550 million in Q1 2013 to $693 million in the most recent quarter. KMP's distributable cash flow per unit before certain items grew to $1.55 compared to $1.46 per unit in the year ago quarter: An increase of 6% and handsomely covering the quarterly distribution of $1.38 per unit.
Thirdly, I just love buying quality companies with high distribution yields when the market turns negative on them -- just like it happened in February 2014, see KMP's chart below. In fact, the more negative the sentiment, the better: I am one of those regular buyers on dips and it has served me well.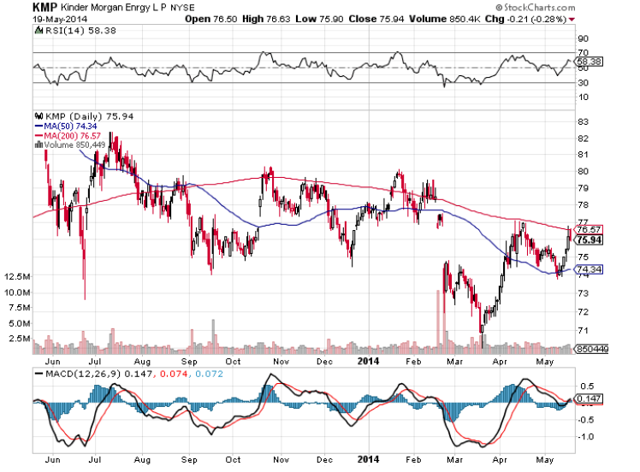 (Source: StockCharts.com)
Kinder Morgan, Inc., on the other hand, didn't experience such a forceful sell-off like Kinder Morgan Energy Partners, though shares also consolidated and bottomed out in the low $30s.
Shares of KMI and units of KMP have rebounded strongly after both marked their Lows in mid-March.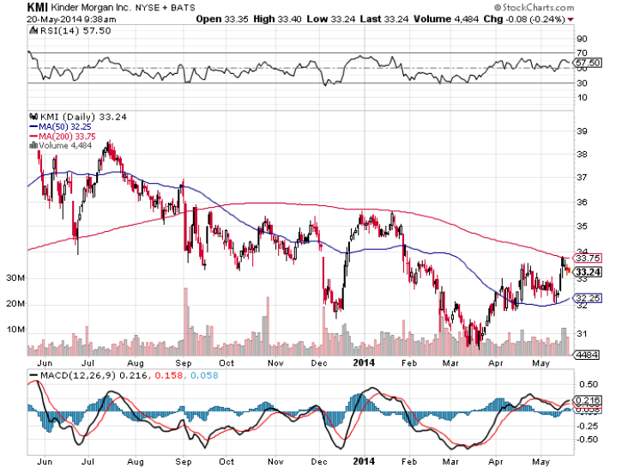 (Source: StockCharts.com)
Final assessment
While I appreciate that Goldman Sachs caused shares of KMI to trade with more resilience after the Conviction Buy list upgrade, seasoned Kinder Morgan investors will hardly find new reasons to add shares of KMI or units of KMP to their portfolios. Serious long-term investors have identified long ago the compelling value proposition of Kinder Morgan which goes way beyond mere distribution growth targets. Many of those investors are also not discouraged by declines in share and unit prices, but use every opportunity to add a high-quality, high-yield income play to their portfolios; a savvy move in my opinion. Kinder Morgan remains a top income vehicle with a very well played natural gas story, and, let's not forget that, a capable business founder who is eager to invest alongside regular retail investors. Strong, long-term BUY with or without Conviction Buy list upgrade.
Disclosure: I am long KMP. I wrote this article myself, and it expresses my own opinions. I am not receiving compensation for it (other than from Seeking Alpha). I have no business relationship with any company whose stock is mentioned in this article.