Persistent concerns for the global economic recovery kept the underlying mood among investors fragile, as disappointing economic data continued to weigh on the market.
Existing US home sales fell 27.2% last month to the slowest rate for 15 years and new home sales tumbled 12.4% in July to the lowest pace on record. US Government data also showed new orders for durable goods such as cars, machinery and household appliances rose a meager 0.3% last month, which was far below a 2.8% rise forecast by economists and the biggest decline since January 2009.
This week's data adds to the recent flurry of reports suggesting that the recovery of the US economy is faltering, with the influential housing market showing renewed signs of weakness. Second quarter GDP is likely to be revised lower and the outlook for the worlds largest economy is slowly deteriorating.
Europe's sovereign debt concerns have resurfaced after Standard & Poor's credit ratings agency downgraded Ireland's credit rating by one notch to AA- and assigned the country a negative outlook, providing a reminder of the difficulties facing the region.
The spread between Irish and German 10-year government bonds reached a record 347 basis points this week, while the Greek-German spread broke above 900 basis points for the first time since the EU/IMF emergency rescue package in May.
The VIX index of US equity volatility, often regarded as a barometer of broad risk aversion among investors, rose this week to its highest level since early July.
Technical analysis highlights that the index appears rangebound over recent months, with 5000 seen as the next logical support level. The oscillators are trending lower indicating that momentum is waning, but they are in oversold territory and the RSI is nearing its trend line. Should 5000 hold then a move back up to 5400 is likely, but a break below initial support could trigger a sharp decline towards 4800. (Click to enlarge)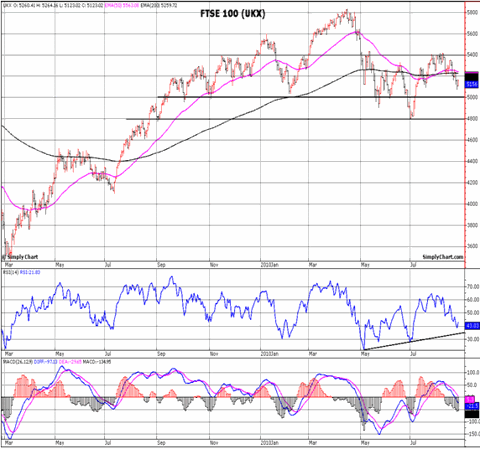 In summary, global growth is undoubtedly faltering and the outlook for the major advanced economies is vulnerable, although it is important to point out that we are still growing albeit slowly. The cautious tone is likely to persist ahead of a number of key US economic reports next week, but as summer holidays draw to a close it should prompt an increase in volumes and direction to a lackadaisical market.
Defense companies have been among the worst performing sectors in the past six months and BAE Systems (OTCPK:BAESY), Europe's largest defense group, has not been without its problems. It was the subject of serious corruption charges in the US and under threat of cutbacks in the defense budgets of most developed countries.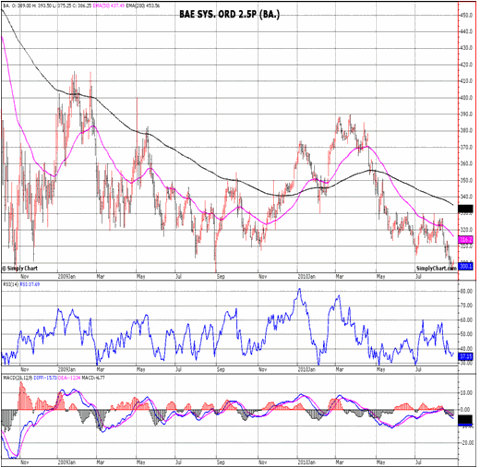 A glance at the above chart of BAE Systems shows the shares are now lower than they were during the height of the financial crisis and are at levels last seen in 2005.
The Ministry of Defense's strategic defense review will report in Autumn and should bring some much needed clarity to investors, although it is important to note that the UK only accounted for 19% of BAE's sales last year.
Chief Executive Ian King recognizes the possible slowdown in many developed economies and has started to diversify away from reliance on its biggest markets. The group has recently ramped up exports to areas such as Oman, Japan and India where the long terms prospects look extremely promising.
Interim results on the 29th July showed that despite the markets apparent concerns BAE is still increasing its profits. Net profit for the six months ending June 30th was £618 million compared to a net loss of £82 million in the same period a year ago.
The group is close to completing a £500 million share buy back programme, which will be positive for earnings when the markets recover. The final dividend was increased by 9% and more than twice covered by earnings the 5.7% yield also looks secure. At current depressed prices BAE is trading on forward earnings of 6.9x, which is a significant discount to peers and historically good value.
At the time of writing the share price is 300.1p and with a tight stop loss marginally below multi-year lows at 287p, the trade offers an attractive risk/reward proposition, with near term targets are seen at 316p, 324.75p and 224.5p.
Disclosure: No position
This report was written by Mark Allen – Head of derivatives at Simple Investments Stockbrokers. The writer does not hold a position in BAE Systems, but client accounts may. The material in this report has come from Simply Charts and BAE System's corporate website.