As discussed in "Prospect Capital: What Comes Next? Part 1" Prospect Capital (NASDAQ:PSEC) has recently disclosed that the SEC may require the company to restate its financials and consolidate certain holding companies within its portfolio. This article includes my projected net investment income ("NII") for this coming June quarter along with the resulting dividend coverage and undistributed NII. This article will not discuss the merits or accounting impacts of a potential restatement and assumes status quo and no changes to its financials. On a call yesterday at a Wells Fargo conference the President was responding to questions regarding a potential restatement including: "our net income therefore goes up through restatement and that's what we want people to understand. Net income will go up, net asset value will go up, leverage will be unchanged because we are using no third party debt the holding company. There is no attempt to lever up off the balance sheet." At this point my projections are not restated and assume no change in base management or incentive fees related to higher amounts of NII and net asset value ("NAV") with no changes to the dividend policy or leverage ratios. If the company announces that it will restate its financials I will change my projections to more accurately reflect new guidance from management.
Growth Capital
The following table shows the impressive access to debt capital for PSEC which is mostly at fixed rates especially after taking into account some of the recent notes that were issued and used to pay down the credit facility.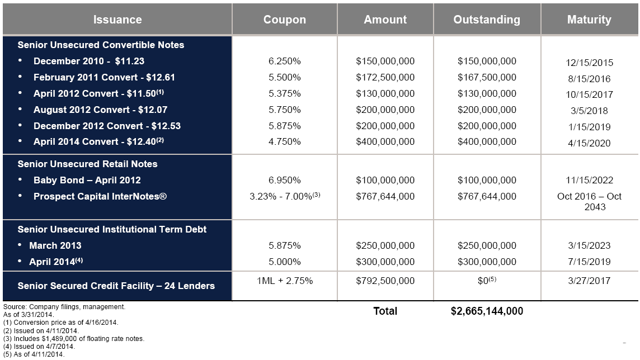 Since March 31, PSEC has:
Issued 7.7 million shares raising $84 million
Issued $300 million of senior unsecured notes at 5.00%
Issued $400 million of senior convertible notes at 4.75%
Increased total commitments to its credit facility by $45.0 million to $837.5 million
PSEC has also issued, sold and converted various Prospect Capital InterNotes. On the recent call the President mentioned "We have lots of different diversified access to capital and we have about a $1 billion of liquidity currently between our cash on hand and our undrawn revolver that we can use for the future."
However PSEC has consistently stated that its preferred debt-to-equity ratio is 0.75 which it achieved in the most recent quarter. The President also mentioned "our equity issuance has stopped and we won't be issuing equity for a while. So folks are worried about equity issuance essentially a team overhang, that's done for a while." There are pros and cons to this but basically PSEC had around $3.56 billion in equity as of March 31 and then issued 7.7 million shares for another $84 million for an estimated total equity of around $3.65 billion. Assuming a debt-to-equity ratio of 0.75 would allow the company to increase debt by only $42 million assuming the company did not issue additional shares. There is a chance that PSEC will increase its use of leverage and I will discuss in my 'best case' scenario.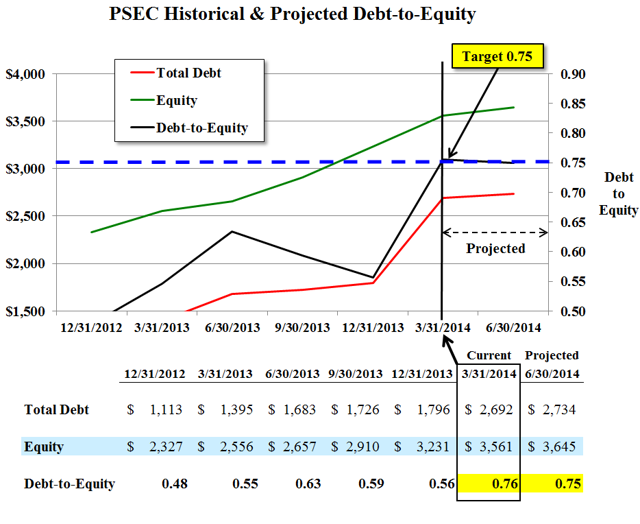 Base Case Scenario
Since March 31, PSEC has booked $268 million of originations and $97 million in repayments for net investments of around $170 million. Its investment pipeline is currently more than $500 million in potential opportunities but this is compared to $800 million the same time last quarter. Assuming that PSEC keeps its debt-to-equity ratio close to its targeted 0.75 plus the $84 million in equity and a portion of its cash reserve, I have assumed $250 million in net portfolio growth this coming quarter.
As discussed in my article "Prospect Capital: What Comes Next? Part 1" PSEC has been experiencing yield compression similar to other BDCs and has become increasingly reliant on 'other income'. It should also be noted that many of the structuring fees included in other income are related to control investments that could be impacted by the latest SEC issues. During the call, the President discussed a strategic initiative that could increase or at least maintain yields as well as potentially increase fee income: "We've announced a strategic initiative to basically take our lower yielding assets and sell them into a vehicle, not like others have done in the cross collateralized fashion that consumes a 30% basket. But in a way where we sell assets and retain management and basically manage account where we receive a creative fee income from some of those assets into pool." This would most likely take a few quarters to have a full impact.
PSEC has some of the highest management fees in the industry. The base management fees are driven by the amount of gross assets at 2% a year paid quarterly (the high end of what other BDCs charge) and includes idle cash that accounted for 4% to 5% of assets over the last two quarters. The incentive fees are par for the industry at 20% of pre-incentive net investment income and gains. I have increased 'Other G & A' slightly and these amounts will be difficult to project but I would expect some variances due to onetime and recurring expenses related to increased accounting and professional fees over the coming quarters.
Worst Case Scenario
I assumed the same amount of portfolio growth, reduced the portfolio yield by 0.2%, increased the amount of other G & A and reduced other income to $7.5 million. In this scenario I also assumed that the company would use a smaller portion of available cash. This scenario is unlikely but shows my bottom line for PSEC.
Best Case Scenario
I assumed an increase in its debt-to-equity to 0.80 to maximize returns and a stabilized portfolio yield. I have also increased the amount of other income to reflect higher amounts of structuring fees similar to previous quarters.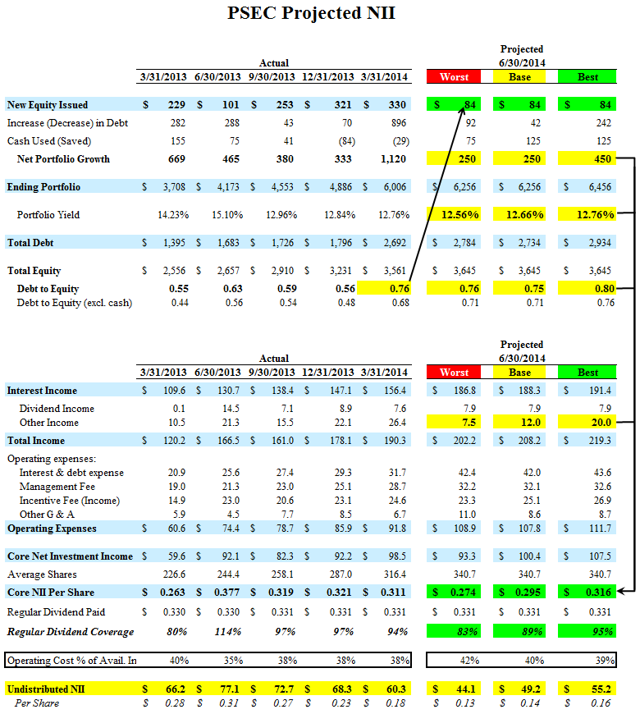 The base case is between the worst case NII per share of $0.274 and best case of $0.316 and around 10% short of covering dividends and I will be using this information to update the profit rankings in "BDC Rankings: May 2014".
Undistributed Net Investment Income
The last lines in the previous table show the impact to the undistributed NII which is approximately the amount of cushion that PSEC has to cover dividends from quarter to quarter. This amount is important to watch in the coming quarters. In my last report for PSEC I noted that this amount decreased by $4 million or 5% to 6% per quarter which was not significant but as PSEC continues to add shares and/or if yields continue to drop this could increase over time. During the most recent quarter this amount decreased by another $8 million. The chart below shows the historical and projected decline in undistributed NII using my 'base case' scenario. PSEC has been using this amount to cover dividends over the last three quarters.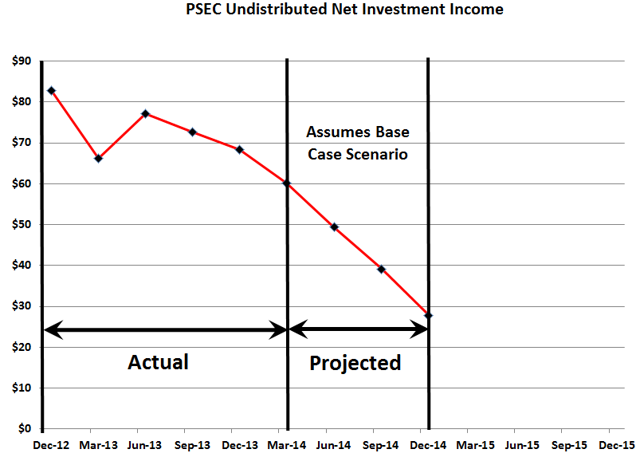 I do not believe PSEC will cut dividends unless there is a serious economic crisis but as this reserve deceases so does its NAV per share but would be offset by portfolio gains or future accretive equity issuances.
Disclosure: I have no positions in any stocks mentioned, and no plans to initiate any positions within the next 72 hours. I wrote this article myself, and it expresses my own opinions. I am not receiving compensation for it (other than from Seeking Alpha). I have no business relationship with any company whose stock is mentioned in this article.