Elon Musk is unquestionably a visionary and one of the smartest CEOs in the world. After selling PayPal to eBay in 2002, he has since co-founded not just one, but three companies that are disruptive innovators within their respective industries: SpaceX, SolarCity and Tesla (NASDAQ:TSLA).
Some compare Mr. Musk to Steve Jobs; others compare him to PT Barnum. Either way, investors who bet on Elon Musk since Tesla's IPO in June 2010 have been richly rewarded. Tesla's 2010 IPO price was $17; Tuesday's close was over $195, a whopping 1047% increase. Although its share price has declined 25% from its March all-time high (along with many other high-flying stocks), Tesla shares remain 580% higher than just two years ago, with a current market cap of $24.2 billion.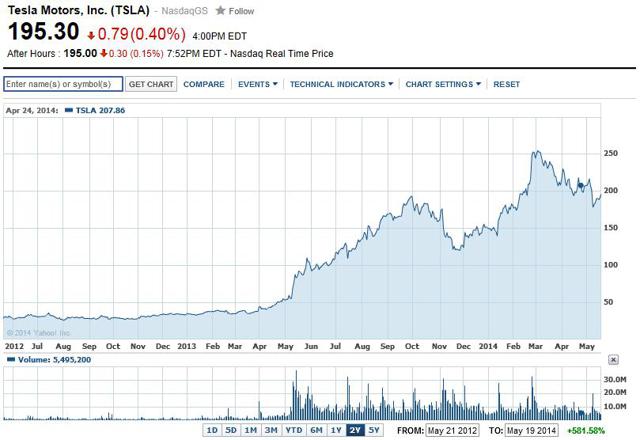 Assessing the strengths and weakness of a company's leadership is an essential consideration when deciding to invest in a company. But so is valuation.
Elon Musk is a brilliant CEO, without question. But is Tesla really worth $24 billion?
Defenders of Tesla's sky-high valuation typically make two points. First, they claim, Tesla is a technology company more than a car company, and deserves a P/E comparable to high-growth software startups, rather than Ford or GM. Second, given its tiny market share, Tesla has incredible long-term growth potential over the next decade.
Both are fair points worth exploring. Unlike high-tech companies such as Facebook (NASDAQ:FB) or Google (GOOG, GOOGL), who provide software and cloud services at near-zero marginal cost, Tesla is a product design and manufacturing company. Do Tesla cars contain cool technology? Absolutely. But Tesla must design, build, warranty and service physical products. It must manage a complex supply chain, carry inventory and operate assembly lines. Software companies do none of those things. Although Google dabbles in products - Glass, Chromebooks, etc. - their economic engine is 99% software and they outsource their manufacturing. (Google's unsuccessful experiment in acquiring and quickly selling money-losing and dilutive Motorola Mobility only underscores the point.)
When comparing Tesla to other automakers, one can certainly argue that Tesla deserves a premium, but how much? Here's a simple comparison of market cap to prior 12 month sales:
| | | | |
| --- | --- | --- | --- |
| Company | Market Cap (billions) | Sales (billions) | Price/Sales Ratio |
| Tesla | $24.2 | $2.1 | 11.5 |
| General Motors (NYSE:GM) | $54.9 | $156 | 0.35 |
| Ford (NYSE:F) | $62.9 | $147 | 0.42 |
| Toyota (NYSE:TM) | $172.1 | $253 | 0.69 |
Source: Yahoo Finance
Let's imagine the year 2020, assume everything has gone according to plan and Tesla has achieved its publicly stated goal of 500,000 cars per year by 2020. Let's also assume a reduced vehicle average selling price of $55,000, based on a blended fleet average that includes the Model X and/or other lower-cost models in the pipeline, resulting in annual sales of $27.5 billion.
In 2020, even with a price/sales ratio twice that of Ford, Tesla would be worth less than it is today ($27.5B x .84 = $23.1B).
Does Tesla deserve a sales/price valuation premium? Yes. Does it deserve a 30x premium over GM and a 25x premium over Ford? No.
Indeed, Elon Musk acknowledged Tesla's frothy valuation last August during a CNBC interview:
'I really feel like the valuation we have right now is more than we have any right we have to deserve honestly' and 'We need to make sure we really knock the ball out of the park over the coming years.'
What was Tesla's share price at the time? $157, which is 19% lower than Tuesday's close.
One-Time Infrastructure Discounts
In terms of market share, Tesla does have great potential upside ahead. According to the company, Tesla is on track to ship 35,000 cars this year and is targeting a production rate of 1,000 cars per week by the end of the year. (In comparison, Toyota alone shipped over 9.1 million vehicles over the past 12 months - about 175,000 per week.)
According to Tesla's May 7, 2014 shareholder letter:
"To meet the growing demand for Model S, we have been expanding our internal production capability and have secured production increases from our suppliers, including increased cell supplies from Panasonic. Production is now at almost 700 vehicles per week, up 15% from our weekly production rate at the end of Q4. By the end of 2014, we expect the production rate to rise to 1,000 vehicles per week."
500,000 cars per year by 2020 - about three weeks worth of Toyota's current annual volume - represents significant growth for Tesla, to be sure. But where will the plant infrastructure come from?
In 2010, after Toyota moved its Corolla manufacturing to Mississippi, Tesla opportunistically acquired Toyota's vacant manufacturing plant in Fremont (GM was also a prior owner) for a bargain price of $42 million. In 2011, Tesla purchased $17 million of equipment and inventory from Toyota, also at a significant discount. Both were terrific deals, but also one-time events.
In terms of plant capacity, Toyota produced about 300,000 Corollas per year from the Fremont plant at full-strength, well below Tesla's 2020 target. Achieving it, therefore, will require building or buying much more expensive capacity. Tesla's much larger competitors, of course, already have the capacity. They will need to retool for ZEV production, of course, but the plants are bought and paid for.
Declining Public Policy Subsidies
In its own disclosures, Tesla acknowledges that its growth and profitability are materially dependent, in part, on a number of government-sponsored programs and subsidies that are questionable over the long term. To date, Tesla has been the beneficiary of various federal programs, including DOE financing and Zero Emission Vehicle (ZEV) tax credits. The federal ZEV subsidy offers a $7,500 tax credit to any purchases of a ZEV, including electric cars; California offers additional credits which can increase this discount to $12,500.
In California, Tesla has also benefited through environmental ZEV credits that the company earns from selling each vehicle. California's stated goal is to have 15 percent of all cars sold in California to be ZEV by 2025. Like other 'cap and trade' programs, manufacturers that are behind the curve in complying with the state's requirements can purchase credits from other manufacturers of ZEV, such as Tesla and Nissan. In 2013, that represented a $250 million revenue windfall for Tesla.
As competitors begin to ramp up their electric fleets, of course, they will no longer need to buy credits from Tesla, and those payments will eventually disappear. And sure enough, Tesla's ZEV credits have already tapered off significantly from last year. In addition, the federal tax credits for buyers will also disappear as each car company reaches the 200,000 ZEV mark, per the law.
Most recently, short-term government subsidies are now being offered in China. In its first quarter financial release, Tesla announced that the Shanghai government has waived the public auction fees for license plates for initial Tesla buyers, essentially subsidizing the price for Tesla buyers by $10,000 to $15,000. Again, a great tactic to stimulate demand in the short-term, but only available for the first 3,000 buyers per automaker.
One of the biggest mistakes investors can make in assessing a company's future growth is assuming that its competition will not aggressively react to innovation, and that government tax incentives and subsidies favorable to the company are immune to modification or expiration.
The Gigafactory
It is well understood that lithium ion batteries are the most critical part of Tesla's supply chain. Since the existing global supply chain for those batteries will be insufficient to supply 500,000 vehicles per year, Tesla has proposed the construction of a new battery 'Gigafactory' to produce and control its own supply. (Tesla's intended Gigafactory partner, Panasonic, has signed a letter of intent, but not yet a contract.)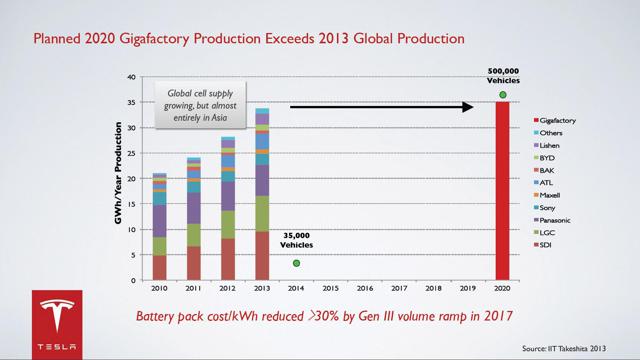 Although Elon Musk has publicly said the company intends to soon break ground simultaneously on two alternative sites, it's worth noting that Tesla has yet to complete a factory design. From the company's May 9, 2014 10-Q Filing:
"While our plan is to attempt to produce lithium-ion cells and finished battery packs for our Gen III vehicles at a new Tesla Gigafactory, our plans for such production are at an early stage and we have not yet finalized a site for the construction of the Tesla Gigafactory nor completed a factory design."
Indeed, the publicly announced dual-groundbreaking plan is curious: without a committed partner, a selected site or a completed design, the groundbreaking events will be far more ceremonial than real. They will reduce negotiating leverage with the states and waste capital. The premature announcement does accomplish one thing: it keeps the perceived Gigafactory momentum going and avoids any public disclosure of delay. A simple question: does that remind you of Steve Jobs or PT Barnum?
Other Wild Cards
Additional threats to Tesla's long-term business model are appearing on the horizon. New Jersey, which like California enjoys Tesla-friendly demographics, joined a number of other states in banning the direct sales of Tesla vehicles, for no reason other than to protect the existing network of auto franchises in the state. While it's easy to question the brazen politics of such moves, it's unknown how many additional states (and/or other countries) will follow suit and similarly restrict Tesla's direct sales business model.
And, finally, there is the labor union issue, and Tesla has already been targeted by the UAW. Some casually dismiss the union threat because Silicon Valley has been historically unfriendly to unions. That may be true for software engineers, but certainly not for assembly line workers. One needs only to recall why the Toyota plant was vacant in the first place: the company found other less costly locations to build their vehicles. Before Toyota closed the Fremont plant, it employed their only unionized workforce.
Again, from Tesla's May 9, 2014 10-Q (note: NUMMI references the Toyota/GM joint venture, which operated the Fremont plant until GM left the JV in 2010):
"Our business may be adversely affected by union activities. …Our automobile production facility in Fremont, California was purchased from NUMMI. Prior employees of NUMMI were union members and our future work force at this facility may be inclined to vote in favor of forming a labor union. We are also directly or indirectly dependent upon companies with unionized work forces, such as parts suppliers and trucking and freight companies, and work stoppages or strikes organized by such unions could have a material adverse impact on our business, financial condition or operating results… The mere fact that our labor force could be unionized may harm our reputation in the eyes of some investors and thereby negatively affect our stock price. Consequently, the unionization of our labor force could negatively impact the company's health."
The union-friendly political landscape of California manufacturing unfortunately surrounds Tesla's Fremont plant, and the risk of unionization there is real. It is exactly why competitive manufacturing capacity in the US continues to shift to right-to-work states, which California is not.
As an innovative, environmentally-friendly upstart, of course, Tesla has been greeted with open arms in California thus far. As California's largest automotive employer, however, Tesla will eventually be asked to pony up like everyone else. Regulatory honeymoons never last forever.
Elon Musk understands this. As Tesla sought new locations for its Gigafactory, California was not a serious candidate. (More recently, in response to urging from Governor Brown and Senator Feinstein, Musk has politely said the California option is 'possible but improbable.' Translation: It's not going to happen.)
Three of the four actual contenders are right-to-work states, and it's a safe bet that the first Gigafactory will be located in one of the three: Nevada, Arizona or Texas. Indeed, Tesla's own Gigafactory plans say a lot about the union threat to Tesla's existing operations.
Without the bargain price for the Fremont plant, California just isn't worth it for manufacturing.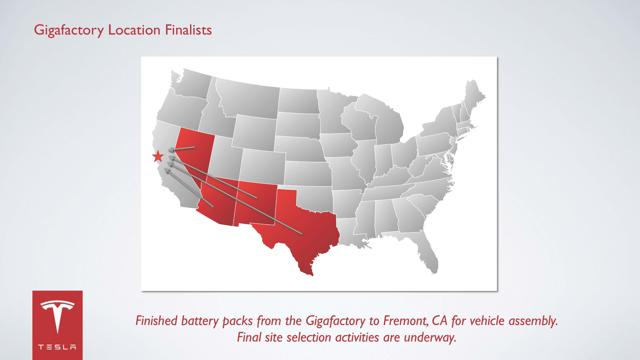 Looking Where the Crowd Is Not
Elon Musk is nothing if not a charismatic and persuasive leader. And it feels great to root for, and invest in, an environmental upstart that is disrupting an aging, carbon-spewing industry. Despite the recent price dip, Tesla shareholders appear loyal and are hanging on to their gains.
But one can also detect increasing confirmation bias among Tesla bulls, who tend to parrot the company's good news, downplay the bad, ignore political wild cards, speculate about China's intentions and are too often dismissive or hostile to upcoming ZEVs from much larger competitors. These include BMW's i8 models - both mid-range and high-end - that will arrive next year, as well as the long-term threat of hydrogen-fueled hybrid ZEVs from Toyota and others.
My personal view is that Elon Musk was right last August. Most of the good news, and little of the inevitable bad news, is baked into Tesla's valuation.
My 12-month Tesla price target: $125-135.
Disclosure: I am short TSLA. I wrote this article myself, and it expresses my own opinions. I am not receiving compensation for it (other than from Seeking Alpha). I have no business relationship with any company whose stock is mentioned in this article.