By Sridharan Raman
Although Arrium's (OTC:ARRMF) fortunes are closely tied to steel prices, the company has reacted to the soft market. Unless steel continues to drop, Arrium may be ready to operate profitably in this environment.
One good sign is that there has been a commitment to infrastructure development in China that is likely to see an increase in demand and may provide a floor for steel prices. Another positive for Arrium is its strong earnings quality. The company scores a high 94 on the StarMine Earnings Quality (EQ) model, which indicates that earnings are coming from sustainable sources. Let's look at some of these.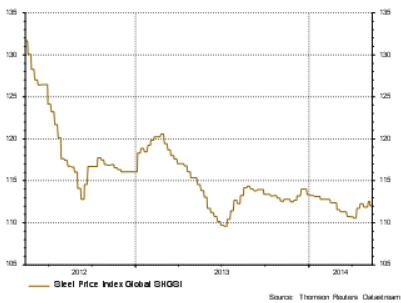 Firm cash flow
The chart below shows that the company has seen strong cash flow from operations, with the last two semiannual periods generating the highest cash flow from operations in five years. The company has generated over AU$470 million (USD $434.19m) in free cash flow over the last year. Strong cash flows are a sign of good earnings quality.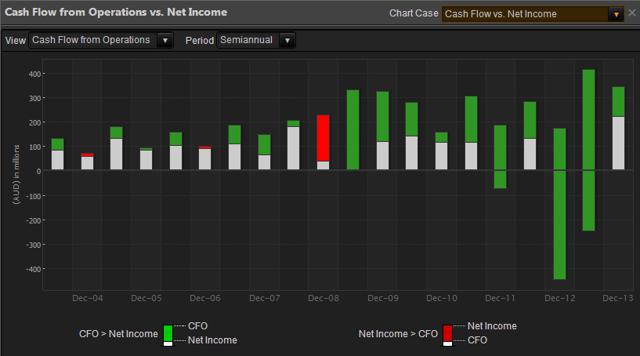 Click to enlarge
Source: Thomson Reuters Eikon/StarMine
Margins look bright
Arrium also has seen operating profit margins increase gradually over the last two years, a sign that the company is reducing costs effectively and operating more efficiently - and its improving margins are in contrast with the rest of the industry's deteriorating margins. In fact in the last period, Arrium's operating profit margins at 11% finally caught up with the rest of the industry, after trailing the industry mean for the last five years.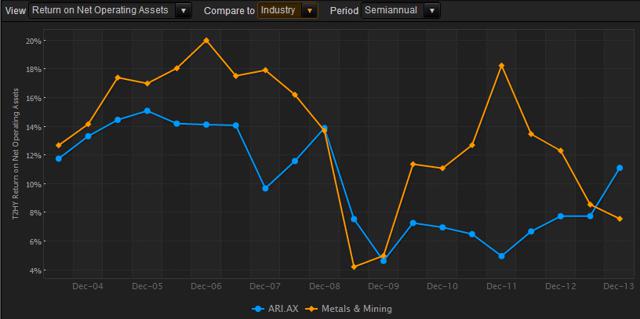 Click to enlarge
Source: Thomson Reuters Eikon/StarMine
Managing assets
Return on net operating assets is another measure of management efficiency. Operating profit margin is one of the components of return on net operating assets. Just two years ago, return on net operating assets was 4% compared to the industry median of 18%. Since then, the industry median has fallen off significantly to 8%, while Arrium's return on net operating assets has gradually increased to 11% and for the first time in more than four years has exceeded the industry median. That's a good sign of earnings quality.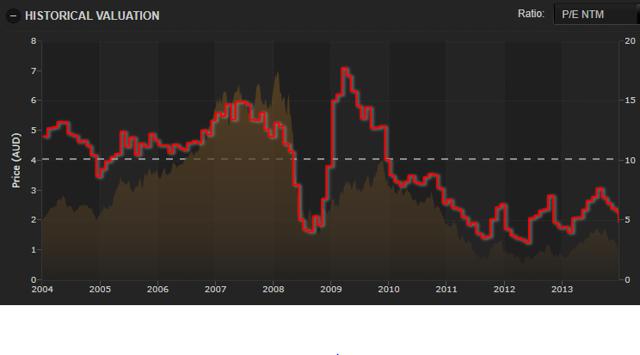 Click to enlarge
Source: Thomson Reuters Eikon/StarMine
Mining for market value
Arrium seems to be cheap, too. The company scores a best-possible 100 on the StarMine Relative Value (RV) model. The chart above shows that the forward 5 year P/E is 4.9, less than half the 10 year median of 10.2. Some companies may be cheap for a reason, but with improving efficiency and a possible floor on steel prices, Arrium may be primed for a rebound.
We can also look at the valuation of the company using the StarMine Intrinsic Valuation model. This model calculates the 10 year growth rate required to justify the current stock price as -5%. We call this the market implied growth rate. That means that the market is pricing the stock expecting earnings to shrink by 5% for each of the next ten years. That seems a little harsh given that the StarMine SmartGrowth rate, which adjusts for systematic biases, is much higher at 9.8%. With strong earnings quality and improving efficiency, it looks like Arrium could be the flag bearer of the Australian mining industry rebound.
Disclosure: I have no positions in any stocks mentioned, and no plans to initiate any positions within the next 72 hours.
Business relationship disclosure: Alpha Now at Thomson Reuters is a team of expert analysts that are constantly looking at the financial landscape in order to keep you up to date on the latest movements. This article was written by Sridharan Raman, independent commentator and analyst. We did not receive compensation for this article, and we have no business relationship with any company whose stock is mentioned in this article.