BlackBerry (NASDAQ:BBRY) has witnessed its market share plummet over the past few years, being surpassed by Apple (NASDAQ:AAPL) and Google (GOOG, GOOGL). Even in Indonesia, the company's last bastion of strength, Android has surpassed BlackBerry. In 2011, BlackBerry held 43% of the market share in Indonesia, but that number has diminished down to 13% in 2013, while Google's Android OS has taken over 81% of the market share. The emergence of cheap phones utilizing Android's OS has been a major reason for this downfall.
Last year, many investors were hopeful for the successful launch of the BB10 platform. Despite encouraging signs early on, sales were short of BlackBerry's expectations. The Z10 failed to convert users of Android and iPhone and even the Q10, despite the QWERTY keyboard, was not popular enough amongst the company's user base to generate satisfactory sales. The second generation has arrived with the release of the Z3 smartphone, which is currently available in Indonesia. Eventually, the phone will be sold in some of the other markets in Southeast Asia.
Currently, our self-learning algorithm has a bearish forecast for the Canadian telecommunication and wireless equipment company for the 1-month, 3-month and 1-year time horizon. The market prediction system is 100% empirical, which means that it is based on historical data and not on any human derived assumptions. The human factor is only involved in building the mathematical framework and initially presenting the system with the "starting set" of inputs and outputs, which is also utilized for recognizing over 1,400 other market opportunities. From that point onwards, the algorithm takes over, constantly proposing "theories" and repeatedly testing them automatically on years of daily market data. It then validates them on the most recent data, which prevents over-fitting. While we are bearish on BlackBerry, we have no positions on BBRY or malicious intentions, and the market prediction process is analogous for every asset tracked.
There is a lot of risk concerning this stock that its investors must accept, and bankruptcy is certainly a possibility for BlackBerry. On the other hand, BBRY has assets that could prove to be profitable, but they would have to be executed very well for this to be reflected in share value. The company has a history of missing the ball and as this company is a high profile brand, any slip-ups are magnified. On Yahoo (NASDAQ:YHOO) Finance, the mean recommendation score is 3.4, where 1.0 is a strong buy and 5.0 indicates a sell position. BlackBerry will likely not perform well enough to increase share value, and any progress will likely be outweighed by negative prospects that will pull the stock down over the forecasted time horizon.
The Z3
In December, BlackBerry proclaimed a five-year partnership agreement with the largest multinational electronics contract manufacturer Foxconn (OTC:FXCOF). Together, both companies will conjointly design entry-level smartphones, and Foxconn is responsible for inventory management, manufacturing, and procurement, greatly reducing risk for BlackBerry. The first product under this arrangement is the Z3. This phone is priced just under $200 and directly competes with Google in the entry-level market. The phone has a 5-megapixel camera and an impressive 5-inch touchscreen. Unfortunately, based on its inexpensive price tag, the phone will produce limited gross profit despite potentially strong sales performance. This profit would also have to be shared with Foxconn.
Other Initiatives
"We have begun moving the company to embrace a multi-platform, BYOD (Bring Your Own Device) world by adopting a new mobility management platform and a new device strategy," CEO John Chen wrote on BBRY's blog. "We are also leveraging our tremendous assets, including BBM, our network and QNX. While we are proud of these accomplishments, we know there is more work to be done."
Chen has reorganized the company into four different business lines, including devices, QNX machine-to-machine technology, BlackBerry Messenger or BBM, and enterprise software and services. While the device business makes up the largest part of the company's revenue, this is probably the least promising in terms of growth opportunities.
In 2013, BlackBerry introduced BBM to iOS and Android as a free application, and will soon make it available on the Windows Phone. After about two months, more than 40 million iOS and Android users registered BBM accounts, although, many of the adopters on were likely former BlackBerry users. Not too long ago, Facebook (NASDAQ:FB) purchased a similar messaging service, WhatsApp, for $19 billion. While BBM has 85 million users and WhatsApp has 450 million users, BBM is still pretty valuable. The service has high engagement where on average 60% of BBM users using the messaging service daily for an average of approximately 90 minutes. Another thing going for BlackBerry is that its encryption is extremely secure. The Heartbleed bug has brought to the surface how vulnerable many of our favorite services are. However, the company needs to figure out how to monetize the BBM service. Senior director of BlackBerry Messenger business development David Proulx, who is responsible for the monetization of BBM, has said the company's first move is the implementation of stickers, which it claims make the service more fun.
The extent of the BBM user base needs to grow if BlackBerry wants to provide more value to this service. The company is trying to do this with eBBM suite. This is a part of BlackBerry's strategy to grow the user base and obtain improved opportunities for monetizing the BBM platform's value. In February, BlackBerry announced the first solution in the eBBM suite, "BBM Protected." As requested by enterprise customers, this service offers a higher level of security with end-to-end encryption of messages, which utilize symmetric encryption keys as well as keeps a record of chats.
QNX is another service that has potential. Apple CarPlay utilizes QNX as a way to connect iOS in car systems as a middleware layer for in the car infotainment. The QNX system is behind the scenes as auto manufactures and now smartphone companies will control the user interface. QNX is involved with over 40 auto manufacturers including Acura, Audi, BMW, Chrysler, Ford, GM, Honda, Hyundai, Jaguar, Mercedes, Land Rover Range Rover, Porsche, Toyota, Volkswagen. There is some room for growth in this sector, but BlackBerry needs to find other uses for QNX to develop the addressable market in order provide more value for shareholders.
Algorithmic Prediction
I Know First utilizes an advanced self-learning market prediction system (algorithm) that is based on artificial intelligence, machine learning and incorporates elements of artificial neural networks as well as genetic algorithms in order to model and predict the flow of money between markets from 3-days to a year. It separates the predictable part from stochastic (random) noise and then creates a model that projects the future trajectory of the given market in the multi-dimensional space of other markets. The algorithm outputs the predicted trend as a number, which in turn, is used by traders to identify when to enter and exit the market. While the algorithm can be used for intra-day trading, the predictability tends to become stronger over longer time-horizons such as the 1-month, 3-month and 1-year forecasts.
Since a Blackberry (BBRY) public prediction published by UpStart Business Journal on behalf of I Know First in November 2013, the stock rose 29.63% in the 3-month time horizon (November 13th 2013 – January 13th 2014). While the stock did not rise in the 1-month time horizon, the algorithm indicated a continuous buy signal over that time frame. The original forecast can be seen below.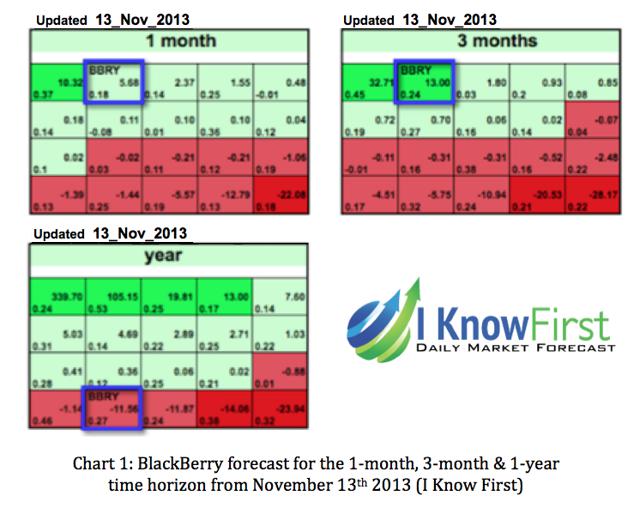 The forecast is color-coded, where green indicates a bullish signal and red indicates a bearish signal. Deeper greens signify that the algorithm is very bullish, as it does at the top of this forecast. BBRY had a bullish signal of 13 and a predictability of 0.24 in the 3-month forecast. The signal is the number flush right in the middle of the box and the predicted direction (not a specific number or target price) for that asset. The predictability indicator is the historical correlation between the prediction and the actual market movements. In other words, the signal represents the forecasted strength of the prediction, while the predictability represents the level of confidence. Further explanations are available here.
Chart 2 displays BBRY's actual market movement against the algorithmic predictions performance in each of the six time horizons since the public forecast above.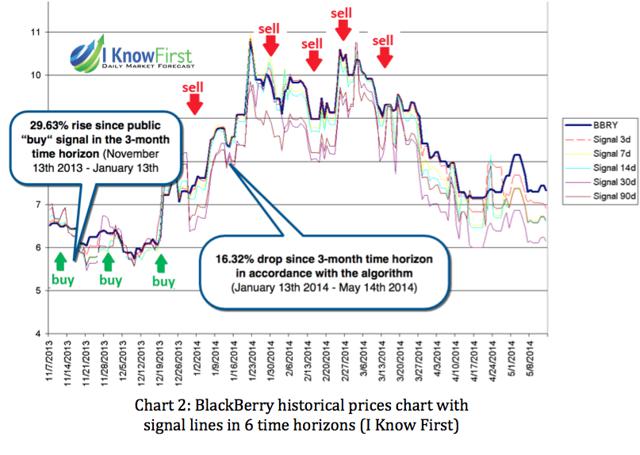 The thick blue line shows the actual historical prices versus the signal forecasted in each of the six time horizons from three days to one year ahead as thin broken color lines. The positive or negative (up or down) signals of the forecast were added to the actual last known price at the time of the forecast. Thus, when the signal line is above the actual line, it indicates a "buy" signal, and if below, then a "sell" signal. Each point on this chart was taken from the actual daily forecast published in the morning before the next market open. The stock is still above the initial forecast price, but we still predict that shares will fall further. This can be seen quite clearly, as the signals are drastically below the actual share price, especially towards the end of the map.
While the time horizon for the 1-year time frame is yet to be over, a trend can be recognized that is almost parallel to the November 13, 2013 prediction in chart 2. BBRY continues to rise after the 3-month time horizon, but a downward trend not too long after is certainly recognizable. The algorithmic outputs are simply not preset to make predictions for the 4-month or 5-month time horizon... so this is one of the reasons we always recommend utilizing the most recent prediction. Since the 3-month target date on January 13, 2014, BBRY shares have fallen -16.32%.
While the company does have positive prospects going for it such as the QNX machine-to-machine technology, there are also very real negatives as well that simply cannot be ignored. For instance, BlackBerry has lost a tremendous amount market share. Chart 3 shows just how quickly BlackBerry is losing global market share (share of shipments).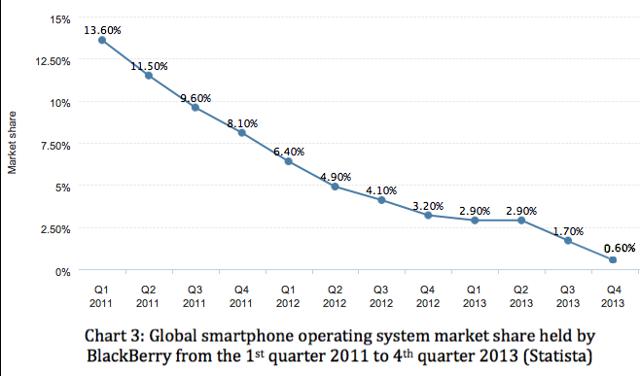 The most contemporary BlackBerry forecasts are very bearish in the 1-month, 3-month, and 1-year time horizon. Chart 4 displays the mid- and long-term time horizon forecast for BlackBerry from May 15th to todays forecast (May 20th), however, there currently are better market opportunities.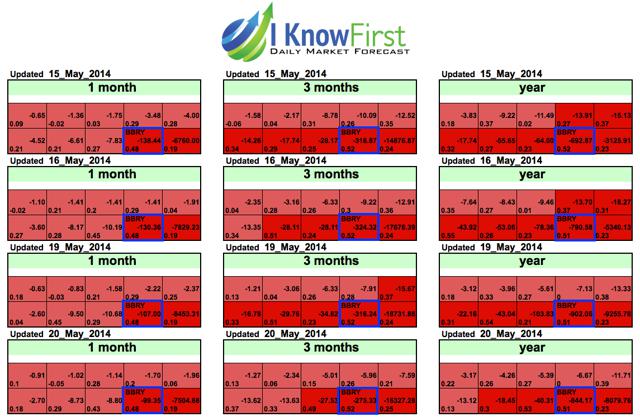 On November 13, 2013, BBRY had a very bullish forecast in the 3-month time horizon, which the algorithm highlighted with a deeper green color. However, as the easy to read algorithmic forecast is color-coded, it conversely displays a deeper red color for when the algorithm is very bearish as well. Unfortunately for BlackBerry shareholders, the algorithm is extremely confident that shares will fall quite aggressively over the stated time horizons.
For the November 13, 2013 three-month forecast, BBRY had a bullish signal of 13 and predictability of 0.24 with a corresponding gain of 29.63%. Now compare that to today's 3-month forecast. BBRY has a signal of -275.33 and extremely strong predictability of 0.52. Reviewing each signal from each date, the signal becomes less strong overall from May 15th-May 20th in each time horizon with limited exception. This could be interpreted as that the drop will be less intense, but the forecast is still very negative. Just to be clear, the signal is the predicted direction and magnitude of the asset, while the predictability indicator is the main gauge for effectively recognizing the confidence of the forecast. Algorithmic forecasts are intended to be utilized in conjunction with traditional forms of analysis in order to reduce risk and optimize returns.
Conclusion
Under CEO John Chen's leadership, BlackBerry is working hard to reduce the risk correlated with its device business and taking advantage of the viable software and services businesses instead. BlackBerry has to race to grow these alternative revenue streams to return to profitability before it burns through its $3.2 billion cash pile. The company is in the beginning of figuring out how to implement these capabilities as products and services that consumers will pay for. Hiccups should be expected along the way as things do happen. However since BlackBerry is in the limelight and has made well-known failures in recent years, each of these hiccups can easily become magnified.
The I Know First algorithm is not alone in this bearish assessment. Regulatory filings with the U.S. Securities and Exchange Commission showed that Loeb's Third Point LLC sold the 10 million shares it purchased in 2013 and once the biggest stakeholder in BBRY, Fairfax Financial Holdings Ltd. is now the second-largest has also sold 5.2 million shares. Loeb also dumped several technology shares, including Yahoo (YHOO) and Apple (AAPL). It is Chen's goal to make BlackBerry break even by the end of next February. The company does have interesting prospects such as BBM, BES or QNX, but the company will have to execute extremely well for shareholders to see the returns they desire.
Business disclosure: I Know First Research is the analytic branch of I Know First, a financial startup company that specializes in quantitatively predicting the stock market. Joshua Martin, an I Know First Research analyst wrote this article. We did not receive compensation for this article (other than from Seeking Alpha), and we have no business relationship with any company whose stock is mentioned in this article.
Disclosure: I have no positions in any stocks mentioned, and no plans to initiate any positions within the next 72 hours. I wrote this article myself, and it expresses my own opinions. I am not receiving compensation for it (other than from Seeking Alpha). I have no business relationship with any company whose stock is mentioned in this article.
Editor's Note: This article discusses one or more securities that do not trade on a major U.S. exchange. Please be aware of the risks associated with these stocks.