As evidenced by the $1.5B of monthly fund flows , the broader investment community is taking notice of the growth opportunities associated with the estimated $640B expansion of North American energy infrastructure. A plethora of alternatives are available to invest in the expansion of US energy infrastructure by way of publicly traded Master Limited Partnerships. Although only 115 exchange traded MLPs are available to investors, there are over 65 packaged products including 7 ETFs, 12 exchange-traded notes, 18 mutual funds, and 28 closed-end funds offering investors a broad spectrum of passive index and actively managed products. Several Exchange Traded Funds and Notes let investors gain beta exposure to this asset class using several different passive and active strategies. The introduction of new index methods further offers MLP investors alternative approaches to optimize exposure and performance. Today, we begin a series of articles on these alternatives, starting with a comparison between the most recognized and utilized benchmark, the Alerian Cap Weighted Index and the recently introduced Miller/Howard MLP Fundamental Index. The former is the pioneer benchmark for performance measurement with over $16B of AUM linked to the index family. Miller Howard is a well established asset manager positioned to offer RIA's and retail investors a broader set of investment vehicles to access the MLP sector. The Miller/Howard MLP Fundamental Index is new to the market and is the performance benchmark for one product, Citi's Exchanged Traded Note. Our analysis will focus on the index methods and compositions to assess which offers investors a greater opportunity for total return exposure to the asset class.
Alerian MLP Index Overview
The AMZ is a float-adjusted, market cap-weighted index tracking 50 Master Limited Partnership units. The top three constituents of Enterprise Product Partners LP (NYSE:EPD), Kinder Morgan Energy Partners LP (NYSE:KMP) and Plains All American Pipeline LP (NYSE:PAA) account for 32% of the index value. The top 10 MLPs cover 61% of the index.
The market cap weighting leads to a midstream focus with 85.6% of the index value in the petroleum transportation, natural gas transportation, and gathering & processing sectors.
As of March 31, 2014, AMZ had a reported yield of 5.8%
Linked ETN investment products:
Note: the Alerian Infrastructure MLP Index - AMZI - is as the target index for six funds and ETNs. AMZI has 25 constituents including the same top 10 as AMZ.
The below table illustrates the constituents and their yield and distribution CAGR growth rates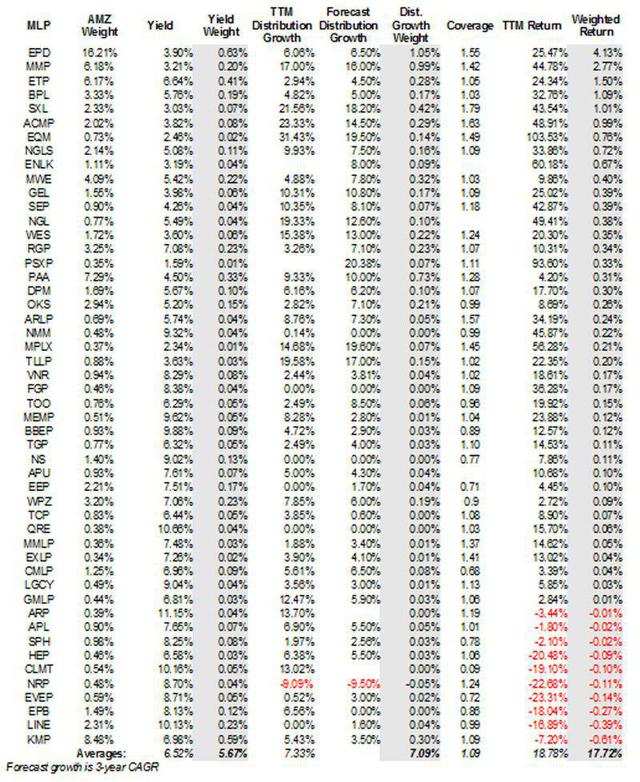 Miller/Howard MLP Fundamental Index
MLPMP is a 25 constituent modified, equal weight index with the included MLPs selected by ranking the class using a set of fundamental criteria. The selected MLPs include 15 large cap companies, each with a 5% weighting, and 10 mid to small cap MLPs weighted at 2.5% each. The index methodology initially screens the MLP universe based on based on market capitalization, distribution cuts, and liquidity, producing a list of 50 eligible MLPs. That list is then ranked by the following criteria:
Trailing Twelve Month Distribution Growth
Fiscal Year Estimated Capital Expenditures
Trailing Twelve Month Distribution Coverage
The ranking of MLPs for selection as index components use a rulebook methodology to rebalance constituents on a quarterly basis. Index rules require that 70% of the weighting go to midstream MLPs, with the downstream and upstream sectors limited to a maximum of 15% each. The top-rated MLPs from the large and small-mid cap groups are selected as the index components.
As of March 31st, 2014 the MLPMP reported yield was 6.1% vs 5.8% for the AMZ.
Linked ETN investment products:
C-Tracks Exchange-Traded Notes Based on the Performance of the Miller/Howard MLP Fundamental Index (NYSEARCA:MLPC)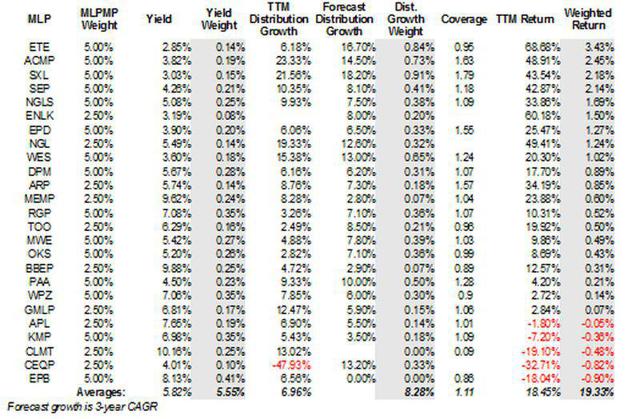 Comparing Total Return Potential
Although MLPMP launched in August 2013, Miller/Howard back-calculated the index to November 2008. The historic 5-year average annual return through 12/31/2013 was 35.24%. For the same time period the AMZ averaged 29.55% and the S&P 500 returned 17.94%.
As forward distribution growth is the primary driver of MLP total return, using TTM Distribution growth is a reasonable proxy. Distributable cash flow growth is derived from investment capital spending, so the capital expenditures criteria provides a measure of an MLP's future growth prospects. The MLPMP fundamental focus shifts performance results away from the large cap results of AMZ to MLP's that are providing above average and sustainable distribution growth.
In the two tables listed above, MLPMP and AMZ have similar average TTM distribution growth rates, at 6.96% and 7.33%, respectively. However, when the weighted growth rates were calculated, MLPLP increased to 8.28% and AMZ dropped to 7.09% growth when compared to the simple averages.
With the small number of MLPs with which to build an index, there is a large crossover between AMZ and MLPMP. 24 of the 25 MLPMP constituents are included in AMZ. To a great extent, performance differences will come from the weighting. The second factor to produce better returns from MLPMP would be the screening out of companies with low or no distribution growth.
Below are two charts plotting MLP yields and 3-year forecast distribution CAGR. The first shows all of the AMZ components. The second plots the MLPMP constituents. For a rough comparison note the position of the 5% CAGR line. As illustrated, a greater % of the MLPMP index is characterized by higher forward growth distribution estimates than that of AMZ.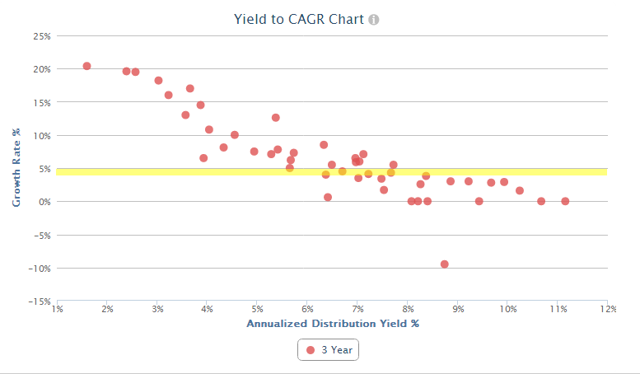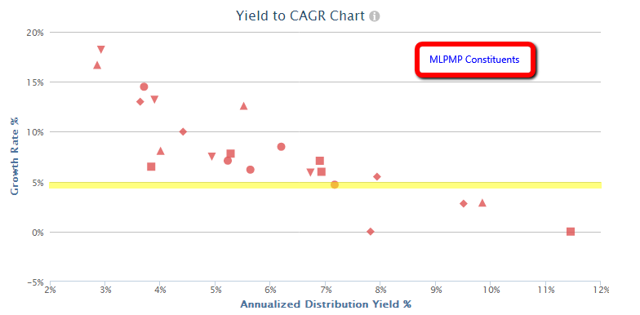 Advisors and investors who are looking to gain exposure to this asset class are well served by first selecting the index which best aligns with the investment objective. Often, fees, spreads and AUM are primarily selection criteria, which are less dominant factors in realizing maximum total return within the Master Limited Partnership niche. For further analysis, please check out the Find Funds tab on MLPData.com
Charts sourced from MLPData.com
Disclosure: I have no positions in any stocks mentioned, and no plans to initiate any positions within the next 72 hours. I wrote this article myself, and it expresses my own opinions. I am not receiving compensation for it. I have no business relationship with any company whose stock is mentioned in this article.