By Alexander Moschina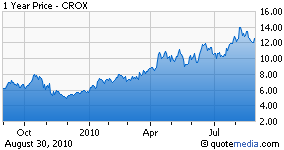 Wearers of Crocs shoes aren't the only ones feeling comfortable these days. So are Crocs Inc. (Nasdaq: CROX) shareholders.
Over the past three months, the designer shoemaker's stock is up 26%, versus a marginal 1% gain for the S&P 500. The Colorado company reported $228 million in revenue during its second quarter – a 31% jump, compared with the same period a year earlier. The company projects a 24% increase for the third quarter.
It's making critics like Radar Magazine, who dismissed Crocs in 2006 as the "summer's most unfortunate fad," eat their words. It's proof that the brand – which has already outlived "fad" status – isn't going anywhere. And it's only the beginning.
Crocs' Multimillion-Dollar Ad Campaign Helps Investors "Feel the Love"
Crocs owes much of its second quarter success to Chicago ad firm, Cramer-Krasselt. Its "Feel the Love" campaign introduced America to Crocs' new mascot, Croslite. In case you haven't seen it, it's a lovable Croc, who greets its owners at the door and massages their tired feet.
The goal of the "Feel the Love" campaign – which cost Crocs most of its $4.3 million advertising budget – is to put a new spin on its product line. And it's long overdue. Although Crocs has sold more than 120 million pairs since its 2002 debut, reviews remain polarized.
For example, Crocs shoes are so visually unappealing to some that it spawned a "Friends don't let friends wear crocs" t-shirt. One college student in Halifax, Canada started a Crocs-bashing website (the site also sells t-shirts and buttons featuring anti-Crocs slogans). And there's a group on Facebook that boasts 1.4 million Crocs-mocking members.
But according to Ken Chaplin, Crocs' VP of Marketing, fans of the shoes don't pay this negative press any mind. "The inherent self-confidence of this group allows them to appreciate the quirkiness of Crocs and enjoy Crocs for what they really are – a fun, comfortable shoe," he said.
Crocs Proves that Comfort is Not a Fad
When Crocs went public in 2006, its net revenue exploded from $355 million to $847.4 million in just one year. That's a 138% increase. And the company did it by marketing comfort.
Crocs proved early on that consumers are willing to sacrifice a little fashion for some extra comfort. And as the shoemaker breaks out of the niche market, it can count on this reputation to help it stand out. For example, its recently launched back-to-school collection boasts styles that look vastly different from its original clog look. And its adult lines are growing as well.
Now the company is walking out new styles in an effort to grab consumers who buy more traditional footwear. Sneakers, loafers and flip-flops made with Crocs' famously soft material could convert skeptics and induce another big revenue boost. Clearly, the multimillion-dollar ad campaign is successfully spreading the word.
Look for Crocs in retail stores across the country. But you don't have to hurry. This company's going to be around for a long time.
Disclosure: Investment U expressly forbids its writers from having a financial interest in any security they recommend to our subscribers. All employees and agents of Investment U (and affiliated companies) must wait 24 hours after an initial trade recommendation is published on online - or 72 hours after a direct mail publication is sent - before acting on that recommendation.
Disclaimer: The Oxford Club LLC/Investment U and Stansberry & Associates Investment Research are separate companies, and entirely distinct. Their only common thread is a shared parent company, Agora Inc. Agora Inc. was named in the suit by the SEC and was exonerated by the court, and thus dropped from the case. Stansberry & Associates was found civilly liable for a matter that dealt with one writer's report on a company. The action was not a criminal matter.