Over the past year, we have seen growing convergence between technology and apparel. This trend is supported by the increased adoption of smart devices, an established app ecosystem and new software-oriented business model. Wearable tech is likely to have enormous implications on how we interact with technology and our surroundings. Leaders in both the technology and retail sector will benefit from this evolving trend. I believe that the wearable tech market is now ready for growth acceleration.
I think that Google (NASDAQ:GOOG) (NASDAQ:GOOGL) and Apple (NASDAQ:AAPL) are the winners thanks to their software ecosystem. In the retail space, my top pick is Nike (NYSE:NKE) as it has successfully implemented user engagement with wearable tech through fitness monitors, such as Fuelband and Fitbit. It is in the right position to partner with large technology firms to pursue wearable tech projects.
Where we were before
Wearable tech is not a novelty, in my view. For those of you who have seen Stanley Kubrick's "2001: A Space Odyssey", the digital watch featured in the film was considered a wearable tech in the 60's. Later in the 70's, calculator watch was introduced to the market and was also considered a wearable tech given its duo-use features.
However, the wearable tech of the earlier days also lacked the multi-function features demanded by the consumers and usually were considered dumb devices in that connectivity with other electronic devices were nonexistent.
Where we are now
Over the past decades, enhancements to the earlier connected devices like blue tooth, barometer, pulse reader, HMD, thermostat, gyroscope, compass and altimeter have been incorporated into the newer models, thereby improving connectivity to an even wider range of devices. I note that wearable tech has penetrated into five core application fields, including healthcare, sports, entertainment, industrial and military.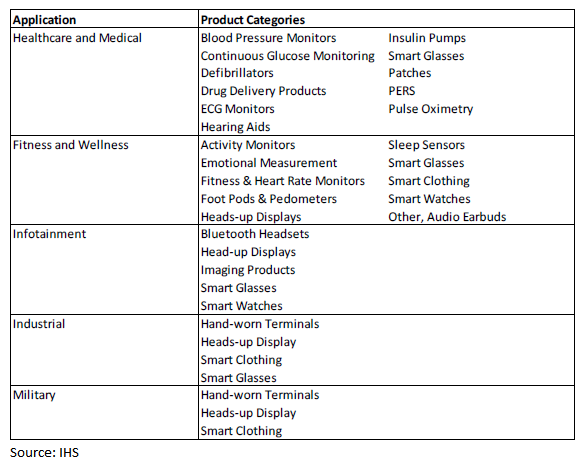 Each sector also has a wide range of vendors.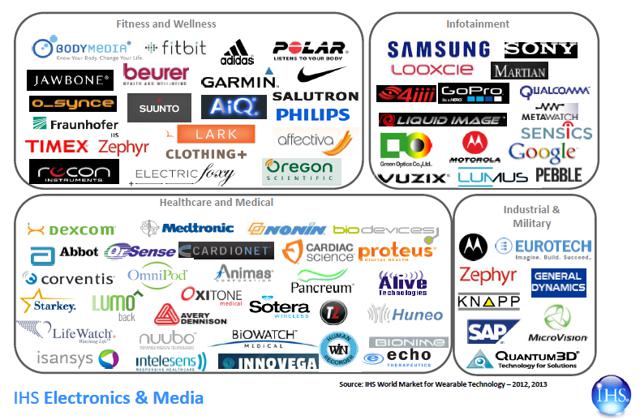 Sizing up the market
According to Consumer Electronic Association, consumer electronics (CE) industry is projected to grow by 2.4% in 2014, reaching US$208b. However, new emerging product categories, such as wearables, 3D printer, Bluetooth wireless speaker are expected to grow by 107% to US$6b. Despite accounting for less than 3% of the industry today, the new categories are driving 65% of total industry revenue growth in absolute terms, per CEA.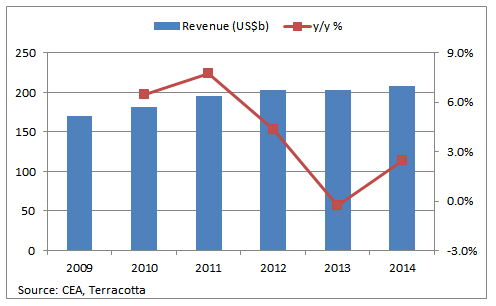 I expect the size of the wearable market to reach US$60b in a bull case scenario by 2018, US$30b in a base case scenario and US$8b under a bear case.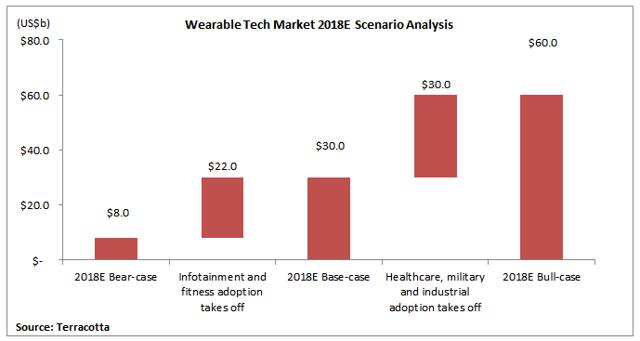 My base-case scenario assumes mass adoption of smart wearables such as the glasses and watches by the general consumers as well as fitness tracker and related applications.
My bull-case scenario assumes the incremental adoption in the healthcare and industrial sector. Military spending on wearable tech can also add an additional leg for growth but will be minimal given the limited budge.
My bear-case scenario assumes limited adoption of wearable due to poor user experience, privacy concerns and lack of products.
Google and Apple: Top picks in the near-term; Favor Google for the long-term
Google and Apple stand out to be the key beneficiaries of wearable tech in the near-term owning to their established installed base. Both Android and iOS lead the pack with smartphone adoption.
Both companies also have well developed ecosystem with robust app portfolios featuring popular apps that can be used across connected devices (i.e. Smartphones, iPads, smart TVs and NBs). The additional cloud feature allows multi-device connectivity to ensure seamless integration across devices. However, it worth giving credit to Apple which has succeeded in this area while Google still need to consolidate the Android OS landscape given that the Android space is dominated by OEM-modified version of Android. However, signs of consolidation within the OEM space could imply that Google achieving an edge over Apple in device connectivity.
Android OEM consolidation?
Google is my top pick for the long term due to consistent installed base, whereas Apple has seen installed base falling amid competition from emerging OS such as Windows. Google stands out to be the key beneficiary of wearable tech, in particular the low-end segment just as it benefited from the low-end Android devices. Apple, on the other hand, will likely to experience device maturity, and will need to rely on app and content distribution to offset the weakness in hardware sales. (Please see my note: Mapping Out Apple's Content Distribution Opportunity)
Nike is my top pick among sportswear names
Nike is one of the earliest movers into the sports wearable devices space, having started the Nike+ System that allows users to track the distance, pace and calories. The partnership with Apple allows users to track their progress on iPods, iPhone and even tablets. Nike+ has expanded its product portfolio to include GPS watch, the Fuel-Band, and a Nike+ dedicated iPod Nano. These enhancements attracted over 10m users to Nike's run logging site, making it one of the largest sports communities worldwide.
I expect Nike to further integrate its Nike+ product with Apple in the coming years. The recent restructuring of the Fuel Band team could indicate the integration of Nike+ team with Apple's iWatch team. Given how closely the two companies worked together on sports related products, it is not a stretch to see Nike+ becoming part of iWatch, assuming that the user can use the iWatch under a sports/fitness environment. However, I would like to see tighter integration with Android from Nike, given my concern of diminishing iOS installed base.
Disclosure: I have no positions in any stocks mentioned, and no plans to initiate any positions within the next 72 hours. I wrote this article myself, and it expresses my own opinions. I am not receiving compensation for it (other than from Seeking Alpha). I have no business relationship with any company whose stock is mentioned in this article.