Back in February, we wrote glowingly here about Chicago's Taylor Capital Group (NASDAQ:TAYC) and its "fix and grow strategy." Do you remember? "Fix and grow" is just what it sounds like. Taylor is in the process of fixing the problem credit on its books and then, once that's done, is set to grow rapidly in the unsettled Chicago market by adding experienced relationship managers and entering new businesses.
Since February, the progress the company has made on both fronts has been impressive. Yet with Taylor's stock trading at just 5 times normalized earnings, the market seems not to have noticed. But we've noticed—which is why we own roughly 10% of the company's shares. It's not hard to envision Taylor's stock trading in the low 20s in 12 to 24 months.
There are of course reasons the stock's valuation has stayed so low despite the strides the company has made. I see three in particular:
Taylor

's market capitalization (under $200 million) keeps it off the radar screens of many portfolio managers and analysts.

The company has totally revamped its top management and strengthened its board over the past two years. Investors may not yet realize that the company's historical performance isn't necessarily a guide to what its future performance will be.

The headline numbers in Taylor's most recent earnings report seemed disappointing. In fact, though, it was a pivot quarter for the company that will set the stage for its return to profitability, probably sooner than most people think. I'll have more on the second-quarter details in a minute.
In any event, I wouldn't be surprised if, after 11 straight quarterly losses (including the biggest quarterly loss in the company's history in the second quarter!) Taylor breaks even in the current quarter, and then reels off a string of ever-larger earnings in the quarters after that. We think this is a very attractive stock.
The Investment Case
Taylor Capital is based in Chicago, with $4.6 billion in assets and a market capitalization around $180 million. It was formed in 1929 and, since then, has been run by three successive generations of Taylors. In 2008, though, then-Chairman and -CEO Bruce Taylor decided to break with that tradition and went outside the company to find a new CEO. In 2008 he brought in Mark Hoppe, an ex-LaSalle executive with a quarter-century experience in Midwest banking, as president and CEO. It will turn out to be a signal event in the bank's history, in my view.
The investment case for Taylor is similar to that of many other banks at this point in the cycle—only on steroids. Yes, other banks will see their earnings and valuations rise as the recovery proceeds. Taylor will, too, but it will also emerge from the slowdown with a franchise that will be well-positioned for above-average earnings growth, and a management team and board in place capable of making optimal capital allocation decisions.
Actually, the "fix" part of the company's strategy isn't so different from what other banks are doing as they deal with their bad loans (mostly construction-related) and patch up their balance sheets. The outlook for sustained earnings growth at Taylor, though, is far superior to that of most other banks lately digging themselves out from the credit crunch and recession.
Review of the "Fix" Strategy
Let's take the "fix" piece first. If you just look at the metrics presented in Table 1, you might think the fix at Taylor isn't exactly proceeding as planned. But you'd be wrong. Rather, the second quarter saw the combination of an isolated, unusually negative event related to the cost associated with the dispositions of some of the company's worst problem loans. The result skewed the credit quality indicators temporarily, but will result in significant improvement in the future.
click to enlarge images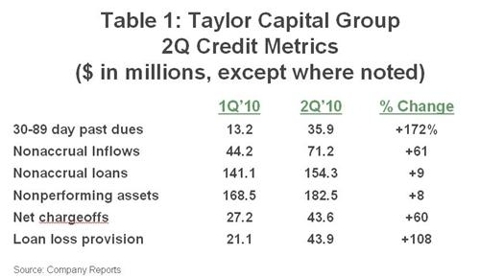 Step back for some perspective. The first step in the company's "fix" strategy involves cutting its exposure to homebuilders in particular and commercial real estate more generally. As you can see from Chart 1, this has occurred at an impressive pace. Residential construction loans have declined to 5% of total loans at the end of last quarter from 20% at yearend 2009.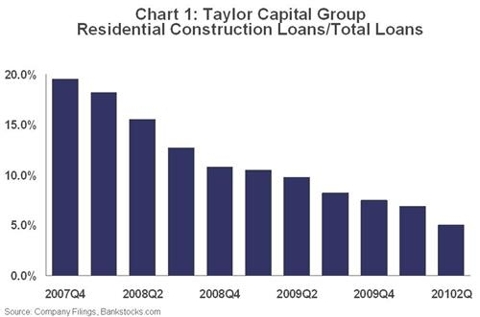 And as the company deals with its existing nonperforming assets, it needs the flow of new problem loans to decline, as well. On this score, at first glance, the news doesn't seem to be good. In the second quarter, for instance, new nonaccrual inflows jumped back up to $71 million from $44 million the prior quarter. (Chart 2.) But that $71 million includes one $25 million credit where the company has an exceptionally strong collateral position. (The loan is secured by owner-occupied commercial real estate.) No loss is expected. Meanwhile, we expect the inflow of new nonaccrual loans to fall dramatically in the third quarter.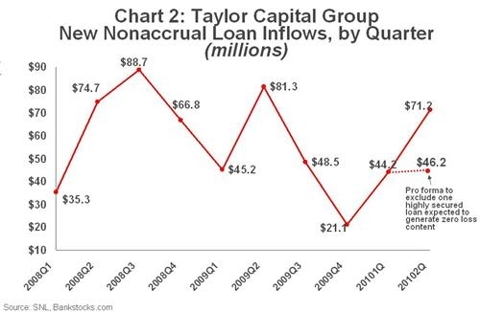 Our confidence is based on more than just blind hope. Rather, it comes from the decline in the broader total of "Watch List" loans the company recently disclosed at an investor conference sponsored by Howe Barnes. The list includes nonaccruals plus potential problem loans. As you can see in Chart 3, total Watch List loans have declined for four consecutive quarters and are now 19% below their peak. We expect the Watch List total to decline again in the third quarter.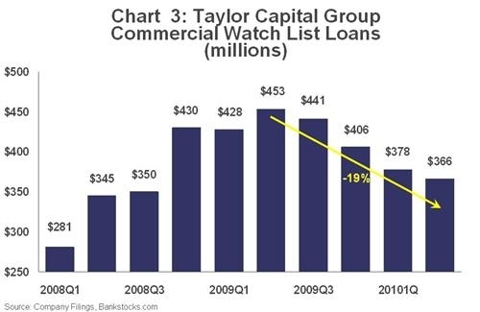 In fact, Taylor's aggressive disposition of nonaccrual loans last quarter, and the positive impact those moves will have on the company's future results, is a key reason why the stock is such a great investment opportunity.
The numbers seem compelling. During the second quarter, Taylor agreed to sell $55 million of some of its worst nonperforming loans. One of those included the sale of $18 million in nonperformers that didn't close until mid-July (that is, in the third quarter), yet all the expenses related to the sale were recorded in the second quarter.
That expense bulge was significant. CEO Hoppe said at the Howe Barnes conference that the costs associated with disposition of these problem credits accounted for about 70% of the company's second-quarter loan loss provision.
Hmm! If that's so, then net chargeoffs and the loan loss provision should drop dramatically in the third quarter. That's important. Recall that the level of the loan loss provision is the key metric that drives a struggling bank's return to profitability. We expect Taylor's provision to fall so much between now and yearend that the company is apt to return to profitability by the fourth quarter. It might even be profitable this quarter.
In the meantime, if you strip out the one-off items among the company's total non-accruals (such as the sale of the $18 million piece that didn't close until this quarter and that heavily secured $25 million owner-occupied loan on non-accrual) the numbers are clearly headed in the right direction (Chart 4)—just as they are, not coincidentally, for Watch List loans.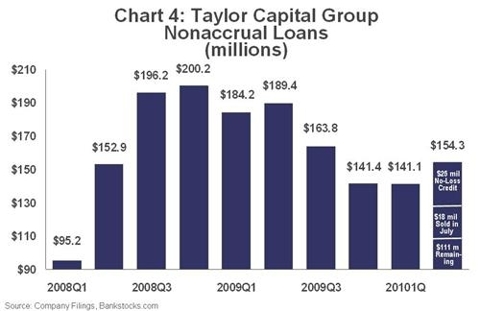 Let's recap Taylor's credit "fix." The company has made huge progress so far in 2010 in working down its problem assets, but that progress has sometimes been obscured by the high costs associated with disposing of some of the worst credits. It's been further obscured, meanwhile, by the surprising addition to nonaccrual status of a well-secured credit that has essentially zero loss potential.
I believe these one-time bumps are over. The underlying improvement in credit at Taylor should become obviously when key metrics show dramatic improvement in the company's third-quarter earnings report. In any event, Taylor Capital is on the road back to normalized earnings.
The "Grow" Part of the Strategy
While the company's reported second quarter results masked the improvement in its efforts to repair credit, the improvement in the company's core earnings was highly visible.
Chart 5 shows the trend in the company's pre-tax, pre-provision earnings, exclusive of securities gains on losses. The 52% increase year-to-year is much better than gains lately being generated by other banks—and is a key factor that distinguishes Taylor from other recovering banks.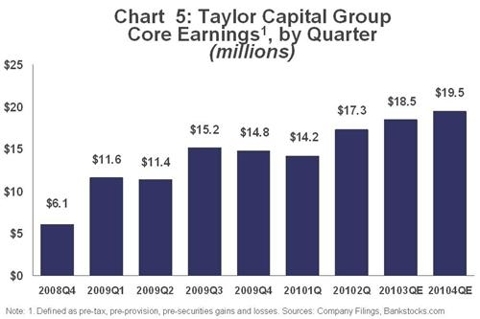 The growth in core earnings is being driven by its largest business, commercial banking, as well as by two start-up business. Let's quickly walk through them.
1. Commercial Banking. The addition of CEO Mark Hoppe shows that Taylor Capital is returning to its roots as a corporate bank. Recall that prior to joining Cole Taylor, Hoppe enjoyed a successful 25-year career at LaSalle (eventually acquired by ABN Amro). In one of his first hires after arriving at Taylor, he brought in Larry Ryan, who worked with him at LaSalle, to run commercial banking.
Since his arrival at Taylor, Ryan has brought in over 50 relationship managers who in turn have generated over 400 new commercial relationships. Since the end of 2006, Taylor has committed $1.4 billion in new loan fundings for new and existing customers and has increased commercial deposits by about $400 million.
2. Cole Taylor Business Credit. Hoppe decided in 2008 to enter two new businesses, asset-based lending and residential mortgage lending, in order to expand Taylor's growth opportunities. He brought in former business associates from LaSalle to head each unit. In both cases, the units have become profitable faster than expected.
Mike Sharkey, with 23 years of experience in asset based lending, was hired in 2008 to start and build Cole Taylor Business Credit. This business requires a high level of expertise and a relentless focus on details but, executed correctly, can be highly profitable. Including fees, Cole Taylor Business Credit is booking new business at yields in excess of 7%.
This unit currently has 9 offices in the U.S., 60 clients, $300 million in loan funding, $660 million in commitments, and $20 million in deposits.
3. Cole Taylor Mortgage. Taylor set up Cole Taylor Mortgage in January under the direction of Willie Newman, a 24-year mortgage banking executive who had previously run one of the top five originators in the country, at—you guessed it!--LaSalle Bank.
Originations and revenue at the unit came in lower than expected in the first quarter due to regulatory details, but then provided a positive surprise in the second quarter. Given the mini-refinancing boom going on, results in te second quarter should be strong.
Specifically, the company's revenues in the first quarter were $300,000, then rose to $1.9 million in the second quarter as the company originated $76 million of loans. June fundings alone were $46 million. As that ramp-up continues—well, go ahead and try do the math for the third quarter!
"Fix and Grow" Plus One
Taylor Capital's credit quality improved tremendously in the second quarter, but you had to get behind the numbers to see the improvement clearly. The worst credits are now out of the bank, the costs associated wit them have been absorbed, yet the loss reserves didn't fall. Expect significant credit quality improvement, lower credit costs, and a return to profitability in the second half.
Perhaps more impressive than the "fix" has been the company's success at expanding its business. So far, the progress in building new commercial banking relationships has merely offset the elimination of legacy problem relationships. This dynamic will change very soon.

At the same time, the company's foray into two new businesses, asset-based lending and residential mortgage originations, are proving to be more profitable than originally expected.
So, "fix and grow" is working exceptionally well. What's more, Taylor Capital has a wild card up its sleeve, in the form of Harrison and Jennifer Steans. This is a father-daughter team of Chicago bankers are among the most respected in the market. They have a proven track record as moneymakers for investors. The two are large investors in Taylor, and both sit on the company's board.
Harrison Steans is a banking legend as both an operator and an investor. He will help ensure the company raises any additional capital it needs in the most shareholder-friendly way, and will ensure, too, that the company deploys its excess capital wisely. Taylor Capital shareholders definitely benefit from the Steans' involvement in Taylor, both as investors and directors.
Taylor Capital: Unique
Many bank stocks are attractive to me based on credit turnarounds. Few, though, offer the potential for long-term earnings growth. Taylor Capital offers both. It's being run by a new management team, is entering attractive new growth businesses, and is being overseen by a highly competent and pro-shareholder Board of Directors.
This is a very attractive investment, in my view.
Disclosure: Author generally holds positions in the stocks he mentions.