Nabors Industries (NYSE:NBR)
has seemingly forever been on the move; or at the very least, forever changing. The company's recently announced acquisition of Superior Well Services (SWSI) -- not to be confused with Superior Energy Services (NYSE:
SPN
) -- represents just one more juke in a decades-long string of strategic maneuvers by the company.
When this latest acquisition is complete, Nabors will own 530,000 horsepower of additional field equipment, most of which is currently used for hydraulic fracturing services in the Lower-48 US market. Superior also offers cementing, nitrogen injection, logging and perforation services. The transaction is expected to be financed with proceeds from the sale of Nabors' interests in E&P assets in Columbia and British Columbia, as well as from the eventual IPO of the company's NFR Energy joint venture.
After the purchase, Nabors will still be a major provider of land drilling services in North America and internationally, although Superior's pressure pumping business will combine with Nabors' existing well servicing, directional/horizontal and measurement-while-drilling (MWD), wellsite monitoring and other rig- and wellsite-related products and services to create a more diverse supplier.
Given that our focus here at EnergyPoint is on the impact a combination like this might have on oilfield customers, we admittedly are unresolved as to how we view this particular transaction. On one hand, we believe the disposition by Nabors of its E&P investments and JV to finance the transaction should allow management to focus more effectively on its contract drilling, oilfield services and related businesses activities.

While Nabors' E&P foray might in fact generate some handsome one-time returns, we have always believed that oilfield suppliers that partake in the same businesses as their customers are, by definition, viewed -- and therefore treated -- as "competitors" by at least some discriminating clients. It's our feeling that such a quasi-competitor status can impede a supplier's ability to work with certain customers who might believe certain conflicts of interest exist.

Thus, on balance, we believe the disposition of the Nabors' E&P interests, as part of making this deal happen, is a good thing for both Nabors and its customers.
On the other hand, consistent with positions that we have taken previously regarding other industry combinations of this type, we do harbor reservations as to what this deal could mean for oilfield customers in other ways. While the purchase of Superior certainly creates a larger and more diverse industry player -- one less tied to the ups and downs of the North American land drilling business -- there is no compelling evidence that we can see that indicates suppliers with greater diversity of offerings are better at satisfying customers.
In fact, the evaluations we've collected on Integrated Project Management (IPM) services do not indicate to us that oilfield clients are particularly satisfied with what they've been receiving in terms of integrated services from the likes of Schlumberger (NYSE:
SLB
), Halliburton (NYSE:
HAL
) or Weatherford International (NYSE:
WFT
). Our findings are similar for "bundled" or "packaged" offerings as well.
We do not doubt that Nabors has received positive feedback from some well-wishing customers regarding the prospects of what this transaction will create in the way of a new full-service provider. We simply question whether most customers will, in the end, actually be more satisfied working with Nabors and Superior as a combined entity compared to working with the each separately.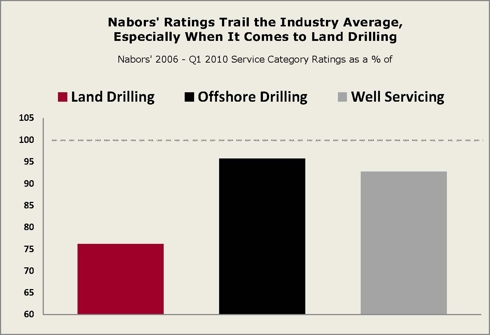 The Challenges Ahead

We also question whether this acquisition furthers a pattern of continually shifting strategies, and thus represents business as usual, for Nabors. Alas, the company has not fared well with respondents to EnergyPoint Research's independent customer satisfaction surveys over the years. In fact, since 2004, Nabors has seen its ratings languish at levels that suggest to us that its low customer satisfaction has played at least some role in the extent to which its stock price has trailed both land-drilling segment leader Helmerich & Payne (NYSE:
HP
) and the broader Philadelphia Oilfield Service Sector Index (OSX) by not-insignificant margins.
While the final verdict regarding the wisdom of the Superior deal will be borne out over time, our opinion is that whatever gains a combined Nabors-Superior might make with customers in terms of its ability to offer broader sets of services and capabilities will potentially be offset (or even more than offset) by the organizational/operational challenges and distractions that inevitably accompany these kinds of deals.
To be clear, there is no question that growth and expansion can be good things for all types of companies, including drilling and oilfield services providers. After all, it's an "adapt-or-die" world out there. However, it is important to note that Superior is a company that is primarily focused on services provided in the completion phase of wells. Contrariwise, today's Nabors is involved more in the drilling and well-servicing / production phases of wells.
Even though the addition of a service that is so integral to making the most of today's unconventional wells might look attractive in that it creates a company with offerings across multiple stages of a well, we wonder if there are really enough similarities and/or synergies to result in better experiences for customers. Stated another way, with this transaction Nabors is increasingly becoming a "
Jack of all trades, master of none
". And it's the "
master of none
" part that gives us pause on behalf of customers.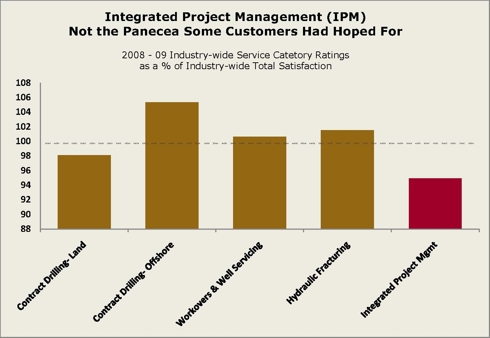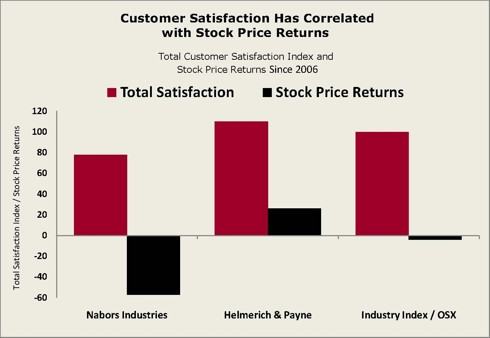 Note - This analysis is derived from 12,000+ customer evaluations of oilfield product and service suppliers collected via EnergyPoint Research's independent surveys since 2004.


Disclosure: No Positions