Editors' Note: Chaowei Power Holdings trades on the Hong Kong Exchange under the ticker symbol 0951.HK
China's cities are choking on traffic jams. Reasons for this are the country's fast economic growth and the ongoing trend of urbanization. The most popular way for many people to avoid this problem is the use of bicycles. However, humans tend to be lazy and hence the tendency is going into ownership of electrically driven bikes. City authorities also tend to support this trend, as they see bikes as an opportunity to decrease pollution and improve life quality. At the end of 2012, the number of electrically driven bikes was 150 million units, with expected annual growth rates of more than 10% (China Bicycle Association). Because all of these vehicles need some power unit, there is a huge potential for companies active in the battery sector, among them the market leader: Chaowei Power (OTC:CWWGF). All information in this article is based on the annual report for 2013 (if not otherwise stated). (HKD1 = USD0.13, RMB1 = USD0.16, RMB1 = HKD1.24)
Overview
Founded in 1998, Chaowei is quite a young company. It manufactures lead-acid and lithium ion batteries under the trademark of Chilwee. About 84% of Chaowei's revenue comes from sales of batteries for electric bikes. The company operates its own sales network in the People's Republic of China (PRC), where nearly all of the company's business is done. According to Frost & Sullivan, Chaowei had a market share of 38.4% in 2013, which made the company PRC's market leader. Incorporated in Cayman Islands and listed in Hong Kong, the company has a market capitalization of approximately HKD4.3 billion.
Financial Situation
Chaowei's biggest advantage lies in the huge potential of its market. Within the last years the company had a revenue growth rate that can only be called fantastic. From 2009 to 2013 annualized increase was more than 57%. As Chaowei operates in the PRC, the currency it uses in its income statement is RMB.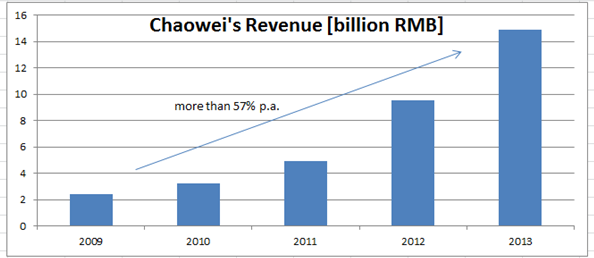 (source: Chaowei's annual reports)
Business year 2013 saw an increase in revenue of more than 50% compared to business year 2012. Unfortunately, the profit situation did not develop in a similar way. In January 2014 Chaowei had to issue a profit warning for 2013 in which the company declared it expected a significant drop in profit for the total year. Those expectations came true, when the annual report 2013 was finally published in March: While in 2012 profit was slightly more than RMB619million, the number dropped to RMB388 million in 2013. The reason for this development was the huge discounts Chaowei gave in order to gain market share. A more detailed analysis of this can be found in section Moat. Nevertheless, at today's market capitalization P/E is still low with only 8.8. ROCE in 2013 was about 13.6%.
From a financial point of view Chaowei's balance is very sound with a debt-equity ratio of 0.8. One can hardly find any goodwill or intangible assets in the balance. More than 50% of the company's assets refer to property, plant and equipment. As the company is growing rapidly, it has a steady need for funds to finance its expansion. Cash flow from operating activities alone is not sufficient, so Chaowei must get additional liquidity from financing activities. The numbers from 2013 show this tendency clearly:
Cash flow from operations: + HKD739 million
Cash flow from investing activities: - HKD769 million
Cash flow from financing activities: + HKD248 million
Moat
At first glance, there is not much moat protecting Chaowei's business model, the production of batteries. In the past, it did not really take much investment to start a new production facility. Unfortunately, too often the new plant did not consider environmental protection at all. It may be that Chinese authorities do not have the best reputation concerning environmental issues. Nevertheless, within the last years the Chinese government has changed this attitude. In 2011, the authorities promulgated a series of regulations for the battery industry (called 'Entry Requirements') and up to now have strictly enforced them. After the end of 2013 no production facilities for batteries with cadmium content above 0.002 % or arsenic content above 0.1% are allowed. Naturally, some small-scale companies were not able to comply with this regulation and were therefore forced to leave the market.
Furthermore, the Ministry of Environmental Protection announced results from its investigation about major pollution resulting from battery industry. In its report a number of facilities were listed as negative examples. No plant that is operated by Chaowei was named. Just the opposite: many of the company's subsidiaries were on the list of enterprises meeting the new environmental regulations. Additionally, Chaowei managed to implement a cadmium-free production at the end of 2013, pioneering the way forward for the industry.
The wiping-out of a number of substandard companies can also give an explanation for Chaowei's results in 2013. In order to gain market share, the company carried out price adjustments, i.e. gave huge discounts. This can be seen clearly in 2013's income statement. I have summarized the most important numbers in the table below: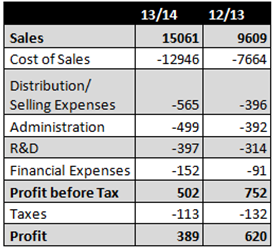 (all numbers in million of RMB)
While the increase of sales from 2012 to 2013 is 56%, cost of sales (approximately material and labor costs; a number that is also a good indicator for quantity of sales) rose by 69%. Other costs (administration, distribution, R&D) increased by only 33%, a clear sign of an able management. Nevertheless, below the line profit decreased by 37%.
As can be seen from the table, Chaowei has identified R&D as an important factor to its success. The company employs a number of researchers (many of them from Europe) and holds more than 450 patents. Additionally, Chaowei did also invest in its sales network within the last year. At the end of 2013, the network of the company's distributors has covered all provinces of PRC. The total number of all distributors was 1650.
When once there was a time when everyone could enter the battery production industry easily, that time is over now. It would now take years for a new competitor to deal with all environmental regulations and reach a significant market share. As in most matured markets, the Chinese battery industry is now dominated by huge companies with decade-long experience. I can't see much danger for Chaowei from the sudden emergence of a new competitor.
Other risks
Chaowei has a very high volatility. Due to its relatively low market capitalization, the selling of a huge lot of the company's stocks can have a significant impact on the price. Within the last years, a fall of more than 25% in the company's stock price within less than one month was nothing extraordinary. Although those slumps were normally followed by a quick recovery, Chaowei is definitely not for risk-averse investors.
As the country is still far away from free market conditions, one can never be totally sure what the Chinese government is planning for the future. A surprising change in the legal framework could harm Chaowei.
Much has been written recently about the dwindling of economic growth in China. But one has to consider that the country's growth is still in an area the West (Europe or North America) can only dream of. Furthermore, private mobility is a key demand of any modern society. I do not believe that even stagnation in China's economy could negatively affect the demand for batteries.
Conclusion
Although Chinese companies offer tremendous opportunities in a still fast-growing market, most of them have been over-looked by foreign investors. One reason might be the past, when Chinese stocks were often associated with fraud. I can hardly imagine that this is the case with Chaowei, a stock listed in Hong Kong and with a history of dividend payments (HKD0.093 in 2013, a dividend yield of more than 2.8%). A company with such huge growth and a decent profitability is definitely undervalued with a P/B of only 1.4. Despite the temporary profit problem, for a long term point of view there is huge potential for Chaowei. Additional growth could also come from electric cars. In my opinion the company is a bargain and investors will finally realize that.
Disclosure: I am long CWWGF. I wrote this article myself, and it expresses my own opinions. I am not receiving compensation for it (other than from Seeking Alpha). I have no business relationship with any company whose stock is mentioned in this article.
Editor's Note: This article covers one or more stocks trading at less than $1 per share and/or with less than a $100 million market cap. Please be aware of the risks associated with these stocks.