By Bryan McCormick
Today has two particularly important reports: the Chicago Purchasing Managers' Index and Consumer Confidence. One will give traders additional insight into the health of businesses and the other will show how consumers are responding to economic conditions.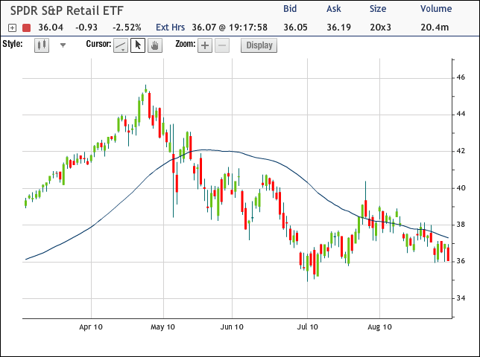 Click to enlarge
(Click to enlarge)
The ICSC-Goldman Store Sales report will be released at 7:45am eastern time. The report includes a week-over-week change number and a year-over-year change. Most traders focus on the year-over-year number because it's a better measure of trend. The prior week-over-week change showed a loss of 0.4 percent, while the yearly number was positive 2.3 percent. Stronger-than-expected positive numbers would be seen as bullish, while negative numbers would be bearish.
Redbook Store Sales will be released at 8:55am. As with the ICSC-Goldman report, there are two components to watch. One is the "noisier" month-over-month change and the other is the year-over-year change that follows the broader trend, so most traders focus on annual portion of the report. The prior month-over-month change showed a gain of 1 percent and the last year-over-year data showed a gain of 2.6 percent. Negative numbers in either series would be bearish.
The S&P Case/Shiller Home Price Index will be reported at 9am, with economists expecting a month-over-month change is a gain of 0.2 percent. On a yearly basis, it's forecast to increase by 3.9 percent. The range of expected values for the year-over-year change, which most traders will focus on, is from a bearish 2.5 percent to a bullish 4.9 percent.
Chicago PMI is due at 9:45am. Consensus calls for a drop to 57 from the previous 62.3. The range is quite wide, from a bearish 52 at the low end, to a bullish 63 at the high end. With consensus tilted toward the low end of the range, a more bullish reading is likely to produce a more extreme response.
The Conference Board's Consumer Confidence number for August comes out at 10am. Most economists expect the reading to rise to 51, from the previous reading of 50.4. The range is very wide for this report. At the low end of the range, a very bearish 47.5 is forecast. At the high end, a bullish 55 is expected.
Disclosure: No positions