Vertex (NASDAQ:VRTX) is a 25-year old biopharma company that has had more than its share of ups and downs over the years - and yet another company-defining event is just around the corner. Two Phase III studies of Kalydeco in combination with lumacaftor (known as the Traffic and Transport trials) in cystic fibrosis patients were completed in April, and top line data is expected to be released by mid-year. The outcome of this trial has profound consequences for Vertex. Failure means Vertex will continue to market Kalydeco as a monotherapy, with treatment reaching only 10% of cystic fibrosis patients who are responders. With about 70,000 cystic fibrosis patients worldwide, Kalydeco will be effective for 7000 of them, capping sales at no more than $1.5 billion annually. In this scenario, the stock price may drop to $40, or about 40% below its current price of $67 (May 19 close). On the other hand, if the Phase III trial is successful, the combination treatment will be effective for nearly half of cystic fibrosis patients, with annual revenues that could reach $8 billion per year within the next 5 years. Under these circumstances, a stock price of $100 per share can be readily justified. Thus, the outcome of this pivotal Phase III trial means the stock will be worth either $40 within hours of the announcement or $100 within the next year.
In early March, VRTX was trading at $85 per share, which would imply the market was anticipating a >80% probability of success of this trial. However, VRTX has been sold off with most other speculative biotechs over the past three months. With a price now right in the middle of the range banding success and failure, the market is handicapping the outcome of this trial at 50%. As we will outline below, we believe this is far too pessimistic - we estimate the odds are 80% that these trials will be successful and the combination product will launch in early-to-mid 2015 in the US. We therefore think Vertex is a relatively low-risk/high-return investment for an investor who is willing to accept the 20% odds of failure that would result in a precipitous stock sell-off.
In this article, I will provide some perspective on the value of the company under 3 scenarios:
Phase III Traffic & Transport fails (downside case)
Phase III Traffic & Transport succeeds (base case)
Phase III Traffic & Transport succeeds, and combo with VX-661 also succeeds (upside case)
For additional exceptional discussion on the development of Kalydeco, lumacaftor and other drugs in the Vertex pipeline, I refer you to the Seeking Alpha articles of Michael Sacerdote in November 2013 and December 2013.
Scenario 1. Kalydeco (ivacaftor) monotherapy only (Worst Case)
In 2001, Vertex acquired a small company, Aurora Biosciences. The press announcement of the acquisition focused on the synergies between the two companies, and made no mention of the research on cystic fibrosis. However, Aurora scientists, with funding from the Cystic Fibrosis Foundation, had begun working on ways to modulate the gene that encodes the cystic fibrosis transmembrane conductance regulator (CFTR) protein, which had been known since 1983 to be deficient in cystic fibrosis patients. Building on the biological foundations initiated at Aurora and tapping the medicinal chemistry prowess at Vertex, drug candidates soon began to advance through early development and into clinical studies.
Based on laboratory studies, Vertex scientists hypothesized that a CFTR potentiator could be effective against one particular mutation, G551D, while the other mutations would likely require a potentiator and a corrector. Thus, for a first approach to treating this disease, Vertex focused on developing potentiators for patients with the G551D mutation. This hypothesis was proven correct in clinical trials with patients with this mutation. VX-770 advanced into a Phase II proof-of-concept study in 2007, resulting in a positive readout in 2008. These results were confirmed in a larger Phase III study, leading to an NDA filing in 2011 and approval in early 2012 in the US with the trade name Kalydeco.
The G551D mutation is present in only 4-5% of all cystic fibrosis patients. Therefore, only 2500-3000 of the 70,000 patients worldwide can be treated with Kalydeco. In fact, in the 2 years since this drug was approved, Vertex believes nearly all patients with this mutation in the EU and US are taking the drug.
To expand the patient population in which Kalydeco might be useful, the company is studying the drug in other mutations. In the presentation provided with the 1Q14 earnings conference call, shown below, management indicates about 2000 patients are currently on Kalydeco therapy, and believes they can expand the use to 7000 patients.

In February, 2014, Vertex received FDA approval for patients with 8 additional mutations (G178R, S549N, S549R, G551S, G1244E, S1251N, S1255P, and G1349D). Since these mutations are present with very low incidence (each <1%), the approval was based on in vitro data which predicted Kalydeco would be active, according to the company. Vertex has also filed an MAA variation in Europe for these mutations. The company expects this will add 150 patients in the US and 250 in Europe.
A Phase III study for patients with the R117H mutation did not reach statistical significance on the primary endpoint of FEV improvement, but this was primarily due to a lack of response in younger patients. Since the drug was effective in patients over 18 years old, the company is planning to file an sNDA for patients >18 years old in the US by mid-year and an MAA variation in Europe in 2H2014. If approved, the drug will be able to treat about 700 patients with this mutation, who are over 18 years old. Given the response in older patients, we believe the likelihood of approval of this indication is very high.
As of this writing, Vertex has been unable to secure regulatory approval and pricing of Kalydeco in Canada and Australia. Assuming this will happen in 2014, management indicated this would add an additional 300 treatable patients.
Vertex has initiated studies in children aged 2-5. The chart above indicates this could expand the number of patients by another 300, if the drug is effective in these very young children.
All together, approval of these applications would add another 2100 treatable patients during this year or next. The total number of treatable patients is therefore estimated to be about 4100 in the US, Europe, Canada, and Australia. This is about 6% of the patients with cystic fibrosis worldwide.
In their conference call, management also noted they are studying Kalydeco monotherapy in patients with residual CFTR function. Readout of a proof-of-concept study in 20 patients should be available in 2Q14. This would be followed by a confirmatory larger study - the company did not provide details on the size or timing for these studies. As the chart above indicates, there are another 3000 potential patients in this category. The probability of success in these patients is hard to estimate. In his December 2013 article, Michael Sacerdote estimated a POS of 50%, so we will use this estimate for the revenue estimates for this indication starting in 2016 in the US and 2017 in the EU.
Table 1 summarizes the revenue estimates from the above analysis. As mentioned above, the company noted that 2000 patients were on Kalydeco in 1Q14. Revenue from Kalydeco was $100 million for the quarter, so annual revenue per patient can be estimated as ($100 million x 4)/2000 = $200,000. We will use this number for all subsequent estimates. We also assume the patient population is growing at 3% per year (company estimate) and the price will increase of 2% per year (current rate of inflation).
Table 1: Scenario 1. Revenue and Income from Kalydeco Monotherapy Only (Worst Case)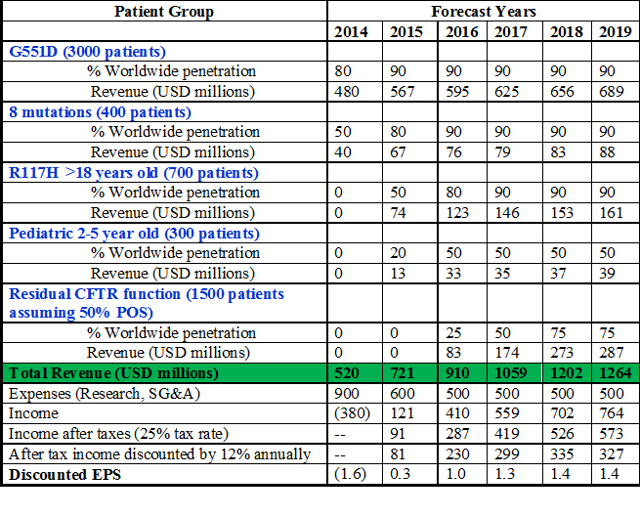 In this scenario, 5th-year sales of Kalydeco can grow to $1.2 billion, in line with the $1.0-1.5 billion estimated by the company. To arrive at income estimates, we assume the following:
Royalties on Kalydeco sales of 7% to the Cystic Fibrosis Foundation (sold to undisclosed 3rd-party) - included in expenses
A drastic reduction in staff will occur to reduce expenses by about half
A tax rate of 25%
Income is discounted at 12% per year
By this analysis, we arrive at discounted EPS ranges from $1.0-1.4 in the years 2016 to 2019. Applying a generous multiple of 15 to the discounted EPS mid-point of these years, we arrive at a value, based on Kalydeco sales, of about $20 per share.
In terms of the pipeline, the company is advancing additional compounds for cystic fibrosis through the pipeline, and these may provide long-term value. In addition, VX-509 successfully completed a Phase IIB trial in rheumatoid arthritis that was announced last October, but the company made no mention of advancing this compound into Phase III in its last 2 earnings reports or conference presentations. Therefore, the late-stage pipeline does not appear to have an easily quantifiable value at this time, especially if lumacaftor therapy fails for efficacy. If lumacaftor fails for safety, then VX-661 is a strong backup candidate with very high value. But for the sake of the worst-case scenario, we will assume VX-661 is no longer a viable drug candidate, and arbitrarily assign a value of $10 per share ($2.4 billion) for the remainder of the cystic fibrosis pipeline. The company has $1.3 billion of cash on hand (about $5 per share), which brings the valuation to about $35 per share.
Scenario 2. Kalydeco plus Lumacaftor (Base Case)
Kalydeco is not effective in treating patients with the delta-F508 mutation, which represents the majority of cystic fibrosis patients. To treat these patients, Vertex has developed a second compound, lumacaftor, to work in concert with Kalydeco. A Phase II study in patients with two copies of the delta-F508 mutation was successful in improving lung function, reaching statistical significance in the primary endpoint, an increase in one-second forced expiratory volume (FEV). This small study showed a dose response, with 600 mg performing better than 200 mg and 400 mg. The 600 mg dose improved FEV 6.1% vs. baseline, and 8.6% relative to placebo after 4 weeks on lumacaftor alone followed by 4 weeks on the combination.
Based on the Phase II study, Vertex initiated two Phase III trials named Traffic and Transport, comparing 600 mg once-daily and 400 mg twice-daily of lumacaftor + 250 mg once-daily Kalydeco. Phase III was a 24-week trial which tested the durability of the treatment over a longer time period with about 1000 patients. Enrollment completed in October 2013, meaning the last patient should have completed dosing in April. Top line results are expected mid-year, according to the company.
We believe the probability of success in this study is very high (80%).
The science has proven predictability. With Kalydeco, lab results, most likely in animal models of the disease, have so far directly translated to efficacy in patients.
With Kalydeco, the efficacy in Phase III was slightly better than Phase II, indicating durability of the response seen in the shorter Phase II studies. This should translate to the combination study as well.
The Phase III trials for the combination are much larger than the trial run for Kalydeco monotherapy several years ago. This means the study is powered to have a 90% chance to detect a 3% increase in FEV with statistical significance - this is the primary endpoint upon which regulatory approval will be based. For comparison, the absolute gain in the Phase II study was 6%. Therefore, it is likely that efficacy >3% will be achieved. While this does not sound like much, CF patients lose lung function over time (1-2% per year), so any gains are beneficial.
Failure could result from a lack of efficacy, which we think is unlikely, based on the predictive science, previous experience, and the Phase II results. Failure could also result from a safety signal, which is always a possibility and hard to predict until a drug is in patients for an extended period. We believe this is the greatest risk to this drug combination. With Kalydeco monotherapy, a liver function signal was observed, leading to the following recommendation:
Elevated liver enzymes (transaminases; ALT and AST) have been reported in patients receiving ivacaftor. It is recommended that ALT and AST be assessed prior to initiating ivacaftor, every 3 months during the first year of treatment, and annually thereafter. Patients who develop increased transaminase levels should be closely monitored until the abnormalities resolve. Dosing should be interrupted in patients with ALT or AST of greater than 5 times the upper limit of normal. Following resolution of transaminase elevations, consider the benefits and risks of resuming ivacaftor dosing.
Despite this liver signal, we note that nearly every eligible patient is taking Kalydeco, so the drug has proven remarkably safe. However, these liver signals might be enhanced in the combination with lumacaftor. Other safety signals could also arise that could derail the combo therapy.
Assuming a successful Phase III outcome, the combination therapy should be approved for treatment of the 47% of cystic fibrosis patients who are homozygous for delta-F508, or about 33,000, based on current estimates. Table 2 provides an estimate of revenue and income from the base-case scenario, in which the combination therapy launches in the US in mid-2015 and in the EU at the end of 2015.
Assumptions include the following:
The combo will be priced at no premium over Kalydeco

monotherapy,

but with a 2% price increase per year
Growth in patient numbers of 3% per year
Patients currently on monotherapy will not transition to combo therapy
Given the larger numbers of patients, uptake will be slower than for Kalydeco

monotherapy,

but 80% of this population worldwide will be treated by year 5
Daily dose is 250 mg of Kalydeco and 600 mg lumacaftor. Cost of goods very roughly assumed to be $2/g for Kalydeco and $4/g for lumacaftor; $1060 per patient annually
Only modest increase of 20% per year in expenses
Income after tax is discounted 12% per year
Tax rate is 25%
Royalty payment on Kalydeco and lumacaftor sales of 7% to the Cystic Fibrosis Foundation (sold to undisclosed 3rd-party)
Table 2: Scenario 2. Combination of Kalydeco with lumacaftor (Base Case)
Treatment

Forecast Years

2014

2015

2016

2017

2018

2019

Kalydeco monotherapy (from Table 1)

520

721

910

1059

1202

1264

Kalydeco + lumacaftor combination (homozygous delta-F508, 33,000 patients)

% Worldwide penetration

0

20

50

70

75

80

Revenue (USD millions)

0

1390

3640

5320

6000

6700

Total revenue

520

2111

4550

6379

7202

7964

Expenses (Research, COGs, SG&A)

865

1080

1300

1550

1860

2230

7% royalty payment on Kalydeco sales

35

148

319

446

504

557

Income

(380)

883

2931

4383

4838

5177

Income after taxes (25% tax rate)

--

662

2200

3287

3628

3882

Income discounted by 12% annually

(380)

591

1760

2348

2311

2218

Discounted EPS

(1.6)

2.5

7.5

10.0

9.8

9.4
By reaching half of the cystic fibrosis patients with the combination therapy, sales for the CF franchise could reach $8 billion by 2019. Since the company already has the infrastructure in place to access patients, marketing costs should not rise substantially. Cost of goods is virtually negligible. Research expenses should rise only modestly, although branching out to new disease targets will be necessary for continued growth into the next decade.
With no serious competitors in sight and since patients will take these medications for life, Vertex will have a very stable revenue flow until patent expiry. Based on its 10K, Vertex has indicated patent expiries of 2026 to 2027 for ivacaftor and lumacaftor, subject to extensions due to orphan designation.
Applying a multiple of just 10 to the 2017 discounted EPS brings us to a valuation of $100 per share.
Scenario 3. Combination of Kalydeco and VX-661 (Upside Case)
While the combination of Kalydeco with lumacaftor, if successful, will be a truly groundbreaking advance in the treatment of CF, nearly half of the patients will still likely not be treatable. Therefore, Vertex scientists have been working on other combinations that reach the currently untreatable patients.
Last April, the company released data on a Phase II proof-of-concept study comparing Kalydeco alone to Kalydeco with the corrector drug candidate VX-661 in 128 patients with two copies of the delta-F508 mutation. This is a study very similar to that run with Kalydeco with lumacaftor. FEV improvements of 7.5-9.0% were noted in a 28-day trial vs. placebo, which was similar to the Phase II results with lumacaftor. This is an important trial to validate another corrector in the pipeline, should lumacaftor fail for safety reasons.
On May 1, the company released the results of a Phase II study of Kalydeco combined with VX-661 in a clinical trial in G551D F508del heterozygous patients. These results were discussed in detail during the recent earnings conference call and in the Q&A session at the end of the prepared remarks. VX-661 was dosed at 100 mg daily in patients who had already been taking 150 mg of Kalydeco twice daily for a year. These patients were likely already benefiting from taking Kalydeco, so the purpose of the study was to determine if a corrector could provide added benefit. Although the study was small (18 patients), a benefit was observed in the 28-day study, with a 4.6% improvement in absolute FEV from baseline and 7.3% improvement relative to the standard of care (Kalydeco alone - but only 4 patients).
The company noted 3 key points from the study:
Translation of lab data to clinical efficacy
Correctors like VX-661 on single delta-F508 allele can be clinically effective
Enhanced effectiveness for heterozygous patients treated with CFTR modulators that are tailored for each allele
Although there is a long ways to go for the potential use of VX-661 for additional heterozygous patients, the upside would be inclusion of a portion of these currently untreated patients in the years 2017 and beyond. Table 3 presents the data for this upside scenario.
Assumptions are similar to those used for Scenario 1 and 2, plus these additional assumptions:
30,000 patients who are not already being treated with Kalydeco or

lumacaftor

Rollout will be slow as new indications are added study by study
Although some patients on Kalydeco monotherapy will switch to the combination, for the purpose of this exercise, we are only interested in newly-treated patients
No off-label use
Table 3: Scenario 3. Upside Case. VX-661 and Kalydeco in heterozygous patients
Treatment

Forecast Years

2014

2015

2016

2017

2018

2019

Kalydeco monotherapy (Table 1)

520

721

910

1059

1202

1264

Kalydeco + lumacaftor combination (Table 2)

0

1390

3640

5320

6000

6700

Kalydeco + VX-661 combination (heterozygous delta-F508, 30,000 patients)

% Worldwide penetration

0

0

0

10

25

40

Revenue (USD millions)

0

0

0

700

1820

3100

Total revenue

520

2111

4550

7079

9022

11064

Expenses (Research, SG&A)

865

1080

1300

1550

1860

2230

7% royalties on Kalydeco sales

35

148

319

495

631

774

Income

(380)

883

2931

5034

6531

8080

Income after taxes (25% tax rate)

--

662

2200

3775

4898

6045

Income discounted by 12% annually

(380)

591

1760

2700

3120

3454

Discounted EPS

(1.6)

2.5

7.5

11.4

13.2

14.6
Given a modest use of the Vertex portfolio of drugs in heterozygous patients in 2017 and beyond, discounted EPS values would support a share price of $130 with a P/E of 10. In addition, these numbers do not include potential off-label use. While this may not be possible for drugs this expensive, off-label use in cancer patients is common where costs are also very high. For patients in poor condition that do not meet the inclusion criteria, it is quite likely that some off-label use will occur at least for a few months to see if these patients will respond.
Summary
The outcome of the Traffic and Transport Phase III studies will be a game-changing event for Vertex. We believe the likelihood of a positive outcome is 80% and will lead to approval of the combination of Kalydeco and lumacaftor in 2015. The current stock price of $67 (May 19 close) is only factoring about a 50% positive outcome for the combination study, and therefore, offers a buying opportunity that is relatively low-risk and high-reward. Based on the anticipated revenues from the CF franchise, we believe Vertex should reach a $100 share price within the next year. The downside risk is a failure in the Traffic and Transport trials that will result in a plummet in share price to levels of half the current level, with a velocity that will likely blow through stop loss set points. To guard against the possibility of a sell-off, put options can be bought, for example, the July 55 puts for $6.60.
Disclosure: I am long VRTX. I wrote this article myself, and it expresses my own opinions. I am not receiving compensation for it (other than from Seeking Alpha). I have no business relationship with any company whose stock is mentioned in this article.