Small cap stocks have had a rough go of it recently. The Russell 2000 is down almost 10% from its highs in March and is close to "correction" territory. This decline probably has some more to run. A guest on CNBC the other day stated that of the thirty odd times the Russell 2000 has moved down 10% since 2000, the average decline of the index was 17% before the move was over.
What is somewhat reassuring is this pullback is starting to attract insider and beneficial owner buying. I looked through Barron's top 20 stocks with insider buying this weekend. The majority of the buying seems to be taken place in the small cap arena. Moreover, it was the first time in recent memory that all 20 stocks on the list had at least $1mm in insider buying.
Two stocks involved in energy services caught my eye for both their recent insider purchases as well as their longer-term prospects.
Energy Recovery, Inc (NASDAQ:ERII) designs and manufactures energy recovery devices (ERDs) that transform untapped energy into reusable energy from industrial fluid flows and pressure cycles. Its main customers are involved in water desalination, and it is growing its presence in gas processing.
The company has always had long term promise but was a serial disappointer in the last decade. It brought in new management a few years ago, and the company has steadily decreased its losses since then and is on the verge of making profits.
In its niche within the desalination market, it has 90% market share and 60% gross margins. The company is a long-term play on the increasing need for potable water in the world. For example, California has 17 desalination plants in the planning stage that could be big customers for Energy Recovery's core products. Its technology also could be harnessed to help produce the enormous amount of water needed for fracking.
A beneficial owner picked up another $5 million of shares of this stock in May with less than a $250 million market capitalization. Two insiders also purchased over $900K of shares in the second half of 2013. The shares go for ~$4.60 a share after selling for nearly $8 late last year.
The company is tracking to almost break even earnings this year, and should start posting profits in 2015 on an over 30% surge in revenues, according to the current analyst consensus. The company is already profitable from an operating cash flow perspective. It is a speculative buy, but one the insiders are currently making.
Hornbeck Offshore Services (NYSE:HOS) provides marine transportation services to exploration and production, oilfield service, offshore construction, and the United States military customers. I took an initial stake in this beaten down energy services play in April, and then doubled my stake on an overreaction to its recent earnings report.
Like most offshore plays, the stock has been under pressure about concerns around overcapacity and declining day rates in the industry. This seems priced into the stock, as the shares have fallen ~30% from their highs of late last year. HOS has also bounced off a technical support level and if it can break through the short-term ceiling it is currently selling at, it could be off to the races (see chart).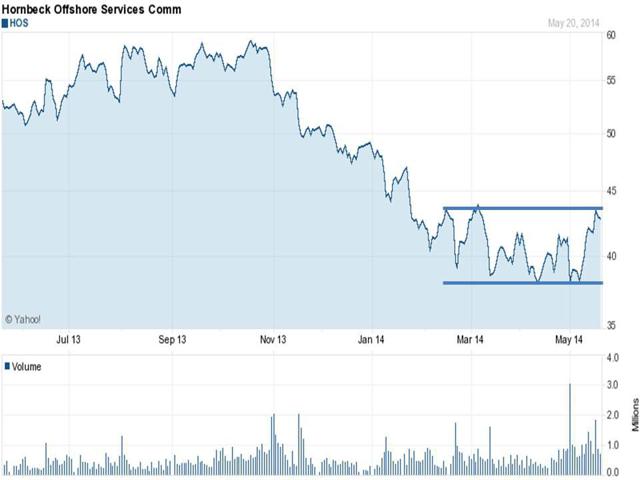 Insiders seem to be signaling that sunnier days are ahead. Four insiders have bought over $2 million worth of shares in total so far in May. Revenues should post better than 20% increases for both FY2014 and FY2015 as new vessels come on line. The shares have a minuscule five year projected PEG (.30) and consensus calls for earnings to jump in FY2015 to over $4.25 a share, putting a valuation on the stock of 10x FY2015's projected EPS. BUY
Disclosure: I am long HOS. I wrote this article myself, and it expresses my own opinions. I am not receiving compensation for it (other than from Seeking Alpha). I have no business relationship with any company whose stock is mentioned in this article.