Summary
With selling pressure in most global equities intensifying through Thursday, the IPOX Global Indexes traded lackluster last week, while bidding frenzy in IPOX U.S. constituents led to a strong showing in IPOX U.S. In the absence of (non China A share IPO) deal flow), we look at academic-style global IPO performance statistics.
Highlights
IPOX Global Indexes
The Global Indexes fell more than the market last week on mounting selling pressure after a further round of disappointing U.S. economic news through Friday in IPOX Emerging Markets/China-related Constituents:
The IPOX Global 100 Index (IPGL100) fell -1.23% to -7.66% YTD, underperforming benchmarks MSCI AC World (MXWD) and S&P 500 (SPX) by -62 and 57 bps., respectively.
65% members of the broad IPGL100 fell on the week, with the average (median) equally-weighted constituent losing -1.36% (-1.38%), slightly more than the applied market-cap weighted index.
With the exception of IPOX Global Telecoms, all IPOX Global Sectors fell. Downside focus was on the IPOX Global Consumer Discretionary Sector which lost -2.34% after strong selling in HK-traded China Dongxiang (3818 HK: -12.33%) and the Macau-domiciled casino operators Wynn Macau (1128 HK: -6.16%), SJM Holdings (880 HK: -2.71%) and Sands China (1928 HK: -2.26%). Recent Spanish listed private equity IPO Amadeus SA (AMS SM: +7.02%) rose strongly on good earnings.
IPOX Regional Indexes Action
The IPOX Regional Indexes traded generally in line versus the benchmarks with three exceptions:
Takeover fever in U.S. IPOs pushes IPOX U.S.: With Dell and HP in a full fledged bidding war for IPOX constituent 3PAR (NYSE:PAR), further takeover speculation in tech IPOs and IPOX constituents ArcSight (ARST: +45.59%) and Commvault Systems (CVLT: +22.66%) benefited the broad IPOX 100 U.S. Index (IPXO: -0.01%) (ETF ticker: FPX) which traded virtually flat on the week and taking 67 and 186 bps from benchmarks S&P 500 (SPX) and Nasdaq-100 (NDX) at lower risk.
Profit taking hits IPOX Asia-Pacific 30 (IPTA): Profit taking in aforementioned HK-traded consumer stocks hit IPTA -199 and -65 bps. versus benchmarks MSCI Pacific (MXPC) and the Hang Seng Index (HSI). As Japan equity markets embarked on another negative week, the index further suffered from the continued brutal fall in Dai-Ichi Life Insurance (8750 JT: -7.03%), this year's worst performing large-cap global IPO. The U.S. government's decision to continue to pursue the AIA HK IPO without involving strategic, China-linked pre-IPO investors did further pressure performance because of the incumbent effect.
Strong momentum in IPOX Latin America 20 (IPXULATT: +0.35%) continues: Latin American IPOs as measured by IPXULATT continued to outpace the market, gaining a big +134 and +199 bps against benchmarks MSCI Latin America (MXLA) and Bovespa (IBOV). With London-traded miner Fresnillo (FRES LN: +6.67%) rising on Glencore-related IPO news, the index continued to benefit from the current 12.21% weight in NY-traded Ecopetrol (EC: +4.05%), the Columbian-domiciled Oil conglomerate. Amid big uncertainty in global equities, EC's share price has doubled YTD, making it a USD 77bn company.
Initial Action in Global IPOs
10 global IPOs priced last week, with most initial trading action in the Chinese A-Shares IPO market where the average (median) IPO gained a strong +56.90% (+50.75%), in line with last week's action. HK-traded Bright Smart (1428 HK) finished the week lower:
| | | |
| --- | --- | --- |
| Company | Ticker | Return/IPO |
| Bright Smart Securities | 1428 HK | -3.13% |
Upcoming Global IPOs
Ahead of U.S. Labor day week, initial action in global IPOs will continue to be seasonally shut, with CIMB Securities-led HK-traded construction stock Tsun Yip Holdings (8356 HK) making the exception:
| | | |
| --- | --- | --- |
| Company | Ticker | Trading Day |
| Tsun Yip Holdings Ltd | 8356 HK | 31/08/2010 |
Chart of the Week
The long-run market-adjusted performance of global IPO: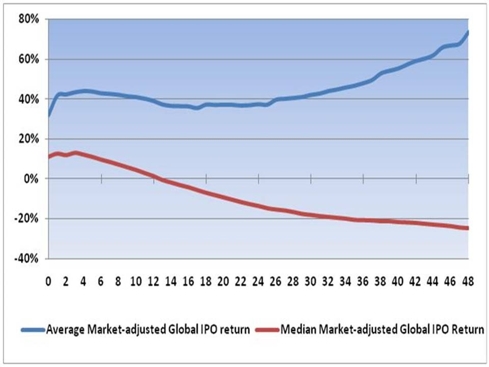 Long-Run Performance of Global IPOs (1996-2010):
Returns for global IPOs of initially 5994 firms, month 1 to 48 post-IPO (USD based). Two series are plotted for the first 48 months after the IPO date: 1) Average adjusted IPO Returns and 2) Median adjusted IPO Returns. Month 0 is the initial return. The Figure highlights the skewness in the distribution of long-run IPO returns with few companies driving positive (average) performance. The IPOX® Indexes facilitate capturing the positive (average) IPO performance, thereby delivering the potential asset allocation benefits of IPO investing.
Disclosure: IPOX Indexes may be long or short aforementioned companies.