The share price of Big 5 Sporting Goods (NASDAQ:BGFV) has declined to $11.34. Investors might wonder whether BGFV is a bargain now since it trades at a 9x forward P/E and 5.26x EV/EBITDA. Short term traders might expect a dead cat bounce in BGFV. Nevertheless, for long term investors, the decline in BGFV begins as the California expansion threat from Dick's Sporting Goods (NYSE:DKS) will become more and more apparent in the future.
Why did BGFV decline?
BGFV reported EPS of $0.09 in line with pre-announced guidance. However, it provided Q2 2014 EPS guidance of $0.12 - $0.20, which was materially below $0.28 Street consensus. Without any expected positive development in the near term, BGFV shareholders have less incentive to hold their shares, and thus BGFV fell 19% after reporting Q2 2014 result. I suspect that some BGFV shareholders might notice a long term threat from DKS and hesitate to accumulate shares even at today's low share price.
DKS California Expansion is a Material Threat to BGFV
In order to grow sales, DKS had a plan to expand from 558 stores to 815 stores in FY 2017. By studying the store locations of DKS, the logical expansion should be mainly in the west coast around California. In fact, DKS recently announced plans to open its 34th Pleasant Hill store in the state of California.
(click to enlarge)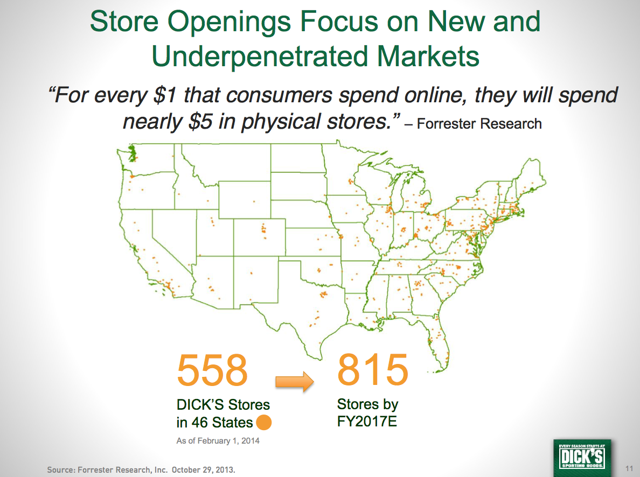 Source: Company Presentation
BGFV has over half of its stores located in California (as shown in the 10K below). That's why BGFV is vulnerable to the aggressive California expansion of DKS. If we pay attention to the ambitious goal of DKS, which plans to expand from $6.2 billion to $10 billion in sales by FY 2018, we can imagine how significant the additional California sales will be required in order to hit the target. As a result, I expect that DKS will take material California market share away from BGFV.

Source: BGFV 10K
As we take notice from the Pleasant Hill store, DKS invited celebrities like Justin Tuck and Rollie Fingers to visit. It also planned to make lucrative giveaways, such as free Mystery Gift Cards to the first 100 customers in line, in order to increase customer traffic and create media attention. All these promotions demonstrate the financial power and the outstanding marketing strategy of DKS. BGFV will have a difficult uphill battle against DKS in the California market.
Quantify the DKS Threat
DKS planned to open 50 new stores in 2014. DKS has currently opened 2 stores in CA, 3 stores in FL, 1 store in the following states: Al, OK, PA, WI, and LA. The percentage of stores is about 20% in California. With an expected 10 new stores in California and average $11 million in sales per store, DKS can generate $110 million sales in California. In regards to my estimated $500 million BGFV's California sales, DKS will affect about 20% of BGFV's sales in California.
From another perspective, if I assume that half of the potential DKS $110 million sales will come from BGFV, I can come up with the earning model for BGFV as shown below:
| | | |
| --- | --- | --- |
| In Millions of USD (except for per share items) | FY 2013 Actual | DKS impacted FY 2014 |
| Revenue | 993.32 | 938.32 |
| Cost of Revenue, Total | 664.58 | 638.06 |
| Gross Profit | 328.74 | 300.26 |
| Selling/General/Admin. Expenses, Total | 281.30 | 275.00 |
| Total Operating Expense | 945.90 | 913.06 |
| Operating Income | 47.43 | 25.26 |
| Other Expenses | 1.75 | 0.00 |
| Income Before Tax | 45.68 | 25.26 |
| Tax | 17.73 | 9.81 |
| Income After Tax | 27.95 | 15.45 |
With my simplified model, the profits of BGFV can be cut in half for 2014. If BGFV generates $15.5 million net profit in 2014, BGFV will trade at 17.5x PE multiple, which is not an attractive valuation. If we further consider the additional stores DKS plan to build after 2014, the prospect of BGFV will get more gloomier.
Would DKS be interested in acquiring BGFV?
It is logical to think that DKS might be interested in acquiring BGFV since BGFV already has a significant presence in California. With further analysis, I found that the average store size of BGFV is about 11,000 square feet while that of DKS is about 5 times bigger. BGFV does not fit well with the big box business model of DKS. In fact, the business model of DKS is about having shops within its stores, such as Nike (NYSE:NKE) shop, The North Face shop, and Under Armour (NYSE:UA) shop, etc. The store size of BGFV is not big enough to display various brands which DKS would like to carry. Hence, I do not believe that DKS will be interested in acquiring BGFV.
E-commerce: DKS has significant competitive advantage
Both DKS and BGFV are working rigorously on their omni-channel e-commerce customer experiences. From the budgeting perspective, DKS anticipated capital expenditures to be approximately $360 million. Relative to the BGFV market cap of $268 million, DKS has an absolute competitive advantage since its capital expenditure budget already exceeds BGFV's market cap.
Planned New Stores decreased in 2014
In 4Q 2013 result, the management team of BGFV anticipated to open approximately 15 net new stores in 2014. Nevertheless, when BGFV reported 1Q 2014 result, it lowered the planned new stores to approximately 12 to 15. What's more, BGFV closed four stores without adding any store in 1Q 2014. On the other hand, DKS has already opened 10 out of its 50 stores plan in 2014. My understanding is that DKS realizes the importance of its stores to enhance its omni-channel capabilities, such as ship-from-store and pick-up in-store. DKS also found that approximately 75% of their orders are shipped to a customer within a 15-mile range of a DKS' store. DKS has a strategy to aggressively add stores so as to expand its footprints in the United States both in stores and online. Without a complete national expansion strategy and economies of scales, BGFV has difficulty in identifying new stores to justify its investment. If BGFV cannot find sufficient new stores to add profitably, the future sales growth will become questionable.
The Bottom Line
DKS is an 800-pound gorilla compared to BGFV. It has the biggest market share as a focused sporting goods retailer. I foresee that DKS will aggressively increase its market share in California. For BGFV investors, the DKS threat is real and it is wise to stay away from investing in BGFV.
Disclosure: I have no positions in any stocks mentioned, but may initiate a long position in DKS over the next 72 hours. I wrote this article myself, and it expresses my own opinions. I am not receiving compensation for it (other than from Seeking Alpha). I have no business relationship with any company whose stock is mentioned in this article.