Delcath Systems (NASDAQ:DCTH) is not only a great story but also a very good stock to own at these prices. Their closed loop mega dosing system will revolutionize internal medicine.
This article will cover three main topics.
Delcath technology
Delcath management team
Share price target after FDA approval
The Technology: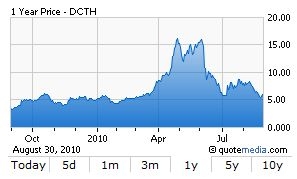 Delcaths PHP technology (percutaneous hepatic perfusion) allows the doctors to more directly deliver powerful cancer fighting drugs directly to an isolated body part. In this case that body part is the liver. A long known problem with cancer drugs is that they damage other parts of a patient's body, for example, chemotherapy drugs can only be given so many times to a patient in his or her lifetime before it damages their hearts. This can cause problems for patients who don't respond well to treatment and need more doses, because eventually they may reach their maximum lifetime dosage and no longer be able to take the drugs. The PHP system delivers drugs at 100x the normal dosage than alternative care.
Delcath's evolutionary technology operates on the simple premise that if you can deliver a cancer drug directly to the patient's cancer (in this case the liver) and then remove the drug from the body's bloodstream without spreading the chemotherapy throughout the body and causing collateral damage then you may have a very direct and powerful weapon. The phase III data that was presented in April was extremely positive, and they have been granted FDA fast track. More technology information can be found here at Delcath.com.

Management Team:
The single most important aspect to consider with a startup company is the management team.
The CEO is Eamon Hobbs, started with DCTH in 2009. From 1988 until 2009, Mr. Hobbs was President and CEO of AngioDynamics, Inc. (Nasdaq: ANGO). As a co–founder, he built Angio Dynamics into a leading medical technology company with an international market presence and a highly diverse product line. He left a very comfortable position to take Delcath through the FDA process and into commercialization.
The CFO is David McDonald. He also served at Angio Dynamics as CFO with Eamon Hobbs. McDonald founded Minneapolis—based Cornerstone Healthcare Advisors LLC in April 2005, which he led until joining AngioDynamics in July 2008. At Cornerstone he provided advisory and consulting services to emerging medical technology companies and their financial sponsors. Prior to 2005, McDonald was a Managing Director and leader of Medical Technology Investment Banking at RBC Capital Markets where he developed senior and Board level relationships with leading private, public and venture capital firms in the medical device and diagnostics industries.
Having served together at ANGO, Hobbs and McDonald bring a seasoned and cohesive working relationship together to bring Delcath's products to commercialization.
Share Price Target After FDA Approval:
What's a realistic share price if approval is granted by the FDA, which is not scheduled to happen until early 2011. The analysis below only reflects US sales of Cutaneous and Ocular Melanoma.
Delcath Systems (DTCH)
Cutaneous and Ocular Melanoma
Share Price Analysis (USA only)
10,875 x 2.5 x 20,000 = $543,750M revenue x 22.91% = 124,573M net income
124,573M / 49M = $2.54 EPS
15 x $2.54 = $38.10 share price upon FDA approval
Data Breakdown:
10,875 = number of patients available for the procedure (company presentation)
2.5 = the average number of chemo sessions each patient needs (conservative)
$20,000 = the cost per each chemo session
$543,750M = total revenue after first full year, 100% operational
22.91% = the average net income % most drug manufactures in US achieve
$124,573M = the net income, full year
49M = number of shares outstanding including all warrants.
$2.54 = the net income per shares outstanding
15 = the price earnings multiple to estimate a stock price (conservative)
$38.10 = the final share price after approval, from US generated sales only for Cutaneous and Ocular Melanoma liver cancer treatment. That is a 485% increase from the current share price of $6.51.
CEO Hobbs has stated that the potential worldwide market for the PHP technology is valued at approximately 6 billion.
Positioned correctly in the portfolio, and with a risk to reward ratio of approximately 5-1, this looks like an extremely attractive security to own.

Disclosure: Clients and myself own shares and options of DCTH