2013 was a good year for Verizon Communications Inc. (NYSE:VZ). The company has shown decent growth in its top and bottom lines, and delivered a high return on equity. Although, its share price moved only 12% last year, but the company also rewarded its shareholders with a 3% increase to its quarterly dividend. Year-to-date, the stock surged only 0.15%.
Verizon operates in the telecommunications industry. It is an industry leader with a 31% market share in the U.S. The U.S. telecom industry is expected to grow about +3.9% per year through the year 2020 to reach almost $1.2 trillion in revenue. U.S. smartphone market penetration rates are now around 67%, which is expected to reach 90% by early 2017. As the largest telecom player in the U.S., Verizon is well-positioned to benefit from the growing industry.
Verizon has two reportable segments: Wireless and Wireline. Wireless segment is in a growth phase, and I believe that this segment will continue to grow because of the company's strong position in the market. As more customers wirelessly connect their devices, growth opportunities will present themselves in prepaid subscribers and wireless devices. Verizon plans to invest significant capital to make sure it is in a good position to take advantage of this growth opportunity. The Wireline segment has reached maturity and is continuing to decline. The maturity of the Wireline sector is offset by the growth of the wireless sector as customers transition to wireless. For that reason I believe Verizon will be in a growth phase in the upcoming years.
Verizon is the only wireless carrier whose 4G network is 100% 4G LTE. It has significantly expanded its 4G LTE network to 95% of the American population in more than 500 markets covering approximately 305 million people. This expansion is replacing its old 3G network which will provide more efficient connectivity for customers and reduce costs to the company. Verizon monetizes 4G adoption through both higher data usage and lower costs to serve. As of Q1 2014, 49.3% of retail postpaid connections were 4G, up from 28.2% a year ago. In addition, more than 50% of upgrades were from 3G to 4G devices.
Verizon's management views the continuance of 4G adoption among existing 3G subscribers as a key driver of wireless service revenues for the next two to three years. According to the company's CFO, Fran Shammo, there are about 25 million customers out of 100 that are still on basic phones. There are another 26 million customers who still have a 3G device and have not converted to 4G. So there are more than 50 million customers that they can convert to 4G network. Verizon plans to allocate $16.5-$17 billion of capital expenditures to continue the expansion and improvement of speed to gain competitive advantages. Its strong 4G LTE network will enable them to take advantage of industry growth by meeting growing demands for faster wireless connection.
Looking at Wireline segment, Fiber optic network technologies such as FiOS Broadband and FiOS Video could drive the Wireline segment as consumers are demanding faster data speeds, as well as greater and more diversified television and video content. In the first quarter of 2014, FiOS accounted for 74% of total consumer revenues. With 6.2 million subscribers, FiOS Broadband penetration rates stand at 33% of the market. Additionally, 5.3 million subscribers to FiOS Video represent a respective 35% market penetration. Further gains are expected as Verizon continues to migrate existing copper-wire customers to fiber.
FiOS is offered in varying downstream and upstream processing speeds, the fastest being FiOS Quantum which allows users to download data at up to 500 megabytes per second. The high speed of FiOS will put Verizon in a good position to meet the growing number of customers who power more devices and stream more video in coming years. It is expected that the already 45% of mass market subscribers that are connected to FiOS Quantum will continue to grow.
Although Verizon has no immediate plan to expand their FiOS internet, TV and voice service, they look for further penetration in the markets they already serve, too. Currently, FiOS broadband service and FiOS TV make up 39% and 35%, respectively. By improving the quality of these services, they will be able to obtain more market penetration. This will allow them to expand their services to new markets in the future.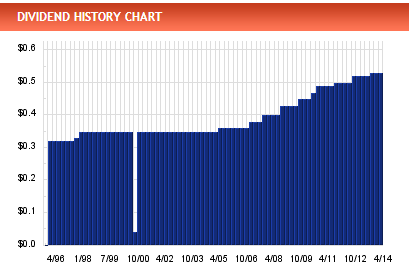 Source: Dividendchannel.com
Verizon is also attractive for dividend investors, offering a current yield of 4.30%. It has consistently paid dividends for 30 years dating back to 1984. Analysts are expecting that the company will report revenue of $125.30 billion this year and $128.70 billion next year. EPS is estimated to be $3.54 and $3.84 in 2014 and 2015, respectively. As the company's revenue is expected to grow, so are their dividends. Also, its acquisition of minority interest of Vodafone will free up Verizon's operating cash flow permitting them to steadily increase their dividends in 2014 and beyond. Its current dividend payout ratio is 47%, which leaves substantial room for future payout growth.
Verizon's recent acquisition of Vodafone's minority interest in Verizon wireless is going to deliver future value to shareholders. After the acquisition, Verizon has more control over its earnings, allowing them to increase their dividends to shareholders as they have done in the past 7 years. In addition, it will be able to invest more capital into the business to capitalize on the growing wireless industry through improvements of 4G LTE technology, more reliable video streaming technology, and security in mobile commerce. These initiatives will help to increase cost efficiency and result in higher margins. Acquiring 100% of Verizon wireless will enable it to better create packages of services for larger business customers across the U.S.
Bottom Line
Future of Verizon looks promising. Given its strong reputation in the industry, stable revenue stream, consistent dividend payment and prospects for continued revenue growth, Verizon is well-positioned as a company. Expanding 4G LTE network, new plans, and acquisition of the 45% minority interest from Vodafone will propel growth in 2014 and forward. In my opinion, Verizon is an attractive investment for long-term investors.
Disclosure: I have no positions in any stocks mentioned, and no plans to initiate any positions within the next 72 hours. I wrote this article myself, and it expresses my own opinions. I am not receiving compensation for it (other than from Seeking Alpha). I have no business relationship with any company whose stock is mentioned in this article.