Good news, as usual, is coming from the Ford Motor (NYSE:F) front: After solid first quarter results and a fortress balance sheet, Ford Motor presented investors with an upbeat news flow in May. Investors who follow Ford Motor will know, that the company has had a troubled past in Europe over the last years with negative (though improving) operating margins and a painful restructuring that now looks like it is about to pay off. Last week, Ford Motor released European sales numbers which were, to say the least, very encouraging. Ford issued a press release on May 14, 2014 providing specifics:
COLOGNE, Germany, May 14, 2014 - Ford said its sales in Europe rose in April, marking the 11th straight month of year-over-year sales improvement and fifth successive month of market share gains.

Overall, Ford sold 99,700 vehicles in April in its European 20** main markets, an increase of 6,200 compared with April 2013. Ford's 6.6 per cent improvement outpaced total industry growth of 4.2 percent in Europe, and boosted Ford's market share up by 0.2 of a percentage point to 7.9 per cent.
The keyword to look for in the above mentioned paragraph is "outpaced". Ford Motor, once more, grew quicker than the industry -- which also happened in February when Ford's European sales grew by 11.6% vs. 8% industry growth) -- and increased its market share to 7.9%. With almost a full year of y-o-y sales increases, it is evident that Ford Motor's European turnaround is in full swing and that the company is on its way to achieve a return to profitability by 2015.
In addition to consistent sales momentum in Europe, Ford Motor also presented further good news from its operations in China. On May 8, 2014 Ford Motor made a compelling case for its emerging market presence by releasing stunning Chinese monthly sales numbers:
SHANGHAI, China, May, 08, 2014 - Ford China sold 96,829 wholesale vehicles last month, up 29 percent from the 75,315 sold in April 2013. Strong April performance pushed year-to-date sales up to 368,150 vehicles, an increase of 41 percent from 261,859 during the same period last year.

April sales of imported Ford vehicles-which include the Ford Explorer, Ford Edge, Ford Focus ST and the Ford Fiesta ST-increased 72 percent compared to April 2013 with 3,251 vehicles sold. Year-to-date sales more than tripled, with 12,249 vehicles, up 202 percent compared to the same period last year.

Changan Ford Automobile, Ford's passenger car joint venture, sold 68,119 vehicles in April, an increase of 29 percent compared to April 2013. Year-to-date sales reached 263,317 vehicles, up 46 percent.

In April, Ford sold 10,476 Mondeo vehicles an increase of 415 percent from April 2013. Year-to-date sales have more than doubled with 39,287 vehicles sold, up 125 percent from 17,549 during the same period last year.
China rocks for Ford Motor. The car manufacturer had equally impressive sales performances in the country in prior month and I have made a strong case for China's importance in the past. Ford's most recent sales figures only support this bullish investment thesis.
Share repurchases to offset dilution underline Ford Motor's shareholder friendliness
As evidence of Ford Motor's shareholder friendliness one has to look no further than its press release from May 7, 2014 in which Ford Motor announced its intention to repurchase about 116 million shares (total projected consideration of $1.8 billion) to offset dilutive effects stemming from its 4.25% senior convertible notes and share-based employee compensation. Convertibles and share-based employee compensation programs can materially dilute existing shareholders as the amount of outstanding shares is constantly increased (this assumption, of course, depends on a steady issue of dilutive securities). Most firms and their shareholders are effected one way or the other by dilution, most often via equity incentive programs that require companies to pay their executives in stock. The noteworthy part, however, is that most firms do not attempt to offset the effects of dilution, which, from a shareholder value perspective, is clearly worthy of recognition.
Valuation
As I have said, I continue to be bullish on Ford Motor just as I have been in the past. Ford Motor's sales performance figures in Europe and China have also led me to slightly update my 2015-2017 free cash flow to equity estimates that I usually rely on to determine a fair value estimate. The original valuation model can be found here.
With the updated growth and FCFE estimates, Ford Motor's intrinsic value would stand slightly above $36 per share, which highlights the dramatic undervaluation of the company.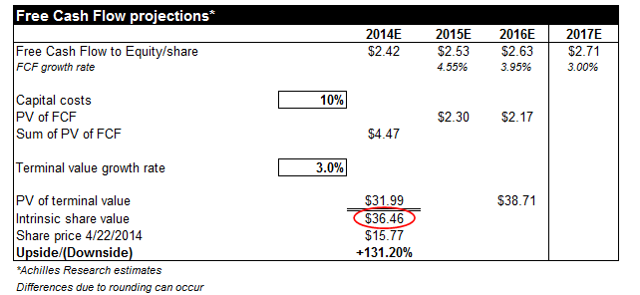 Click to enlarge
(Source: Achilles Research)
Chart situation
Ford Motor's share price seems to have found a bottom between $15-16. Shares have been trading weakly lately, most of which can be attributed to a general trend of profit taking and consolidating equity markets. Occasionally, Mr. Market gets its wrong when pricing his securities and I believe Ford Motor's market valuation is one of his mishaps.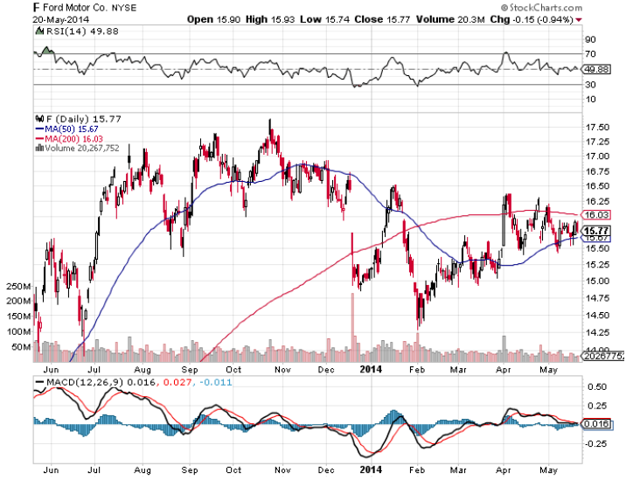 (Source: StockCharts.com)
Conclusion
I am still a big fan of Ford Motor, particularly when Mr. Market doesn't get his act together. Investors who don't like cash flow based valuation models and who are more earnings driven, will see that Ford Motor makes an extremely attractive value proposition at 8.3 times forward earnings as well. Those low earnings and cash flow multiples reflect a significant margin of safety. With recent news regarding Ford Motor's market success in China, a rebound in Europe and planned share repurchases, I can only reiterate my bullish stance on the car manufacturer: Strong BUY, especially on setbacks below $15.
Disclosure: I am long F. I wrote this article myself, and it expresses my own opinions. I am not receiving compensation for it (other than from Seeking Alpha). I have no business relationship with any company whose stock is mentioned in this article.