As the fixed income markets continue to reflect increased fears of deflation, it's becoming harder to find interesting carry trades that exploit low short term rates with acceptable levels of risk.
One such opportunity is the Wisdom Tree Dreyfus Brazilian Real Fund (NYSEARCA:BZF). This ETF invests in short term dated US$ agency securities and combines them with FX forwards in Brazilian Real to create the equivalent of long positions in short dated Brazilian currency sovereign debt. Brazilian interest rates are high (the SELIC overnight rate is 10.75%) and given strong growth with 5%+ inflation they're likely to remain so. The Brazilian forward curve reflects rate expectations around 6% higher than the U.S. over the next year.
By investing in BZF, you'll profit as long as the Brazilian Real depreciates against the U.S. $ by less than this 6% difference over the next year, although given the rate differential in our opinion the Real is likely to remain stable or even rise. It's an attractive way to achieve some yield without taking the duration risk associated with long term bonds.
click to enlarge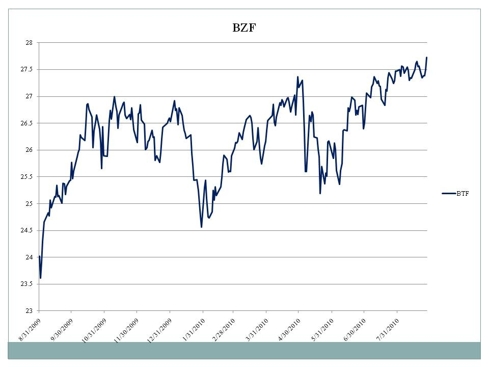 Click to enlarge
Disclosure: Author is long BZF