Last year Himax Technologies (NASDAQ:HIMX) surged from $3 a share to a high of $16.15 per share as it became known that they are the supplier of LCOS displays for Google's (NASDAQ:GOOGL) (NASDAQ:GOOG) groundbreaking product Google Glass.
The majority of consumers and investors speculated that Glass would be released around Christmas of 2013. Investors began to worry as the holiday season came and went without any announcements from Google.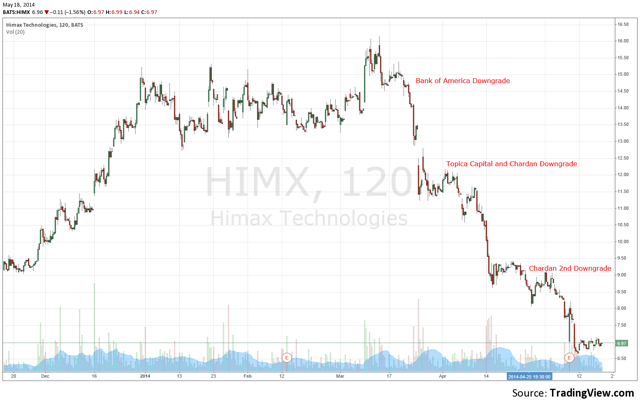 As a result, analysts questioned when Himax would begin to receive revenue from Glass. Bank of America was the first to downgrade their price target on Himax to $12, Topeka Capital Markets to $9, Chardan Capital to 9, Craig Hallum to $10, and Oppenheimer to $10. After news got out that analysts were lowering their outlook on Himax, momentum investors began to run for the exits and ultimately drove shares of Himax down over 50% in the process.
Last month, Google announced that they were going to begin selling "Explorer" editions of Glass to the public for the first time through a one-day sale. Despite the $1500 price tag Glass sold out within 16 hours.
Although Google was finally showing signs of a potential release of Glass, investors questioned when Google would make Glass fully available to consumers and most importantly if the average person would ever want to pay $1500 for them. During this time Chardan Capital downgraded their price target on Himax for a second time to $6. Shares of Himax plummeted to a new bottom of $6.62.
Last week, Google announced that the remaining Explorer editions of Glass are on sale in the U.S. as they continue to improve the hardware and software for the release of a more polished version. A recent announcement from Google suggests that future versions may have frames from Oakley and Ray Ban. As of today, all charcoal (black) versions of the Explorer Edition have already sold out.
My opinion is that Google Glass is a revolutionary new product that people may be skeptical to buy at first just the same as they were skeptical to buy the iPad when it first came out. I ordered a pair of Glass during their one-day sale and admit that there were a few glitches. I believe Google made the right decision to iron them out before they release a full version to the public. I speculate that their full version will contain the Oakley/Ray Ban frames and will be substantially cheaper than the $1500 people are currently paying for the explorer edition. Many people believe that they would be priced at a more attractive $300 to $400 price range.

What baffles me the most is that the price of Himax stock is bound to the success of Google Glass. Investors aren't taking into consideration that Himax is a worldwide market leader in display driver ICs and timing controllers that are used in TV's, 4K TVs, laptops, monitors, mobile phones, tablets, digital cameras, car navigation, and many other electronic devices. Himax continues to show growth in its small and medium sized IC drivers, large display driver products, and non-driver products.
Revenues from their large panel display drivers for the first quarter of 2014 were $48.6 million, accounting for 25.0% of total revenues for the first quarter of 2014. It is believed that driver ICs for TVs will be the main growth product in this segment and offsetting any softness of notebook and monitor ICs. The reason for the growth in large panel driver ICs for TVs are attributed to new customers, increased TV sales in China, and 4K TVs rolling off production lines.
Sales of small and medium-sized drivers were $110.8 million for the first quarter of 2014 and accounted for 56.9% of total revenues for the first quarter of 2014. Himax sees market momentum in China carrying strongly into the second half of the year as 4G LTE adoption and resolution upgrades to HD go mainstream.
Revenues from Himax's non-driver businesses were $35.2 million and accounted for 18.1% of total revenues. Their non-driver product line is a key differentiator versus many of its competitors. The Company's expertise in image processing and human interface related technologies, together with its driver IC products make Himax a comprehensive solution provider to its customers. Their non-driver products including CMOS image sensor, touch panel controller, power management IC and ASIC service are set to grow significantly in the second quarter. Himax expects the business category to grow double-digit in Q2, and the momentum to continue throughout 2014 and beyond.
In Conclusion
Shares of Himax have been pushed downward into oversold territory. I believe it may have bottomed out at $6.62 last week and am now looking for a reversal back to the $9 to $10 range. Not only because Glass is now available for sale, but because Himax is a strong company with a market cap of $1.2 billion and is showing consistent year-over-year growth. This stock is currently trading at a very cheap valuation.
Disclosure: I am long HIMX, GOOGL. I wrote this article myself, and it expresses my own opinions. I am not receiving compensation for it. I have no business relationship with any company whose stock is mentioned in this article.