CitySpring Infrastructure Trust (OTC:CYPUF) also trades as an ADR (American Depository Receipt) under the ticker (OTC:CYPUY). It is not exactly a household name in the investment world. In fact, there are only 6 readers receiving alerts for CitySpring on Seeking Alpha, and I am not one of them. To provide a data-point for comparison, 61,708 people get AT&T (NYSE:T) articles and Market Currents by email alert from SA.
Now, why would I write this article if there is such a small target audience? The answer is that this is a stock worth considering - if your goals are high-yield and low risk.
First, let's dispense with a few general concerns.
CitySpring is based in Singapore. Singapore is a developed country, with a well-governed stock market. More details follow.
This is a penny stock (currently trading at $0.38 USD). Investors in mid and small-cap stocks in Australia and Asia know that many well-known stocks and units (including utilities, REITs, and infrastructure companies) trade around or below $1.00 USD.
Trading volumes are low and trades are infrequent. You will likely need to buy thousands of shares instead of hundreds, and the low trading volumes may demand a long time before your order is filled. You may want to try trading the ADR and/or bidding an extra 1-1.5 pennies, if you want to buy-in.
The stock is traded Over The Counter (aka OTC). Many stocks are traded OTC - check out Pink Sheets/OTC for a complete listing of almost 10,000 companies. Foreign and smaller-cap companies avoid the (expensive) exchange listing and/or ADR fees by trading OTC. Some are well-known global companies, such as BMW (OTCPK:BAMXF), and Suzuki (OTCPK:SZKMF). Due to low regulation, there is the greater risk of fraudulent activities, so only buy companies that you are familiar with, have been in business for a long time, and you have comprehensively researched. Always use a limit price when transacting.
The first question was to determine if Singapore is a good place to invest. I will only invest via stock markets in developed countries (mainly governance concerns). Singapore "ticks all of the boxes":
Singapore is one of the world's major commercial hubs, with the fourth-biggest financial centre and one of the five busiest ports. Its globalised and diversified economy depends heavily on trade, especially manufacturing, which represented 26 percent of Singapore's GDP in 2005. In terms of purchasing power parity, Singapore has the third-highest per capita income in the world. It places highly in international rankings with regard to education, healthcare, government transparency, and economic competitiveness...

The Singaporean economy is known as one of the freest, most innovative, most competitive, and most business-friendly. The 2013 Index of Economic Freedom ranks Singapore as the second freest economy in the world, behind Hong Kong. According to the Corruption Perceptions Index, Singapore is consistently ranked as one of the least corrupt countries in the world, along with New Zealand and the Scandinavian countries.
One of my investment concerns is always the credibility of financial and non-financial information, and the capability and honesty of management. For my portfolio, this concern has precluded most investments in developing countries. The good news is that this is not a developing country and their government website motto is "Integrity, Service, Excellence"; they also have a clearly documented and enforced Code of Corporate Governance.
Now, we will look at the security. CitySpring Infrastructure Trust is a micro-cap utility, with generally-low volatility. It primarily trades on the Singapore Stock Exchange (aka SGX), and pays its dividends in SGD (which is converted and paid in USD for investors who purchase the securities OTC or as an ADR OTC).
With a market capitalization of $575M, there are 3 Singaporean analysts currently following this security - micro-caps rarely attract security analysts' attention - which may leave this security undervalued. Additionally, institutional investors cannot build material positions without owning a significant stake in the company, which discourages their research and analysis. There is some informative material available, but unlike the mega-caps, it is largely up to you to develop your own conclusion on whether to invest. To simplify your research, you can review fairly comprehensive (publicly disclosed) information on either the Singapore Stock Exchange or the CitySpring (CIT) websites.
CitySpring Infrastructure Trust (aka CIT) has been listed on the Singapore Stock Exchange since 2007 as a trust - with the principal objective of investing in infrastructure assets and providing unit-holders with long-term, regular and predictable distributions and the potential for long-term capital growth - and has the following operations:
100% of City Gas, the sole producer and retailer of town gas and the sole user of the low-pressure piped town gas network in Singapore. City Gas is regulated by the Energy Market Authority of Singapore. In August 2013, City Gas established a business venture with Osaka Gas to market and sell natural gas to industrial customers in Singapore. The new entity, City-OG Gas Energy Services Pte. Ltd., is 51% owned by City Gas and 49% by Osaka Gas.
70% of SingSpring, the sole supplier of desalinated water to the PUB, Singapore's national water agency. The plant is an essential service provider capable of meeting approximately 10% of Singapore's current water needs. SingSpring receives capacity payments from PUB for making available the full water capacity of the desalination plant upon demand. The capacity payments are paid throughout the 20-year term, regardless of whether the SingSpring plant supplies any water to PUB, and does not vary with the volume of water supplied. This ensures a long-term and predictable cashflow for SingSpring. It also receives output payments from PUB for the variable costs in supplying water to PUB. The payment is pegged to the volume of water supplied.
100% of Basslink Group (including 100% of Basslink Telecom), which owns and operates a 370-kilometer high voltage, direct current monopole electricity interconnector between the electricity grids of the States of Victoria and Tasmania in Australia. The Basslink Interconnector is the only electricity interconnector between Tasmania and mainland Australia. It also enables Hydro Tasmania to trade in the Australian electricity market, and has a 25-year term agreement with Hydro Tasmania, which commenced in April 2006. As part of the original construction of the Basslink Interconnector, a 12-core fibre optic telecommunications cable was incorporated in the electricity interconnector, which provides wholesale telecommunications services between Hobart and Melbourne.
100% owned CityNet, which owns, installs, operates and maintains telecommunications infrastructure assets in Singapore to facilitating telecommunication activities. NetLink Trust's customers include telecommunication operators, such as SingTel (OTCPK:SGAPY) and OpenNet.
Each business enjoys sustainable cash flows underpinned by either long-term contracts with government entities or by stable market demand. Investors participate in businesses that are regulated monopolies. There are enormous, natural barriers to entry. The higher the barriers to entry and exit, the more prone a market tends to be a natural monopoly.
Warren Buffett's comments about an "economic moat" aptly summarizes CIT's protected business:
According to Buffett, the wider a business' moat, the more likely it is to stand the test of time. In days of old, a castle was protected by the moat that circled it. The wider the moat, the more easily a castle could be defended, as a wide moat made it very difficult for enemies to approach. A narrow moat did not offer much protection and allowed enemies easy access to the castle. To Buffett, the castle is the business and the moat is the competitive advantage the company has. He wants his managers to continually increase the size of the moats around their castles.
Singapore and Tasmania (an island-province of Australia) - the two locations - are separated by political and/or natural boundaries, and CIT's customers have limited (if any) alternative sources. Singapore is physically separated from Malaysia and Indonesia by sea water - the Straits of Johor to the north, and from Indonesia's Riau Islands by the Singapore Strait to the south. Their water business is protected by both an "economic and physical moat". One can see that the nearest competition would be in another country on the other side of either waterway - an unlikely environment to attract competition: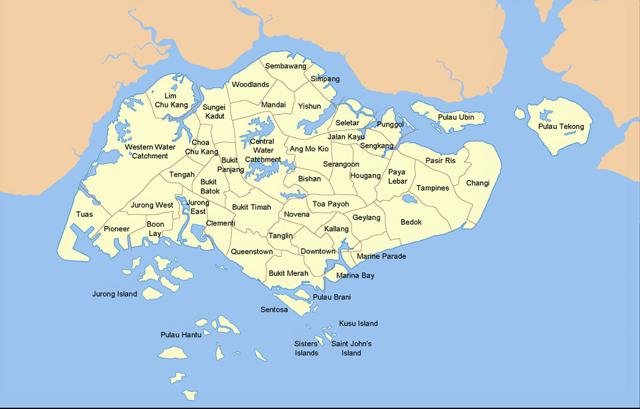 Transmitting power between Melbourne on Australia's mainland and Hobart Tasmania is also has substantial barriers - the distance is 600 kilometers (over 370 miles) as the crow flies - and much of it is ocean.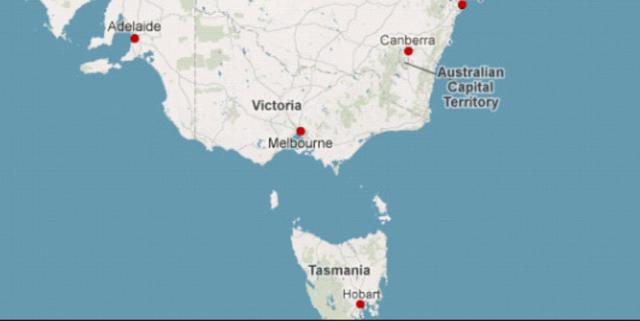 Let's first examine industry and the company risks. The industry aspect is fairly obvious. CIT has relatively monopolistic businesses on isolated islands. Drinking water, food, shelter (including heating and cooling), and electricity, are basic requirement for modern living, and 75% of CitySpring's businesses occupy these niches in geographies where it has no competition. The benefit or disadvantage of regulation is open for interpretation and debate. There detractors would propose that the company activities and resources can be diverted to societal goals (e.g., the government of Brazil mandated a reduction of electricity costs to power consumers), whereas the positive view is that the government would seek to provide a reasonable return to shareholders for economically valuable services. Based upon my review of the history, with a few exceptions, the Singapore government and CIT seem to be effectively managing this balance.
Many investors correlate market capitalization to risk - in fact, Ken Fisher writes about mega-cap stocks and returns for Forbes (one example is here). I suggest that CIT may be a special case; although a small cap, it does not appear to be any riskier than larger-capitalization companies - I would characterize this as "low risk", based on the nature of their essential services.
For those who believe and value the opinions of rating agencies - and use their assessment of bonds as a risk indicator for the underlying equity risk - the Credit Rating of Basslink Bonds (one of the CIT operating subsidiaries) was updated this month:
As part of CitySpring's acquisition of Basslink in August 2007, Basslink issued three bonds maturing in 2015, 2017 and 2019 ("Basslink Bonds"). The Basslink Bonds are rated by Standard and Poor's ("S&P") and Moody's.

S&P has revised the outlook on its ratings of the Basslink Bonds to stable from negative, and have affirmed the ratings on the Basslink Bonds at "BBB-"...

The Basslink Bonds are rated Baa3 with a stable outlook by Moody's.
I have assembled some metrics (with my comments), and created a few graphs in order to help you reach your own risk/return conclusions:
| | | |
| --- | --- | --- |
| Metric | Amount | Comment |
| Market Cap | $575M | Micro capitalization |
| Recent Share Price | $0.38 USD | Mid-point of trading range |
| Dividend/Yield | 7% | High yield |
| 52 Week Range | $0.395 - $0.365 USD | Low volatility |
| EPS | $0.01 | Not as stable as one would like - see below |
| P/E | 76.1 | Usual ratios to not apply - see below |
| Payout Ratio | 789% | Unfortunately high, but this is a business trust |
| Total Debt/Equity | 3.27x | Per their target |
| Gross Margin | 37% | Operating Margin = 15.73% |
| ROA/ROI/ROE | 0.6%/0.7%/2.65% | Low |
Regulated utilities are practically legislated to stay in business. On the other hand, there is little room for organic growth given its market and services. In other words, it is almost like a long-term bond - enjoy your 7% yield, but expect limited capital and dividend growth. CIT, however, is an exceptional bond-substitute - they have a stated strategy of growth through acquisition, and that they seek similar infrastructure businesses. In other words, the potential for growth also exists.
CitySpring is actively seeking growth opportunities which fit with our requirements for stable cashflows, adequate risk mitigation and value creation. We are highly disciplined in our approach, and would turn away transactions that do not meet these criteria. Consequently, from time to time, the Trustee-Manager may be reviewing any number of potential opportunities. However, there is no certainty as to whether any of these opportunities would result in a completed transaction.
I have extracted some financials (courtesy of CIBC Investor Services), which indicate a steady hand managing the business. Their 2014 annual results were recently released, so I have added the data for 2014 (source: Cityspring Results_Briefing_4QFY14 from their website). To summarize, the lower earnings in 2014 were due to a time lag in adjustments to the gas tariff for City Gas, and lower contribution from Basslink; the Balance Sheet was materially unchanged; and Cash from Investing was markedly different due to proceeds from a change in ownership interest in a subsidiary:
($M SGD)

2010

2011

2012

2013

2014

Income Statement

Total Revenue

388

424

481

524

521

Operating Income

-17

-16

-12

97

50

Net Income

9

-22

-35

20

0.3

Basic Normalized EPS

0.01

-0.02

-0.04

0.01

0.01

Dividends per Share

0.05

0.04

0.04

0.03

0.3

Balance Sheet

Total Current Assets

222

243

250

297

305

Total Assets

2,189

2,151

2,040

2,013

1,948

Total Liabilities

1,771

1,804

1,616

1,657

1,582

Total Equity

418

347

424

356

366

Cashflow

Total Cash from Operations

50

80

58

106

83

Total Cash from Investing

-3

-1

-3

-2

38

Total Cash From Financing

-51

-78

-33

-59

-23

Net Change in Cash

2

0

21

45

98
As all of these values are in Singaporean Dollars - SGD, at about $0.80 exchange rate - it may be more useful to look at them as trend lines over the last 5 years. Just a quick glance at these graphs indicate that CIT is a relatively "steady eddy" investment.
Starting with the Income Statement, there is slowly growing revenue, with generally flat earnings and net income: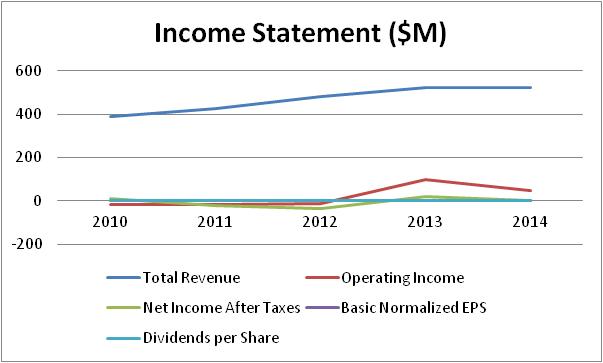 The 2014 results - as explained in their presentation to shareholders - were less than stellar. Cash earnings (not on the chart) decreased from $95M to $60M from 2013 to 2014. The share price had almost no reaction to the results, which suits my investment goals - yield-on-investment.
CIT has a slightly declining balance sheet - both assets and liabilities. As depreciation may be returned to the shareholders as part of the distribution, this asset reduction is not surprising: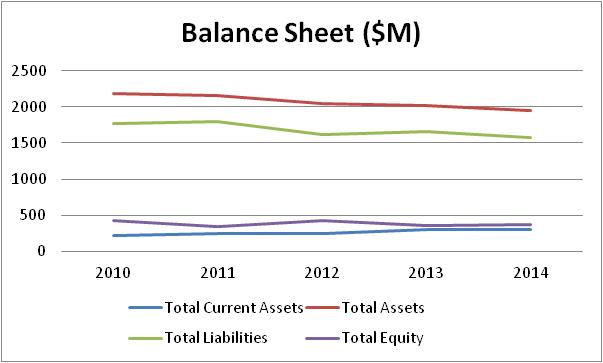 CIT's cashflow is neither steady lines nor large swings - there is some variability with their sources of cash (e.g., new financings create the small peaks in that trend-line); there is a trend of increased cash available from investing, finance, and operations. Management recognizes their comparatively high leverage, and based on various quarterly and annual report commentary, are managing this judiciously: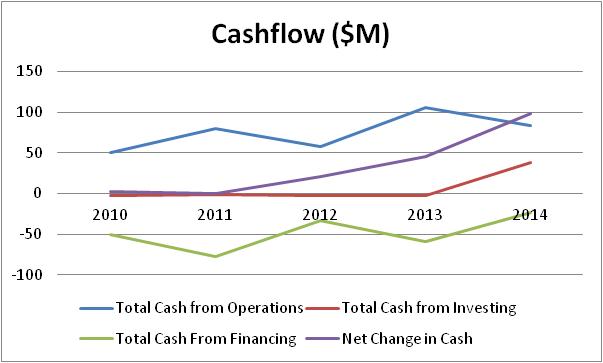 If one looks at the charts from the Singapore Stock Exchange, the market price for the CitySpring security is relatively stable. The following 1-year and 5-year charts for "home-traded" Singapore security (identified by CITY:SP or A7RU.SI) are courtesy of the Singapore Stock Exchange. The OTC charts depict greater price volatility - attributable to the low volumes and infrequent trades for OTC:CYPUF. The OTC charts are courtesy of CIBC Investors Edge for the US-traded security .
The first 1-year chart is from the SGX, and depicts a relatively narrow trading range. However, one would reach a different conclusion from the second, OTC chart: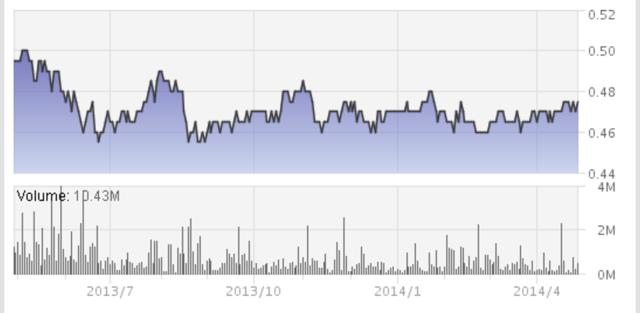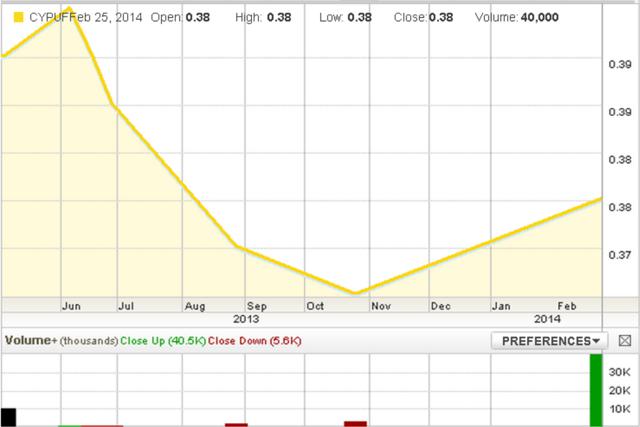 The 5-year charts have similar inconsistencies. The first is from the SGX, and the latter for the OTC-traded security. Both show how the share price has not recovered from two major financial events: 1. the global financial melt-down and; 2. CitySpring rights issuance to purchase Basslink Group: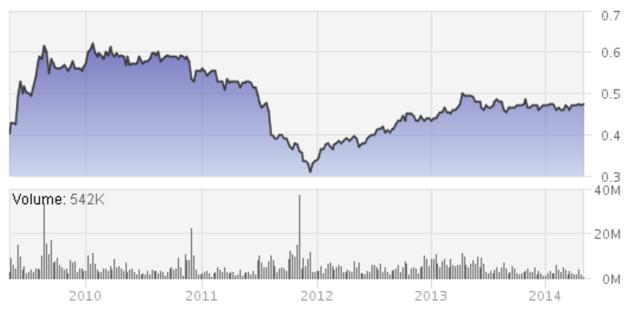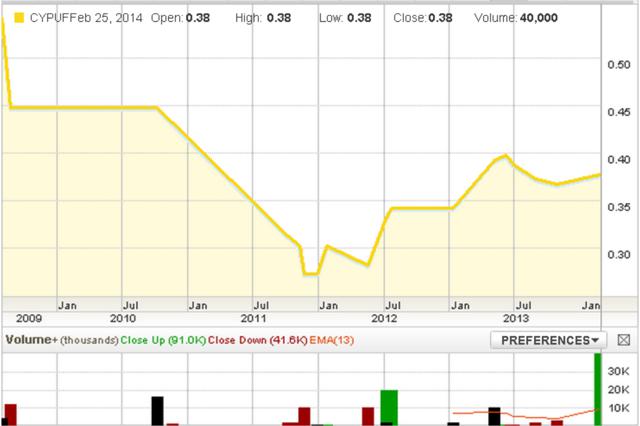 These are not charts of a stock to actively trade for capital gains. Although I prefer to buy securities which trade 20%+ below their annual highs, CIT does not seem to have sufficient volatility to enable this. That said, it continues to trade below the financial-crash high. Overall, my interpretation of the trend is that this stock is a buy-and-hold, and enjoy the 7% yield.
As a last item, let's examine the dividend - to start, these are "distributions" (just like those for REITs and U.S. MLPs) - not dividends. The business trusts of Singapore are allowed to pay distributions to investors out of operating cashflow. This is unlike companies which pay dividends out of accounting profits. Moreover, Singapore has no withholding tax on the distribution. Here are a few pertinent points:
Distribution received by either Singapore tax resident Unitholders or non-Singapore tax resident Unitholders are exempt from Singapore income tax & also not subject to Singapore withholding tax....

Our policy is to make sustainable distributions to our unitholders out of our operating cashflow. The Trustee-Manager employs a rigorous process to determine the amount of cash that might be available for distributions, taking into account each of the businesses' operating and capital expenditure requirements, debt servicing and other needs...

Price-to-earnings ("P/E") ratio is not an appropriate measure for a business trust like CitySpring. As a business trust and unlike a company, we are allowed to distribute surplus cash flows that can be greater than our accounting profits. Our businesses, namely City Gas, SingSpring and Basslink, are structured to be tax-efficient to enhance cash flows which could adversely impact accounting profits and, hence, our results may show low profits or even losses. This translates into a high or negative P/E ratio.
To wrap-up, if you tend to hold your investments for years, and if your goals are income-oriented, high-yield, geographic diversification, and low risk, then CitySpring Infrastructure Trust may provide an appropriate holding for your portfolio. As CIT identified on its website, its primary goals are: to invest in businesses providing essential services; provide a sustainable distribution; and pursue a strategy for growth. These are congruent with my investment goals, so the decision was an easy one for me. As you can see from the disclosure, I (recently) decided that CitySpring Infrastructure Trust has a place in my portfolio.
Disclosure: I am long CYPUF. I wrote this article myself, and it expresses my own opinions. I am not receiving compensation for it (other than from Seeking Alpha). I have no business relationship with any company whose stock is mentioned in this article.
Editor's Note: This article covers one or more stocks trading at less than $1 per share and/or with less than a $100 million market cap. Please be aware of the risks associated with these stocks.