Cimarex Energy Co. (NYSE:XEC) is an exploration and production company with operations in Oklahoma, Texas, New Mexico and Kansas. The company was founded in 2002 and is based in Denver, Colorado. The company is another great play on the domestic oil boom occurring in the U.S.
The majority of the company's activity is centered in the Bone Springs sands and Wolfcamp shale in the Permian Basin and the Cana-Woodford shale play in western Oklahoma. Cimarex plans to invest $1.8 billion on exploration and development of these areas in the coming year, with 80% of that focused on the Permian opportunity.
Cimarex relies on its organization of geoscientists to generate drilling prospects. It also has decentralized exploration teams who are experts in their respective regions. The cornerstone of Cimarex's approach to drilling is a detailed evaluation of the pre- and post-drill economics for every well drilled. This strategy in the industry is termed "drill-bit driven growth" - discovering reserves organically from geologic thesis, to land acquisition and finally through exploratory drilling.
Cimarex's production mix is a mix of Natural Gas, Oil, and NGL (natural gas liquids), with its biggest revenue contribution coming from oil. Oil production in the Permian basin has been particularly lucrative, up 9% year-over-year.
Permian Basin
The Permian Basin is a sedimentary basin in the western part of Texas and the southeastern part of New Mexico. It gets its name because it has one of the world's thickest deposits of rocks from the Permian geologic period. The greater Permian Basin is comprised of several component basins: the Midland Basin which is the largest, the Delaware Basin which is the second largest, and Marfa Basin, the smallest. The Permian Basin extends over an area approximately 250 miles wide and 300 miles long.
Cimarex's efforts are focused primarily in the Delaware Basin where it has several zones producing in the Bone Springs sands area and Wolfcamp shale region. Another emerging area in the region is the Avalon Shale area, which also looks promising for Cimarex. Cimarex's production growth in the Permian has almost doubled from 28,955 BOE (barrels of oil equivalents) per day in 2011, to 55,347 BOE/day by 2013 year end.
Mid-Continent
Cimarex's Mid-Continent operations are located in the Anadarko basin of western Oklahoma, Southern Oklahoma, the Hugoton Basin of southwest Kansas and the Texas Panhandle. The bulk of Cimarex's activity takes place in the Cana-Woodford shale in western Oklahoma. There, horizontal drilling accompanied with multi-stage fracking has unlocked significant resources.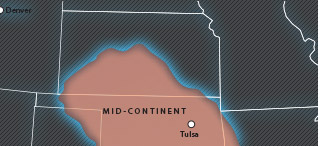 Gulf Coast and Other
Cimarex's Gulf Coast efforts are exploratory at this juncture and focused on the Yegua and Cook Mountain formations in South Texas. Cimarex has a large inventory of 3D seismic information on the region and expects to drill in several promising areas over the next year.
Drill Deeper
Cimarex's company slogan is "drill deeper". One of the interesting aspects of Cimarex's production process is just how and how far down their drilling occurs. Cimarex's innovative horizontal drilling approach in the Woodford shale play is the subject of an industry case study. The company's rotary steerable drilling systems can go to areas previously impenetrable.
It is also interesting to note the depths and methods of exploration Cimarex is utilizing. Cimarex is exploring stacked layers of geography that are as deep as 11,000 feet under the ground. And in many regions, like the Wolfcamp section of the Permian, producing zones are being located at multi-levels. It is only within the last few years that modern drilling technology has made the economics of such efforts profitable.
Cimarex reported its Q1 (MAR) results on May 7th. Its earnings were $1.67 which was $0.15 better than the Capital IQ consensus estimate. First quarter 2014 production for the Permian Basin averaged 347 Mmcfe per day, for a 26% YOY increase. Oil volumes increased 22% to 31,624 barrels per day. During the quarter, Cimarex drilled and completed 34 gross (21 net) Permian Basin wells, including 25 gross (13 net) wells in the Bone Springs area. As of March 31st, 23 gross (15 net) wells were awaiting completion. Cimarex currently has 17 horizontal rigs running in the Permian.
Cimarex now estimates that total production volumes for 2014 will average 822-- 847 MMcfe per day, for a midpoint increase of 20 percent over 2013. Oil volumes are expected to grow 20 -- 23 percent in 2014 and gas volumes 13 to 17 percent. Total company production for the second quarter of 2014 is projected to average 810 to 830 MMcfe per day. Estimated 2014 exploration and development capital is estimated to be $1.9 billion with $1.5 billion of that allocation to be directed toward the Permian region.
The company's strong earnings results were a key driver in its decision to purchase additional Cana assets for $249 million in cash in a transaction announced on May 6th. The purchase solidifies the company's position in Cana, which Cimarex says has a return potential equivalent to the Permian.
Competition
One of trends the company experienced in 2013 was heightened competition in the Delaware Basin of the Permian. Whereas normally companies do not welcome competition, company management indicated it was actually helpful in leading them to identify more data points which helped solidify their core position in the region.
In 2013, the Permian surpassed the Eagle Ford in oil production. Thanks to its Permian stronghold, Cimarex now derives a higher percentage of its revenue from oil. Key competitors in the Permian Basin are mostly Texas-based and include: Occidental Permian Ltd., Pioneer Natural Resources (NYSE:PXD), Apache Corp (NYSE:APA), Kinder Morgan (NYSE:KMI), and XTO Energy (a subsidiary of ExxonMobil (NYSE:XOM).
Summary and Risks
Cimarex is another company that is poised to benefit from America's burgeoning domestic oil boom, as new drilling methods and technology facilitate the exploration and production in areas that previously did not make economic sense. The company is a good play on the promising opportunities in the Permian and Mid-Continent Basin regions. Cimarex's drill-bit driven growth strategy prudently targets ROE and should continue to drive growth and shareholder value. Even though Cimarex is hedged against oil and gas prices, it is still exposed to fluctuations in energy demand and prices. However, as the outlook for oil and natural gas prices continues to improve, quality energy names like Cimarex have been rewarded on a year-to-date basis. The stock is currently trading at new highs having just broken out to the upside.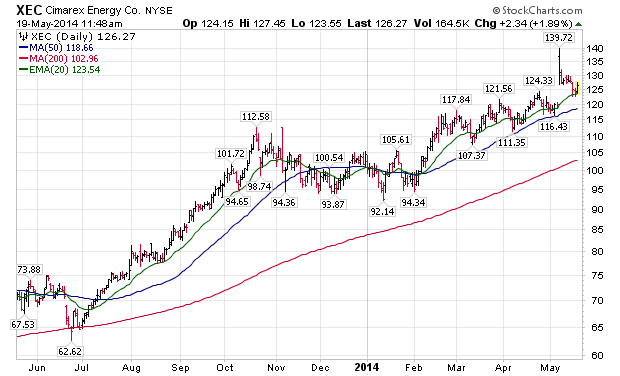 Gunderson Capital Management Best Stocks Now! Analysis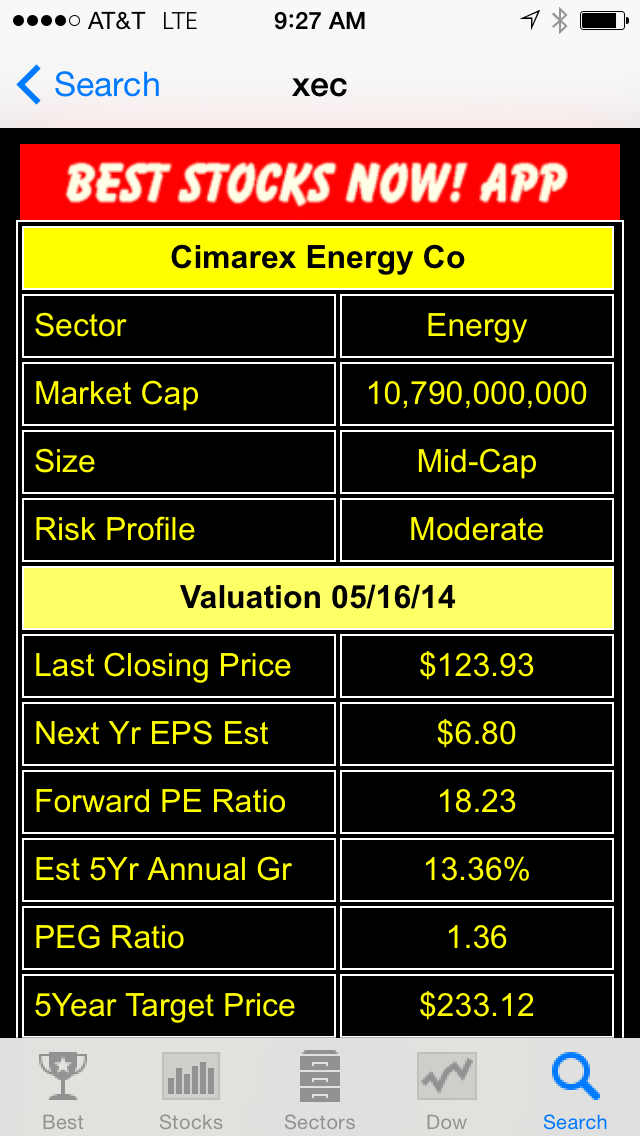 Cimarex Energy is a Mid Cap stock with a market cap is $10.6 billion and a I have it classified as appropriate for moderate growth risk profile. Here at Gunderson Capital. Mgt., we started buying the stock at the end of March for our Conservative Growth accounts.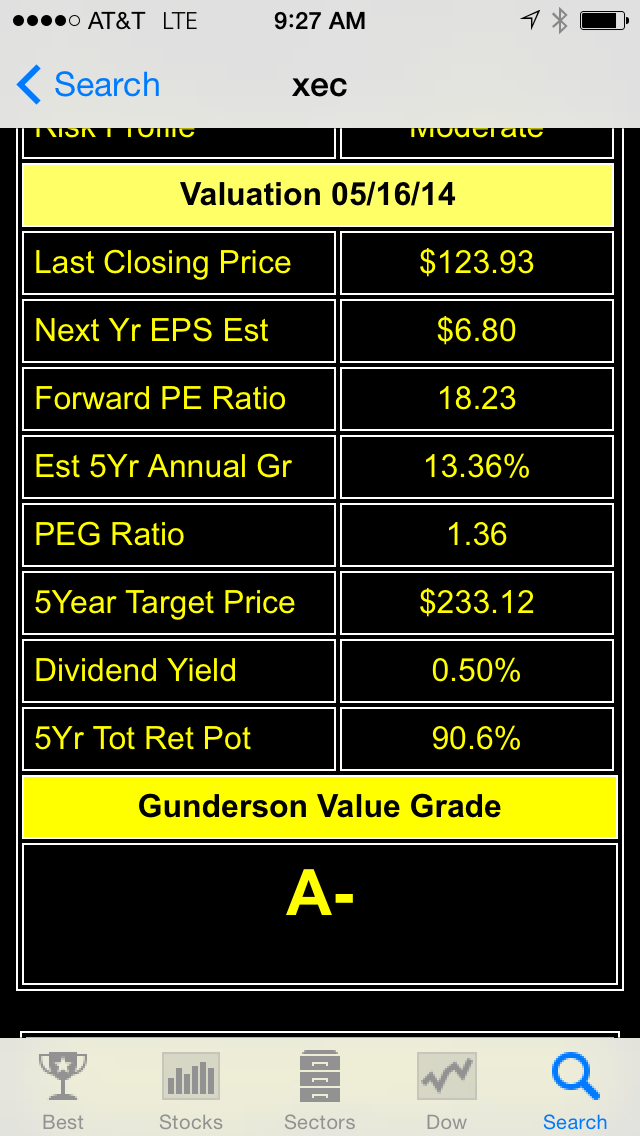 Data from Best Stocks Now App
On a valuation basis, Cimarex is reasonably valued with a trailing P/E of 21 and a forward P/E of 18.2. Based on next year's EPS estimates of $6.80 per share and an expected annual growth rate of 13.4%, I have a five year target price of $233 per share.
I give the stock a proprietary Value Grade of A-. Lower P/E names are currently being favored by the market. This stock is not only reasonably valued but it is also in the strong performing Energy Sector which my app has identified as a good place to have exposure in the market right now. The Oil and Gas Exploration Sector in particular, currently ranks an A and is the highest of our Sector rankings.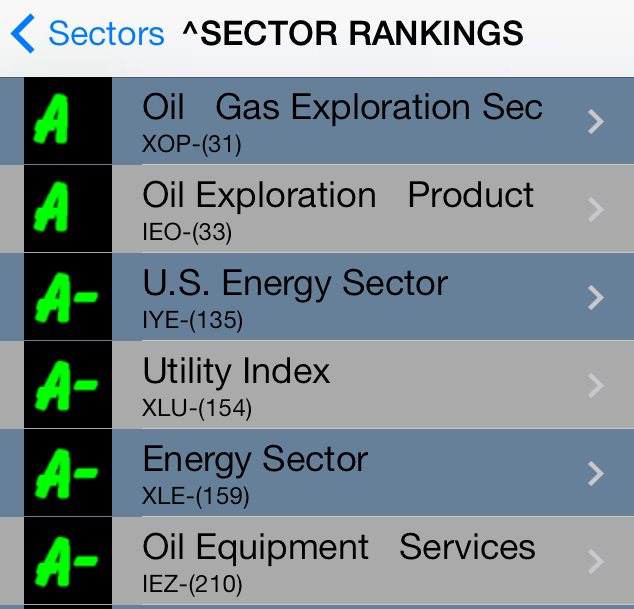 In addition to the stock being a good value and in a very favorable sector, it has also been a very strong performer over the years.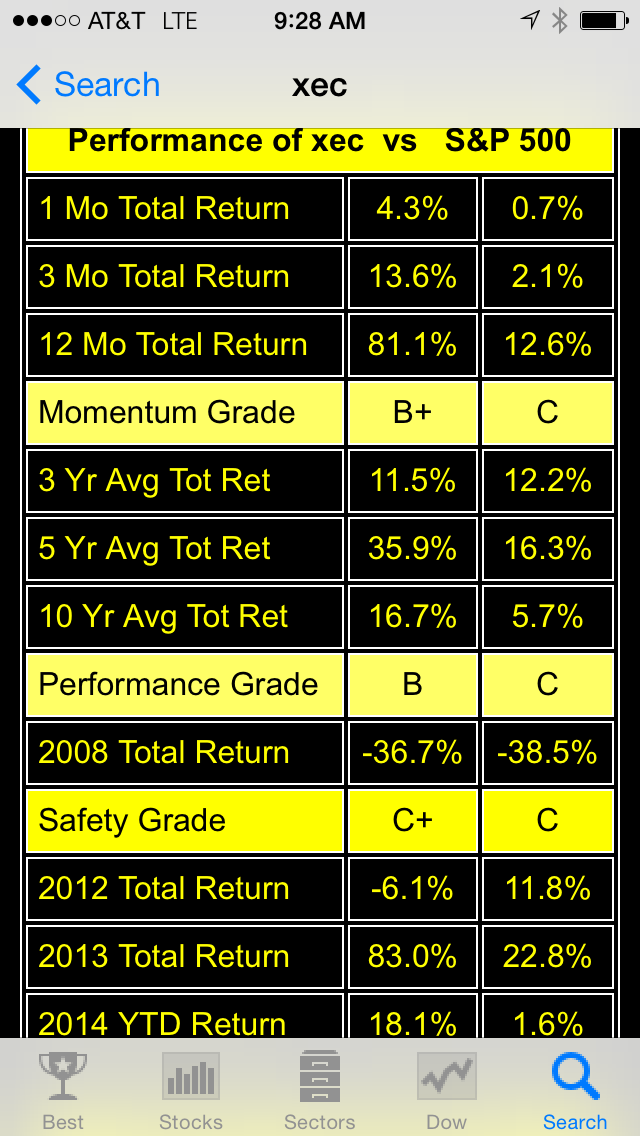 Data from Best Stocks Now App
The stock has delivered an average annual return of 16.7% for investors. This compares with a market average return of 5.7%. Over the last five years, the stock has delivered more than twice the average annual returns of the market.
The stock has lagged the market over the last three years. That has helped to create some nice value in the shares currently. This despite a torrid run of 81% over the last twelve months.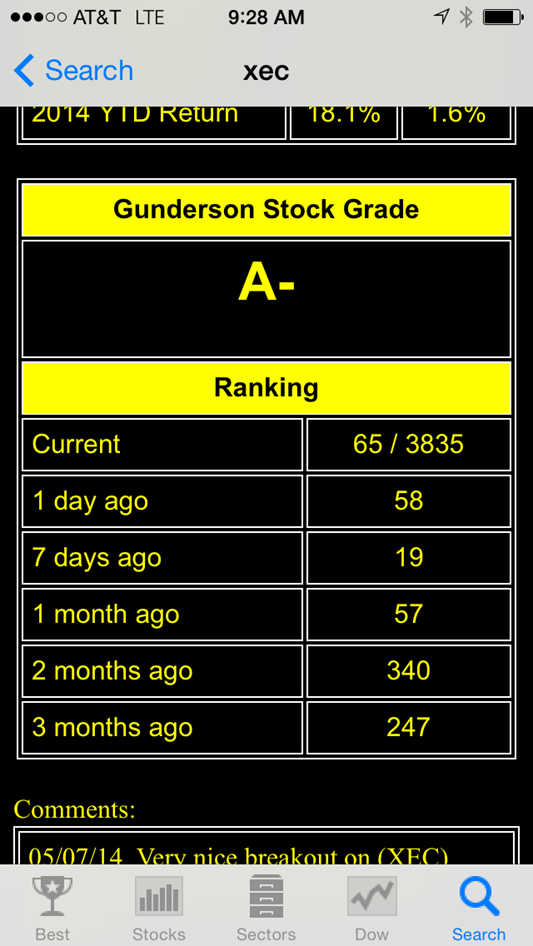 Cimarex currently receives an overall Gunderson Stock Grade of A- and it ranked at number 65 of my universe of 3,835 different opportunities. Cimarex is another example of a great growth stock, trading at a reasonable valuation in the strong Energy sector that qualifies as a Best Stock Now!
Disclosure: I am long XEC. I wrote this article myself, and it expresses my own opinions. I am not receiving compensation for it (other than from Seeking Alpha). I have no business relationship with any company whose stock is mentioned in this article.