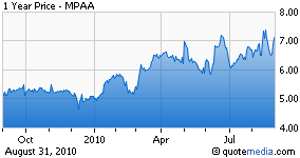 Click to enlargeBusiness Summary
Motorcar Parts of America (NASDAQ:MPAA) remanufactures vehicle alternators and starters ("cores") for the auto repair market, focusing primarily on the "do-it-yourself" (DIY) segment. MPAA sells over 90% of its remanufactured units through auto parts retail chains such as AutoZone (NYSE:AZO) and Pep Boys (NYSE:PBY), where they are sold under private labels. The remainder of sales come from professional installation warehouses, sold under the brand names Quality-Built, Talon, Xtreme, and Reliance. MPAA takes used, non-working cores that are turned in by customers for a credit, dis-assembles them for parts, and then re-assembles a new, working core using those parts and new ones. 96% of remanufactured cores in 2010 were replaced by used cores, and MPAA can usually produce 100 remanufactured cores from 120 used ones. Unusable leftover parts are sold to scrap yards.
Growth Strategy
MPAA has produced strong growth recently, increasing operating earnings at a compound annual rate of 27% over the past 5 years. Much of this is due to moving remanufacturing operations to Mexico and Malaysia in 2007, improving gross margins by as much as a third. Underlying market growth is tepid at about 3%, but MPAA has used its scale and exclusive contracts to continually take market share from competitors. Acquisition is also a growth key. The firm purchased Reliance, a similar but smaller business, in 2009. Just yesterday, the firm announced a strategic investment in Fenwick Automotive, a maker of remanufactured steering components, brakes, clutches, and so forth. The investment has an option to purchase a large part of the company, which is expected to almost double MPAA's revenues and be accretive to earnings per share.
Competitive Position
MPAA competes directly against Remy International (OTC:RMYIO) and BBB Industries, both large, diversified makers of remanufactured parts. There are also several smaller regional and specialty competitors. I find MPAA's competitive position to be strong for several reasons. One, the company has significant scale, having probably the largest variety of alternator and starters available. Second, this is a niche, "boring" business with limited returns on capital, unlikely to attract a lot of new competitors. Third, the inventory demands are massive. MPAA must manage inventory to cover the huge array of different vehicles, maintaining nearly 4,000 unique parts, very difficult for new competitors to match quickly. Finally, MPAA utilizes exclusive contracts with many suppliers to lock out competitors. Probably the biggest competitive risk is emerging in China, but this is some years off, it it materializes at all.
Risks
The major risk is customer concentration. AutoZone (AZO) constituted 44% of fiscal (March) 2010 results, and the top 4 customers drove 85% of sales. To mitigate this risk, MPAA signs long-term (4 years or more) contracts that allow them to be the primary or exclusive provider of cores. In return, the company gives price concessions, marketing allowances, and so forth. Still, the loss of any of the top 4 customers would be devastating. Aside from this, my other longer-term concern is the increasing complexity of automobile systems limiting or even reducing the do-it-yourself market for part replacement. Recent strength in the auto industry is putting more new cars on the road, reducing demand for replacement parts as the US fleet becomes newer.
Management
Selwyn Joffe is the Chairman, President, and CEO since 2003. He has a long history with the firm, joining as a director in 1994 and sitting as Chairman since 1999. He is just 52, has accumulated a sizable $6.3mm personal stake in the firm (7% of the shares), and is behind significantly improved business results during his tenure. Founder Mel Marks, 82, still sits as a member of the board. He recently liquidated much of his ownership in the firm, but his age makes this less of a concern than it would usually be. While this is a good team, I would prefer to see the Chairman and CEO positions split, and several directors have prior ties to Joffe, limiting their overall independence.
Financial Health
MagicDiligence is not quite sure how this is a Magic Formula stock. Standard return on capital is just 11%, and even performing Magic Formula adjustments only produces a figure of 18%, hardly enough to make the screen. This is due to the massive amount of both used and remanufactured core inventory required to run the business. These inventory demands tie up a lot of working capital. Free cash flow is net negative over the past 5 years, going into the black finally for fiscal 2010. Net cash position is weak, too, with just $2 million in cash on the balance sheet, versus almost $12 million in total debt. Interest payments are covered by operating earnings about 4 times over, not bad but below the 5 times over I use as a minimum. Financial strength is not the most attractive thing about this company, but it is not alarming. MPAA has a $5 million repurchase program outstanding and pays no dividends.
MagicDiligence Opinion
Quantitatively, this is a nice micro-cap value investment. P/E is just 7.9 (forward 7.4), price-to-sales is 0.57, and Magic Formula adjusted earnings yield is 21.5%, all solidly in value territory. Net tangible assets per share is 8.21, almost 15% higher than the current market cap. The price-to-earnings-vs-growth (PEG) is very attractive at 0.35. I like the competitive position as well, as MPAA is the main player in a small, niche market unlikely to be flooded with competition. The manufacturing move greatly improved profitability (though Torrance, CA may disagree).
Alas, though, Magic Formula Investing is looking for great businesses at cheap prices. This is not really a great business. Returns on capital are mediocre, and cash is largely tied up in inventory that may or may not be movable. The underlying market will grow at the long-term rate of inflation, at best, and is likely to flatline or decline in the future due to vehicle complexity and changes in automotive technology. Customer concentration is a risk. The balance sheet does not have a lot of cash.
MagicDiligence believes small-cap value investors stand to make some scratch from MPAA at current price of $7 and change. My fair value estimate is between $9-10, with some possible upside from that stemming from the Fenwick deal. However, this is not really a Magic Formula-quality stock, and as such cannot be realistically considered for the Top Buys list.
Disclosure: No positions