By Brad Zigler
Summer's winding down and with it, demand for gasoline. Wholesale unleaded gasoline blendstock prices have dipped 7 percent since the end of June, as inventories have risen to five-month highs.
There have been no summer doldrums for ethanol, however. Prices for the alcohol fuel have climbed 20 percent since June, as its correlation with corn prices tightened. Currently, ethanol's 21-day rolling coefficient is 83 percent.
Ethanol vs. Gasoline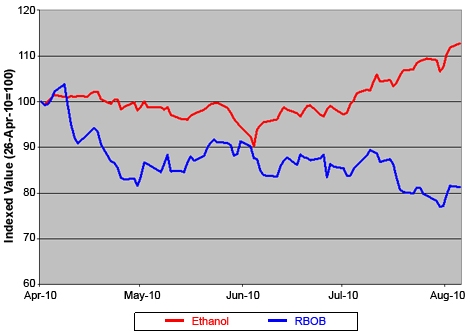 That correlation has been mirrored by a 20 percent upsurge in corn prices since June. The September CBOT delivery spiked above $4.25 a bushel on Monday, as second-month ethanol prices stretched to $1.83 a gallon.
The fundamentals for ethanol were laid out in the latest Energy Department report, which showed a third consecutive weekly decline in ethanol production. High corn prices have discouraged refining. Inventories, according to the latest government figures, have fallen to a seven-month low of 17.9 million barrels.
Viewed from another perspective, refining margins have improved along with the fuel's price. The corn crush now yields $1.80 in product sales proceeds (ethanol and distillers' dry grains) for each bushel processed. Since June, gross processing margins have widened by 269 basis points (2.69 percent). Crude oil refining margins, meantime, have sunk 365 basis points.
Ethanol Prices vs. Ethanol Crush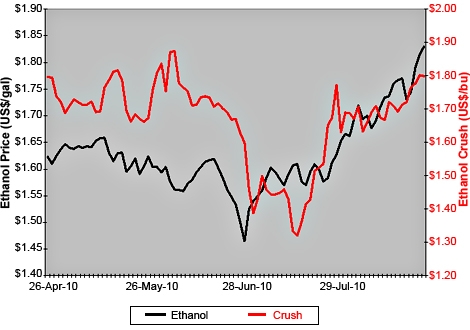 You'd think a widening margin ought to have improved the share market for ethanol processors. And, to an extent, that's true. Prices for Green Plains Renewable Energy, Inc. (NASDAQ:GPRE) common bottomed at $8.12 on Aug. 13, closing Monday at $9.13. Pacific Ethanol, Inc. (NASDAQ:PEIX), buoyed by the jettison of $295 million in debt through bankruptcy, turned up after scraping the 37-cent level to finish at 53 cents yesterday.
So, is new life being infused into these once-moribund producers? Well, as domestic ethanol investors have long known, it's never safe to assume any steady state in this business. GPRE, for example, is still struggling to retrace its July-August swoon. Staying above $9.49 on a closing basis would make a stronger recovery case as well as setting up a run to the next upside hurdle at $9.81.
You see, there's sometimes good reason to long for summer's end.
Disclosure: No positions