Since being reintroduced into the portfolio August 12th on a limit order when Riverbed Technology (NASDAQ:RVBD) filled its "gap," the stock has been on fire. It is acting as if the S&P 500 is up 5-7% for the month of August, rather than down by that amount.
Within 48 hours of purchase I had a 8% gain on my purchase so I quickly took profits thinking with the market in trouble, the gains could evaporate. Instead it has lived in a vacuum.
Now the stock is up 23% from where I bought just a few short weeks ago, so I am going to cut the position by half again. Technically there is no reason to sell, as a very bullish 'flag' formation is apparent. But I am going to take my profits and I'll let the rest ride from here.
If the S&P 500 were in more attractive condition I'd most likely be adding to the position rather than subtracting. (Click to enlarge)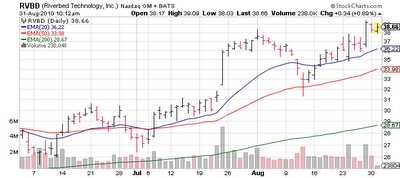 Disclosure: Long Riverbed Technology in fund; no personal position