As Greece bonds weaken and spreads widen, the cost of insuring Greek sovereign debt against default is steadily increasing. CDS on 5-Yr Greece bonds, which reached a high of 1008.35 on June 25, 2010 is now at 962.22, slowly gaining from the 750 level it bounced off from in July. (Click to enlarge)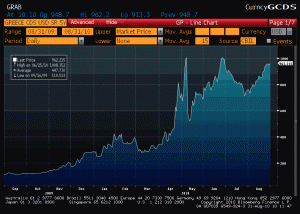 CDS on Spain, Italy and Portugal bonds have also blown in the recent weeks, which triggered the EU and IMF to launch a $1 trillion package to rescue the euro.
A good point stated by Allan Mattich in his article is that the default can take more than the one conventional form we know – the debt can be devalued due to very high inflation, higher taxes can be levied on bondholders or institutions can be forced to buy bonds at unusually high prices.
Disclosure: None