I guess everyone feels uncomfortable about buying a stock that trades at a higher P/E multiple. I get it; you want to buy a Starbucks Frappuccino for a dollar rather than 5 dollars. Bargain hunting in the technology sector is difficult, and has probably become a waste of time. The higher growth names are priced to perfection and assuming guidance and earnings results meet expectations, the stock usually trends higher. The stock never gets cheap, and it never trades at low earnings multiples until the growth dissipates.
Overall, 3D Systems (NYSE:DDD) falls into the category of a little undervalued relative to growth prospects, but too expensive for the average retail investor to buy into. I have high conviction that 3D Systems has found a base, and while earnings growth hasn't exceeded analyst expectations, it's at least meeting them. The stock has more room to run, and I think I can argue that point in this specific article.
Earnings results weren't too bad
I'm not going to spend too much time reviewing past results, but I do want to mention them, so I'm not making an argument that's devoid of any factual knowledge.
In the first quarter, 3D Systems met consensus expectations. In the past three quarters, 3D Systems has not beat earnings. This is okay, but it's not helping to ease the skepticism investors have had. There's hardly any margin of safety, and a small slip-up could lead to a disappointing quarter.
In the most recent earnings conference call, 3D Systems communicates that it's doing a lot to consolidate global sales, and to drive other efficiencies from its operations, and it continues to acquire smaller competitors like Medical Modeling, Gentle Giant Studios, and the Wilsonville team at Xerox (NYSE:XRX).
The company had 28% organic revenue growth, and when including acquisitions, revenue growth was 45% (indicated below by the graphic).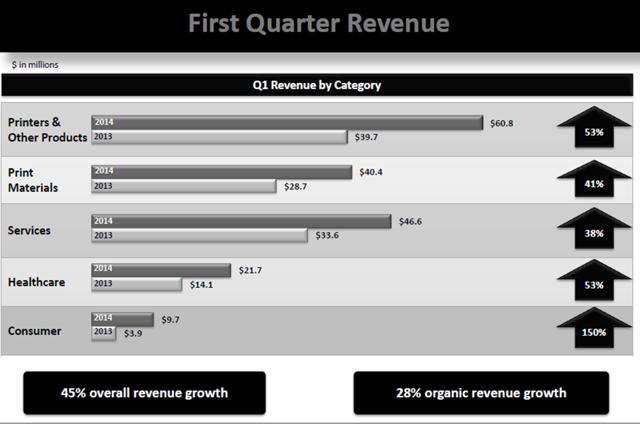 Source: 3D Systems
In its Q1 fiscal year 2014, the company somehow managed to push growth in its consumer division by 150%. This is important, because consumer adoption was what made many in the industry declare that 3D printing will make packaged delivery irrelevant. Although there are many material goods that a 3D printer can print from scratch, it's not very cost competitive for consumers to go out and buy an $800 printer just to print out a basketball.
However, enthusiasts are starting to adopt the product in droves, at least according to RBC Capital Markets, Amit Daryanani:
Of the ~1,300 survey respondents, only 80 indicated they currently own a consumer 3D printer or utilize a consumer 3D printer at work (6% of total survey applicants). However, an additional ~100 respondents stated that while they do not currently own or work with a consumer 3D printer, they plan to purchase one within the next 12 months.
Based on those survey results, it's certainly likely that 3D printing will accelerate, as the number of survey respondents indicating that they will buy a 3D printer is higher than the figure of those who already own one. Furthermore, service and material revenues are likely to improve in that specific category due to increases in the installed base, leaving me with a favorable impression on the consumer division.
Healthcare a growing catalyst
For the most part, 3D printing is making massive in-roads in the healthcare sector. Printing artificial limbs and the like can be done better using a 3D printer. Furthermore, the type of materials that can go into artificial body parts and the like can be customized, and is cost competitive in the medical field.
3D Systems acquired Medical Modeling to drive further growth in this category. The Medical Modeling team developed software so surgeons can operate more successfully on patients. At least, according to Everyday Health:
The advantage of 3-D technology is that you can actually do surgery before you get to the operating room," said Oren Tepper, MD, Jayla's surgeon at the Montefiore Medical Center. "It not only allows you to plan the surgery but also pick up any problems that might happen during surgery." Without a model to practice on, that would probably mean several exploratory surgeries before the final operation could be performed.
With this acquisition, 3D Systems seems firmly on track to having a more comprehensive product offering in the medical space. Furthermore, by working closely with medical professionals, it's unlikely that 3D Systems is at any threat of losing market share in this specific sub-segment of the broader 3D printing landscape.
Healthcare-related revenue was up by 53% in the first quarter. It is 3D Systems' second fastest segment. Even if 3D Systems doesn't figure out a way to print out organs, the use of prosthetics in various conditions, paired with computer modeling and analytics is perfectly relevant and is a large enough of a market worth competing in. Over time, I expect the medical segment to drive further bottom and top line growth, and using acquisitions to secure an advantage in this field was a fairly intelligent business decision by upper-level management.
Conclusion
While 3D Systems isn't the easiest stock to own, I think we've found a bottom. The company doesn't waste any time looking for strategic acquisitions, and has been able to grow bottom and top line results on a fairly consistent basis. The high growth rates justify the high P/E ratio of 115. While some think it's a ridiculous number, it really isn't, as 3D Systems is in an investment year. Investment years dampen profit margins, increasing the premium paid on earnings.
The downside is the lack of margin of safety. The company hasn't beat earnings expectations in the past three quarters, which indicates that there's limited upside surprises in store for shareholders. Without earnings beats, the stock is likely to remain in a sideways channel.
Disclosure: I have no positions in any stocks mentioned, and no plans to initiate any positions within the next 72 hours. I wrote this article myself, and it expresses my own opinions. I am not receiving compensation for it (other than from Seeking Alpha). I have no business relationship with any company whose stock is mentioned in this article.