Share price of International Business Machines (NYSE:IBM) has experienced flat performance year to date, compared to a 2.5% gain for S&P 500 Index. In my view, the blue-chip dividend stock now warrants a buy rating as its cheap valuation presents an attractive risk/reward opportunity to bet on the company's strategic transition.
IBM recently hosted an annual investor conference. In the meeting, management reiterated their goal to achieve at least $20 EPS by 2015. Primary growth drivers includes sales growth, shares reduction through repurchases, and tax benefits. Of the total sales growth, management anticipates that growth in software and service businesses would be the main driver while hardware business should stay somewhat flattish. To boost software and services exposure, IBM has allocated significant resources to continue expand its business analytic and cloud offerings to capitalize on the industry trend. Together, these businesses are expected to generate approximately $27B revenue by 2015, from just $20B in 2013. Owing to higher expected capex to drive growth and cash taxes, management expects net income to free cash flow conversion rate to stay around 90% over the next few years, a decrease from about an average of 103% in the past 3 years.
Due to the price weakness in the past 12 months, IBM is now trading at a cheap valuation. From a relative perspective, IBM's forward 2015 P/E multiple of 9.5x is at 36% discount to the same multiple of S&P 500 Index (see chart below).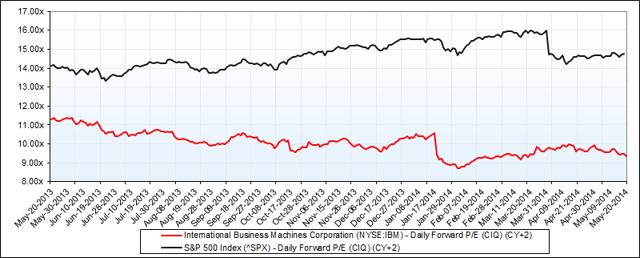 Given that 1) IBM's current consensus long-term EPS growth estimate of 9.5% is in line with the average estimate of 9.0% for S&P 500 companies; 2) the stock's 2.4% dividend yield is slightly above S&P 500's average at 1.9%; and 3) the company also has a significant share buyback program in place which is expected to continue in the future (discussed later), I view the current large P/E valuation gap is somewhat exaggerated. The stock's valuation also looks cheap on an absolute basis. Based on current annualized dividend of $4.40 per share and 10% cost of equity, the Gordon growth dividend discount model suggests that the current share price of ~$185 implies a dividend growth rate (on per share basis) of approximately 7.5% (see chart below), which is considerably below IBM's per share dividend CAGR of 14.9% over the past 5 years.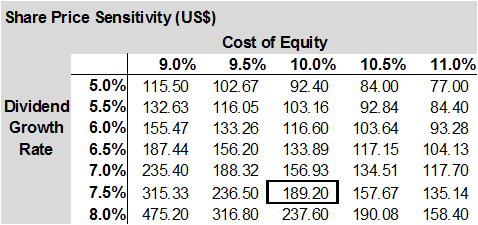 I have performed a cash flow analysis to illustrate IBM's capacity to support its capital plans including dividend, share repurchase, capex, and cash acquisitions (see chart below).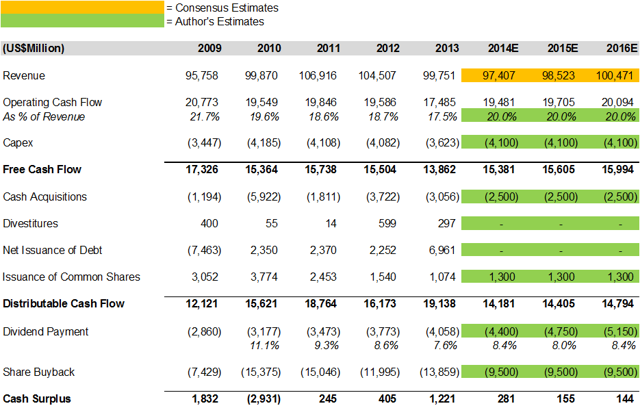 My projections started with current consensus revenue estimates which predict revenue to rise from $97.4B in 2014 to $100.5B in 2015. I assumed a flat operating cash flow margin of 20% through 2016, which is in line with its historical average in the past 5 years. For capex, I assumed the spending to average at $4.1B over the forecast period, which is higher than the level in 2013 to reflect management's intention to boost capex for data and cloud growth. Given these assumption, free cash flow was forecasted to grow from $15.4B in 2014 to $16.0B in 2016. Based on current consensus net income estimates of $17.2B and $17.5B for 2014 and 2015, respectively, my free cash flow forecasts imply a similar conversion rate of 89% for the two years, which is fairly in line with management's expectation. Assuming that IBM will incur average cash acquisitions of $2.5B per annum, my projections suggest that IBM can continue to increase total dividend payment at about 8% per annum while still has approximately $10B leftover in each year that can be spent on share repurchase. It is noted that the annual growth for dividend per share is about 15% in this scenario as total share count will be reduced by continued repurchase activity. Moreover, total dividend payment as percentage of the forecasted free cash flow (i.e. FCF payout ratio) stays at around 30% throughout the forecast years, suggesting the double-digit per share dividend growth can be sustained by IBM's growth roadmap. As such, the 7.5% dividend growth implied by the current share price appears to be low.
In conclusion, IBM's current valuation largely underestimates what the company can deliver over the next few years. Investors are recommended to accumulate shares at the current price level as the risk/reward for IBM's successful transition appears compelling.
All charts are created by the author, and data used in the article and the charts is sourced from S&P Capital IQ, unless otherwise specified.
Disclosure: I am long IBM. I wrote this article myself, and it expresses my own opinions. I am not receiving compensation for it (other than from Seeking Alpha). I have no business relationship with any company whose stock is mentioned in this article.