This article continues my coverage of Canadian banks, which is a topic I discussed in my past articles. Canadian banks will report their fiscal Q2/14 (the quarter ending April 30) results, starting with Royal Bank of Canada (NYSE:RY) and Toronto-Dominion Bank (NYSE:TD) on Thursday (May 22). The reporting will continue next week, with The Bank of Nova Scotia (NYSE:BNS) reporting on Tuesday (May 27), Bank of Montreal (NYSE:BMO) on Wednesday (May 28) and Canadian Imperial Bank of Commerce (NYSE:CM) on Thursday (May 29). Please see Table 1 for detailed information. All currency references are in Canadian dollars, including EPS numbers, unless otherwise stated.
Table 1: Canadian Banks Q2/14 Reporting Season Info
| | | |
| --- | --- | --- |
| Company | Reporting Date and Time | Conference Call Time |
| BMO | May 28 at 7:30am | May 28 at 2:00pm |
| BNS | May 27 at 6:00am | May 27 at 8:00am |
| CM | May 29 at 6:00am | May 29 at 8:00am |
| RY | May 22 at 6:00am | May 22 at 8:00am |
| TD | May 22 at 6:30am | May 22 at 3:00pm |
Source: Respective companies' website (see links). All times are in Eastern Time (EDT).
For those investors not familiar with Canadian banks, Q2/14 is often a weak quarter, mainly because there are fewer days in the quarter, due to fewer days in February and April. As shown in Table 2, the average consensus for the Big 5 banks shows a modest 7.4% year-over-year (Y/Y) increase in earnings, while the quarter-over-quarter (Q/Q) comparison is weaker at -3.8% because of the fewer days in Q2/14 vs. Q1/14. The mid-single digit Y/Y increase in earnings will be driven by modest loan growth, better margins (net interest margins or NIM) and credit experience. The Q/Q decrease will be mainly driven by the lower number of days in the quarter and the weakness in capital markets revenue, especially in the FICC (Fixed Income, Currency and Commodity) subdivision.
Table 2: Consensus Forecasts For The Big 5
| | | | | | |
| --- | --- | --- | --- | --- | --- |
| | Q2/14 (E) | Q2/13 (A) | Q1/14 | Y/Y | Q/Q |
| BMO | $1.55 | $1.46 | $1.61 | 6.2% | -3.7% |
| BNS | $1.32 | $1.24 | $1.34 | 6.4% | -1.5% |
| CM | $2.08 | $2.12 | $2.31 | -1.9% | -9.9% |
| RY | $1.44 | $1.29 | $1.44 | 11.6% | 0% |
| TD | $1.02 | $0.95 | $1.06 | 7.4% | -3.8% |
| Avg. | | | | 5.9% | -3.8% |
Source: Reuters. TD's figures have been adjusted for the 2-1 stock split that took place back in January
Canadian banks performed extremely well in the past year, easily outperforming both the TSX and the S&P 500. In a low interest rate environment, the 4% average dividend yield on the Canadian banks is definitely attractive to investors, especially compared to other fixed income alternatives. Given that long-term bond yields have decreased, Canadian banks may continue to outperform relatively vs. the general market.
With stable earnings growth of 7-10% and reliable annual dividend increases since the 19th century, Canadian bank stocks are excellent long-term investments. However, bank stocks will tend to revert to the mean, and investors can take advantage of this fact. Outperformers will often underperform in future periods. BMO and RY performed well in 2012 and 2013, but have lagged so far in 2014. On the other hand, CM, BNS and TD have outperformed lately, after performing poorly in 2013.
Table 3: Historical Performance (Total Return)

Source: Yahoo Finance. The highlighted return shows which bank had the best return during that specific time period. The returns are in Canadian dollars, except the S&P 500, which is in U.S. dollars.
Items to Watch #1: Canadian Personal & Commercial Banking
Canadian banking divisions are the cash cow for the Canadian banks, and generate a significant portion of their overall net income. Given that the Big 5 controls over 90% of the overall deposit (top 5 U.S. banks only control slightly above 50% of the overall deposit), the oligopoly banking structure in Canada allows banks to earn over 40% ROE in their Canadian personal and commercial (P&C) banking divisions.
Banks have targeted loan growth in the 5-10% range, but that goal may be in jeopardy, since the yield curve has flattened (see Graph 1 below). Because banks borrow short and lend long, a flatter yield curve could put additional pressure on margins, or NIM. Investors should watch out for loan growth and NIMs in the current quarter and assess the guidance banks give on future loan growth and NIMs.
Graph 1: 3-Month BA - 10-Year Government of Canada Spread (2 years)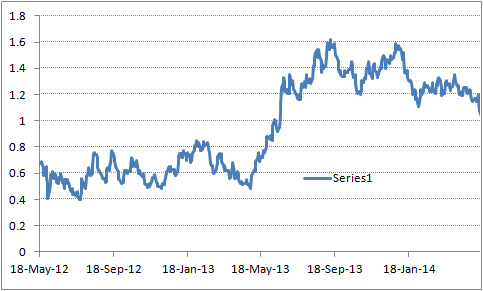 Source: Bank of Canada. The scale is in percentage.
Items to Watch #2: Capital Markets/Wholesale Banking
This division is particularly important to RY, BMO and BNS. RY has the largest capital market division (approximately 25% of total profits vs. peer average of 20%) among the Big 5 and could see weakness in its trading business, especially in the FICC subdivision. However, RBC also has the largest advisory business that could offset the weakness in trading. BNS and BMO have larger trading businesses relative to their advisory/investment banking businesses, so the weakness could drag profit growth. TD and CM have smaller trading businesses, but the impact could still be material to the bottom line.
Investors should analyze the revenue trends within wholesale banking among the banks. The compensation-to-revenue ratio is a good indicator of operating efficiency, and investors should watch out for any improvement in this ratio.
Items to Watch #3: Credit and Capital
Credit should improve on a Y/Y basis. Investor should watch for improvements in gross impaired loans, often called non-performing loans, and the stabilization of the gross impaired loan ratio (gross impaired loans divided by average loans and acceptances).
Tier 1 common equity ratios should decrease, as the CVA (credit valuation adjustment) rule implemented in the quarter lowered capital ratios. Investors should watch out for potential trends in Tier 1 capital ratios and be on the lookout for management's guidance on the deployment of excessive capital in the form of buybacks or dividends.
Specific Items to Watch for Each Bank:
Bank of Montreal:
Any improvements in its U.S. P&C banking division? After acquiring Marshall and Ilsley in 2010, BMO is seeing slow profit growth vs. its peers. Management has guided for better results in the latter half of 2014. With long-term yields having backed off since the beginning of 2014, investors should watch if management will keep that guidance.
What is the strategy for its wealth business going forward? After the large acquisition of F&C Asset Management in the U.K., investors should watch for any guidance or hint on future acquisition in the wealth management space. BMO has the highest excessive capital among the Big 5 banks, and has the capacity to take on mid-sized targets, especially in the wealth management space.
Will there be a dividend hike? BMO has grown its dividend at a slower pace vs. peers. It is likely BMO may deliver a dividend hike this quarter.
The Bank of Nova Scotia:
What is the rationale for divesting its 38% stake (currently worth approximately $3.5 billion) in CI, and how is the bank using the proceeds? After BNS announced its intention to divest its CI stake earlier this month, the bank made no announcement on how to spend the proceeds. Given the weakness in emerging markets lately, it is likely for management to use the proceeds for M&A purposes. Any color management can provide on the earnings release or conference call will be helpful.
Any improvements in its Latin American P&C banking business? In the two quarters, profits were weakened due to the spillover effects from the taper tantrum and emerging market panic in January. With the environment stabilizing since January, investors should watch out for any meaningful improvement in this segment
Canadian Imperial Bank of Commerce:
Given Canadian P&C contributes more than 70% of the overall net income, the loan growth and efficiency ratio will be scrutinized carefully.
Is CM making headway on its credit card business after selling 50% of its non-core Aeroplan customers to TD? Weakness could signal slower profit growth ahead, since the credit card business is a big profit contributor.
What is the strategic roadmap for its wealth management business? After losing the bid on Russell Investments to the LSE, investors may question management's goal of growing its wealth profits to near 20% of net income.
Royal Bank of Canada:
Given the weakness in FICC trading among the global investment banks (such as JPMorgan, Citigroup, Barclays and Deutsche Bank), RBC Capital Markets may experience a sizable drop in trading revenue during the quarter. The weakness in trading may be partially offset by higher advisory fees, as the M&A activities continued to gain traction.
Can RBC deliver its medium profit target of $2 billion in wealth earnings by 2015? The current run rate is only $1 billion, but management is aiming for an ambitious rate of $2 billion by 2015. Growing organically is not an option, and RBC has to grow inorganically. Investor should watch for hints on future potential acquisitions in the wealth space and whether management is affirming the $2 billion target.
Will Canadian P&C banking deliver another solid quarter? RY's guidance was for an efficiency ratio in the low 40s, positive operating leverage and loan growth in the mid-single digit range. Investor should watch if the bank can deliver on those goals.
Toronto-Dominion Bank:
Is there any improvement in the U.S. P&C business? After spending over US$20 billion in acquisition over the last 5 years, profit growth and margins are still low, but management has provided guidance for better results in the next few quarters. Investors should watch the financial results for the U.S. division carefully given it is the profit driver for the bank going forward.
Will its wholesale banking business deliver another weak quarter? TD's

wholesale banking business

, TD Securities, is mainly driven by trading revenues and could see another weak quarter. However, the impact should be limited given TD's wholesale contribution to overall profits is only 10%, compared to the peer average of 20%.
Will Canadian P&C banking deliver another solid quarter? TD has an excellent P&C business in Canada, and investors should watch out for improvements, such as a reduction in the efficiency ratio and increase in loan growth.
The Bottom Line:
Q2/14 is often not an exciting quarter for the Canadian banks, and often, banks may report negative surprises. Investors should scrutinize the earnings reports carefully on the Canadian P&C division, capital markets division and credit experience.
I prefer TD and BNS at the moment, because their short-term returns are still low compared to the peer group, and their price-to-book ratios (near 1.9 vs. peer average at 2.0) are low compared to their potential ROEs. Table 4 below shows the price target I calculated in my prior articles.
Table 4: Summary of Price Target Calculated in Past vs. Actual Result
| | | | | |
| --- | --- | --- | --- | --- |
| | Date of Article | Price When Article Was Written | Price Target in Article | Current Price (May 20, 2014) |
| BMO | December 4, 2013 | US$63.98 (C$69.19 ) | US$74.27 (C$80.00) | US$68.36 (C$74.55) |
| BNS | December 15, 2013 | US$58.14 (C$61.73) | US$65.50 (C$69.50) | US$61.68 ($C67.27) |
| TD | December 9, 2013 | US$44.08 (C$47.75) | US$52.50 (C$56.00) | US$47.29 (C$51.56) |
| RY | December 6, 2013 | US$63.48 (C$68.42) | US$69.50 (C$74.00) | US$67.37 (C$73.40) |
Source: Prior Articles. I did not write an individual article on CM in the past. US$ = US dollar and C$ = Canadian dollar
Disclosure: I have no positions in any stocks mentioned, and no plans to initiate any positions within the next 72 hours. I wrote this article myself, and it expresses my own opinions. I am not receiving compensation for it (other than from Seeking Alpha). I have no business relationship with any company whose stock is mentioned in this article.
Additional disclosure: This article is for informational purposes only and does not constitute an offer to buy or sell any securities discussed in the article. The stock mentioned in this article does not represent financial advice. The target price presented in this article is based on current information and are subject to change without further notice. Investors are recommended to conduct further due diligence before committing capital to any investment.