In my last article1 I alluded to the possibility of dropping the iShares Moderate Allocation ETF (NYSEARCA:AOM) from my retirement portfolio. I had acquired AOM in February, as one of the initial ETFs, because it seemed to serve as a nice basis for a bond presence. However, at the end of the first quarter of the portfolio's existence, it was underperforming even the most recent addition to the portfolio, the PowerShares S&P 500 Low Volatility Portfolio ETF (NYSEARCA:SPLV), which I had decided on in early April.
I sold AOM shortly after my article appeared; what I want to discuss in this installment is the process of adjusting or modifying the portfolio - what you might want to do when something is not working as well as you had intended.
Why AOM Got Dropped
I decided to drop AOM after market close on May 6, its closing price being $34.80. AOM was not performing badly, just not up to my expectations. The moderate allocation ETF might have been a perfectly fine addition to my portfolio 10 - 15 years ago (except that it was not in existence at the time), where it would have had a long period in which to mature. But I am retired, and I am looking to develop a portfolio that is paying off in the present.
AOM was underperforming the S&P 500, and was the only ETF in the portfolio to be in that position. As it was, the performance of AOM, YTD, was pulling the overall performance of the portfolio below the performance level of the other four ETFs. At the time, SPLV had increased in share value by 4.31% - making it the lowest-performing ETF of the remaining portfolio - and the portfolio's performance with AOM included was 4.07%.
AOM was thus holding the portfolio back - something that in itself would not have been unacceptable, except for the fact that AOM was also only paying a dividend yield of 1.87%. The next-lowest yield was SPLV's 2.48%. To my mind, its low performance along with a low yield made for a poor contribution to the portfolio and indicated that AOM should be replaced.
Zen and the Art of Portfolio Maintenance
Part of the stated purpose of the retirement portfolio was to minimize the need to watch over it. The idea was to set up a group of ETFs that would provide a reliable, regular source of dividend income, while at the same time showing some appreciable growth in share value. Ideally, this would involve a portfolio that would
Provide 5% - 8% dividends (minimally);
Outperform the S&P 500 consistently;
Never need to be touched again.
You can stop laughing now.
The only one of our goals that might be achievable is A), and that requires a lot of searching. B) can never be a guarantee - a lot of very attractive ETFs, not to mention most individual stocks, failed to match the ~ 32% performance of the S&P for 2013. C) is simply pie-in-the-sky foolishness - a good investor can never expect to keep a portfolio without having to check it out on a regular basis; the most one can hope to achieve is a portfolio with which one does not have to tinker day-to-day.
Realistically, one wants to maximize yield, see healthy performance, and periodically check the portfolio to see if it might need rebalancing/adjustment.
One might wonder where this leaves SPLV, which is now the lowest-performing and lowest-yielding of the four remaining ETFs. Admittedly, SPLV's performance YTD is quite light compared to that of the other ETFs. However, it was the last of the (original) ETFs to be added to the portfolio, being purchased in mid-April, so it would be premature to consider dropping it just yet.
While its yield is low, its dividend is in keeping with the nature of its holdings (the least-volatile companies of the S&P 500). I view SPLV not as a source of dividend income so much as I view it as a means of grounding the portfolio's performance - something AOM did not do.
AOM's Replacement
Some readers suggested that I could sell AOM and divvy up the money between the other four ETFs - a nice idea, and one that remained on the back burner until a final choice was made. The obvious advantage of such a move was that the money could be used to play to the portfolio's strengths. The downside involved the prospect of more transaction costs and the loss of some breadth of allocation.
I have maintained a "waiting list," of sorts, consisting of ETFs I would consider adding to the portfolio should I need a replacement. At the time of divesting myself of AOM I had four ETFs that looked very nice:
(These are not the only ETFs on the waiting list, but they conform the most to the structure of the portfolio.)
PHB almost made it onto the original portfolio, but was edged out by AOM - mainly because PHB is made up exclusively of bonds and I wasn't sure I wanted a pure-bond ETF at the time. It offers a nice 4.49% yield, low expense ratio (0.50%), low risk.
On the less-enthusiastic side, its total return YTD is 3.58%. It has a tendency to trade at a premium (currently approximately 0.40%). Average credit quality of the bonds it holds is B, with ~ 71% rated BB or B; ~ 18% rated lower than B or not rated. I am still not sure I want a pure bond ETF in the portfolio yet.2
SPHD, on the other hand, consists exclusively of equities from the S&P 500 Low Volatility High Dividend Index. At 3.36%, its yield is quite a bit lower than PHB's, but its total return YTD is a very impressive 8.73%. The fund's expense ratio also beats PHB's, coming in at 0.30%.
SPHD would make a nice addition to a well-rounded portfolio, but its index tells the story of why it doesn't make mine: it's index overlaps that of SPLV, and it contains 50 holdings as opposed to SPLV's 100.3 There's safety in numbers , and SPLV's larger body of holdings would seem to be more likely to resist volatility. That being said, if called on to replace SPLV, SPHD would be a likely candidate.
YYY was a very strong candidate. It is a fund made up of 30 closed-end funds ("CEFs"), containing both bond funds and equity funds. Its expense ratio is a bit steep at 1.66% - 1.16% of which consists of acquired fees and expenses - but that buys a yield of 8.58% (projected). Its total return YTD is a healthy 7.20%.4
YYY is a fairly new ETF, having an inception date of June 21, 2013; it was converted from the Sustainable North American Oil Sands (SNDS) ETF originally issued by Exchange Traded Concepts. YieldShares is an ETF sponsor founded in March, 2013 by Christian Magoon of Magoon Capital.5
What is particularly nice about YYY (besides the obviously attractive yield and total return) is that, while it maintains roughly the same proportions of bonds to equities as the retirement portfolio, it adds an element that was not present: YYY's holdings include CEFs that employ short strategies, both in bonds and equities. Such a fund would bring an additional dimension to the portfolio. Moreover, its equities filled in some of the sectors that are under-covered by the other holdings in the portfolio.
There are two reasons why I did not add YYY to the portfolio, First, the fund and its issuer are both very new. Mr. Magoon is well established in the field of ETFs, and served as President of Claymore Securities (now Guggenheim Investments),6 but set up shop for himself in 2013, and I felt somewhat reluctant to place my money in a fund and issuer that were both very new.
Second, my broker does not trade in YYY.
So, the Winner Is . . .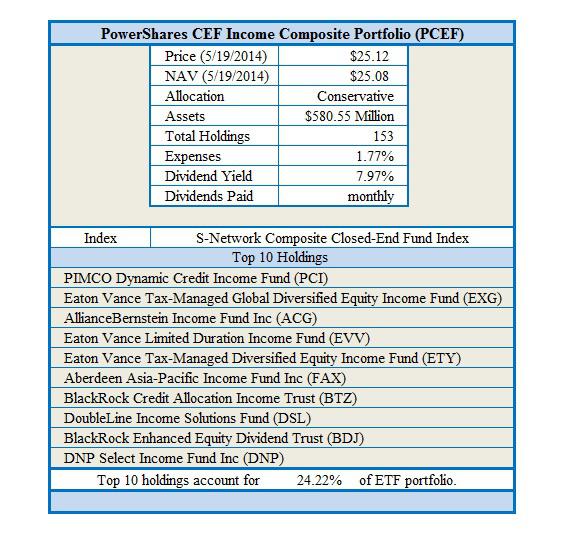 PCEF falls a little bit light compared to YYY when it comes to yield (7.97%) and total return YTD (6.76%), but it does beat out everything currently in the retirement portfolio (and soundly trounces AOM's 1.87% yield and - currently - 2.19% total return). It has ten times the assets that YYY has, and five times the holdings. Its size should serve to give it stability in earnings, and quite possibly enhance those earnings a bit.
As with YYY, the yield comes at a cost: PCEF has an expense ratio of 1.77%, just higher than YYY's 1.66%.7
PCEF's equity holdings are in line with the holdings of the portfolio in general, although it does pick up some slack in a couple of areas, notably healthcare and technology. While the technology sector has taken its lumps so far this year, it is not a sector to be ignored; likewise, healthcare deserves a place in any well-rounded portfolio. YYY may have satisfied the needs in these sectors better, but PCEF is a solid addition.
As far as its bond holdings are concerned, over one-third are government bonds, and more than one-fourth are corporate. Approximately 60% of its bonds earn between 4.00% and 8.00%; two-thirds have ten or fewer years to maturity. Bonds constitute approximately 66% of PCEF's portfolio, which is a significant increase over AOM.8
And, not to be outdone, PCEF also includes CEFs that utilize short strategies, just as YYY does.
Effects of the Adjustment
One of the more pleasant effects of adding PCEF in place of AOM is the change in the portfolio yield. With AOM, the yield for the portfolio as a whole was ~ 4.04%; with PCEF the yield increases to 5.19%.
In terms of fundamental statistics the two portfolios are virtually indistinguishable. Comparing the original portfolio (with AOM) to the adjusted portfolio (with PCEF):9
Price/Prospective Earnings: 16.10 (original); 16.05 (adjusted)
Price/Book: 1.85 (original); 1.86 (adjusted)
Return on Assets: 5.70 (original); 5.61 (adjusted)
Return on Equity: 16.24 (original); 16.26 (adjusted)
Projected EPS Growth - 5 year: 7.64% (original); 7.37% (adjusted)
Average Expense Ratio: 0.29% (original); 0.37% (adjusted)10
In terms of allocation, the only significant difference between the two portfolios involves the categories of bonds and cash, as shown in the following pair of charts:11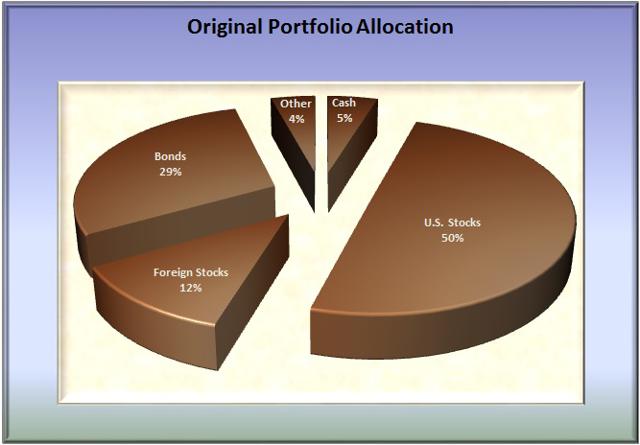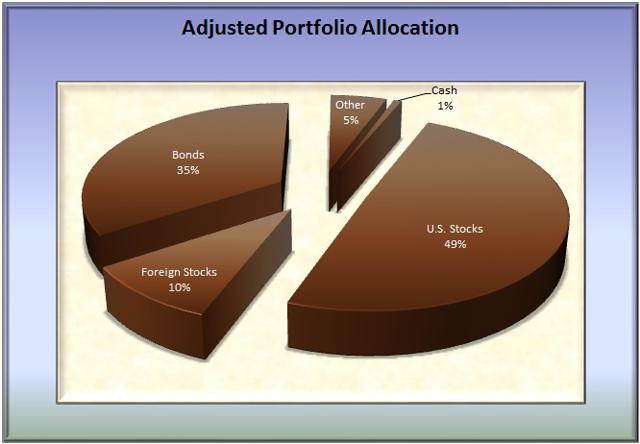 The shift of a small quantity of cash to bonds seems a useful change.
How does the new portfolio stack up against the old? In terms of performance, the adjusted portfolio does outperform the original portfolio, as the following chart illustrates: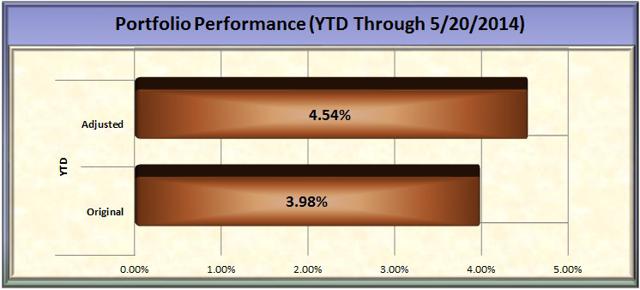 (It should be noted that market prices have fluctuated since the original article was published. The performance of the original portfolio has been extended to May 20, 2014 to give a fair comparison between the two portfolios.)
The share performance of the portfolio is marginally better with PCEF than it was with AOM. Of the ETFs in the original portfolio, only SPLV has realized a drop in performance, down to 2.90% from April's 4.31%.
The significance of PCEF's near-8% yield is reflected in the following chart, showing total returns for the two portfolios: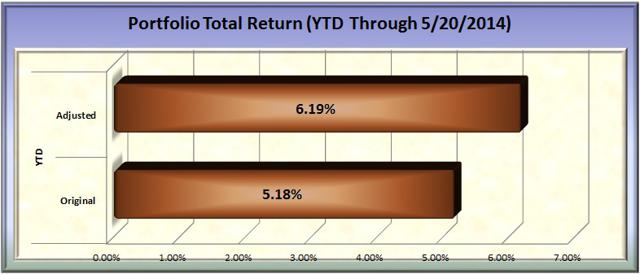 (Again, the original portfolio's data has been extended through May 20, 2014.)
With PCEF in the mix, the retirement portfolio is now performing closer to the level one would expect of a reasonably safe but productive portfolio, particularly in terms of dividend yield. Since the portfolio is intended to be held for the long term, with minimum changes, dividends become the prominent feature, and PCEF goes a long way towards improving the portfolio in that regard.
Closing Observation
Many readers might feel uneasy about an ETF that carries a large expense ratio. In a way, expense ratios - particularly those that are acquired expenses and fees from an ETF holding - strike me as a non-issue. To be sure, one should opt - all else being equal - for a fund that carries the lowest expense ratio, as it means one's investment is being more efficiently used.
The more important matter for me, however, is the bottom line: what am I getting for my investment? If I can acquire a satisfactory allocation, good performance, and an excellent yield, it does not matter if there is a 1.77% expense ratio involved in maintaining the ETF. It is the cost of doing business.
It may seem like a rather cavalier attitude, but each investor is going to focus on that aspect of an investment that seems most important to them. To me, that is the overall performance and the way the ETF fits with the portfolio design. PCEF contributes balance, as well additional features other ETFs lack. If I have to live with a slightly higher expense ratio for it, so be it.
Disclaimers
This article is for informational use only. It is not intended as a recommendation or inducement to purchase or sell any financial instrument issued by or pertaining to any company or fund mentioned or described herein.
All data contained herein is accurate to the best of my ability to ascertain, and is drawn from the Company's website to the extent possible. All tables, charts and graphs are produced by me using data acquired from pertinent ETF data; historical price data from Yahoo! Finance. Data from any other sources (if used) is cited as such.
All opinions contained herein are mine unless otherwise indicated. The opinions of others that may be included are identified as such and do not necessarily reflect my own views.
Before investing, readers are reminded that they are responsible for performing their own due diligence; they are also reminded that it is possible to lose part or all of their invested money. Please invest carefully.
1 "5 ETFs For A Reliable Retirement Portfolio," Seeking Alpha, 6 May 2014.
2 PHB data compiled from its PowerShares homepage and Morningstar's analysis.
3 SPHD data compiled from its PowerShares homepage and Morningstar's analysis.
4 YYY data compiled from its YieldShares homepage.
5 History compiled from YieldShares YYY factsheet, ETF Database site, and Exchange Traded Concepts.
6 Christian Magoon, YieldShares and YYY are discussed in "Q&A With Christian Magoon: YieldShares High Income ETF For Income Investors," Seeking Alpha, June 26, 2013.
7 PCEF data compiled from its PowerShares homepage and Morningstar's analysis.
8 PCEF analysis based on data from Morningstar analysis
9 Data from Morningstar portfolio analysis. Use of detailed analysis features may require subscription.
10 Some commenters questioned the average expense ratio of the original portfolio, noting that it seemed low, in light of the acquired fees and expenses carried by some of the ETFs. In averaging, Morningstar apparently uses only the ETF issuer's expense ratio, and does not include acquired fees and expenses.
11 Data provided by Morningstar.
Disclosure: I am long PCEF, SPLV. I wrote this article myself, and it expresses my own opinions. I am not receiving compensation for it (other than from Seeking Alpha). I have no business relationship with any company whose stock is mentioned in this article.