Retirees relying on their investment portfolios for income need to strike a very delicate balance between generating enough income while slightly increasing capital in order to keep pace with inflation.
To do so, not only does the portfolio need to be invested in income generating securities, primarily fixed income instruments that pay coupons and are comparatively less volatile than equities. But the portfolio must also have some equity exposure in order to generate some capital growth. The actual percentage of equities the portfolio should have is a matter of individual preference but within the equity component, retirees should focus more on the more stable, dividend paying companies that are less sensitive to movements in the broader market in the event there is a sharp decline in the market. Many of these companies are everyday names that are widely recognized and whose products we use on a daily basis.
Dogs of the Dow - Definition
One strategy that is relatively easy to follow and invests in such names is the Dogs of the Dow strategy. The Dogs of the Dow strategy of investing is attributed to Michael Higgins, who proposed that investors can outperform the market by annually investing in the 10 stocks within the Dow Jones Industrial Average that have the highest dividend yield at the end of the prior year. The idea behind this strategy is that companies with high dividends are generally in an oversold condition relative to its peers and that investing in these stocks over time will generate higher returns than investing in the overall market.
Inherent in this approach is that 1. these companies are large or mega cap companies, after all, they are part of the Dow Jones Industrial Average; and 2. there is an implied assumption that they will continue to operate as going concerns. So because this strategy is focused on the Dow Jones Index, an investor can be comfortable in knowing that there is a good possibility that each of these companies will still be around in a year. (Enron and Worldcom, notwithstanding) To put this point into context, note that each of the dogs of the dow for 2014 have market capitalizations in excess of $100 billion and revenues of over $28 billion.
So how has this strategy performed so far in 2014?
Dogs of the Dow 2014
The Dogs of the Dow for 2014 come from a variety of sectors and have dividend yields ranging from 3% to 5.3%. The entire Dow Jones Index is shown below with the Dogs of the Dow highlighted in blue.
Through May 18th, 2015, an equally weighted portfolio consisting of the 10 Dogs of the Dow would have generated a total return, including dividends, of 4.12%. This is noticeably better than the 0.27% return on the rest of the Dow components and the -0.52% of the S&P 500.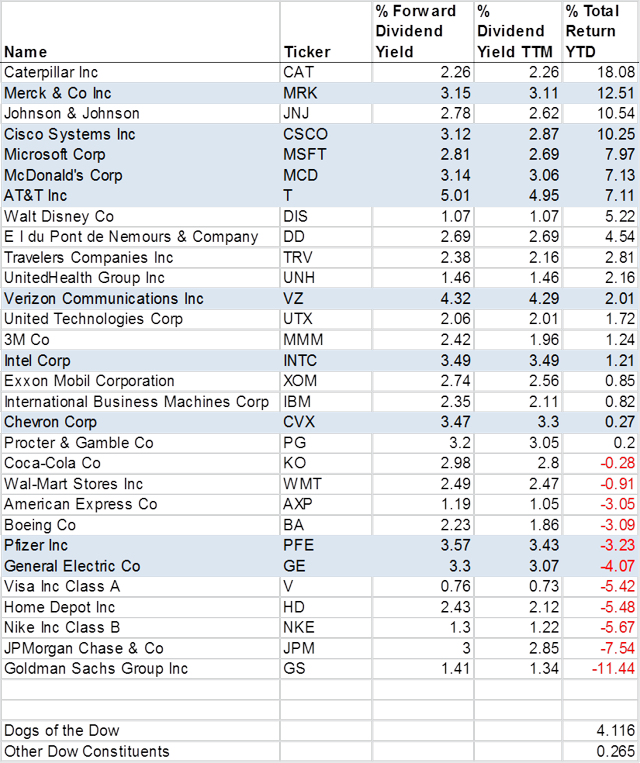 Click to enlarge
Source: Morningstar
The best performing Dow component thus far has been Caterpillar (NYSE:CAT), which is not one of the Dogs of the Dow for 2014. It has had a whopping 18% return YTD. But 5 of the next 6 top performers are members of the Dogs of 2014. Interestingly enough, 9 of the 11 worst performers are NOT Dogs of the Dow. If that strategy merely helps avoid the worst performing stocks in any given year, that is reason enough to consider it.
In general, as an investor in the Dogs, you would have performed better by investing in each of the Dogs in equal weight than if you would have invested in all of the Dow components. Furthermore, the range of returns is wide enough whereby trying to 'pick certain winners' could have resulted in returns of 18% or losses of 11.4%. As a retiree with limited downside risk tolerance, do you really want to take that risk?
The best performing Dog has been Merck & Co. (NYSE:MRK) with a YTD return of 12.5%, followed by Cisco (NASDAQ:CSCO) with 10.25%, and Microsoft (NASDAQ:MSFT) at 8%. The worst performing of the Dogs have been General Electric (NYSE:GE), with a total return YTD of -4.1%, and Pfizer (NYSE:PFE), with a total return of -3.23%.
Where do we go from here?
So how should these stocks perform for the rest of 2014? After all, the strategy calls for holding the stocks until year-end. Just a little secret, you don't have to if you don't want to. Better to lose out on further upside than to give back the gains already achieved.
In any case, if you want to try to squeeze out additional gains from potential winners and get rid of those individual stocks that have done all they can do for 2014, it's best to do some additional analysis.
As individual investors it is often difficult to figure out where to invest our money. Investors that are capable of analyzing a stock in depth can certainly do so, provided they have the time not only to perform initial analysis but periodic monitor the company for potential risks and opportunities. Other investors may have to rely on analyst estimates or opinions on a stock and make decisions based on whether they agree or disagree with those estimates.
We do know one thing, returns will come from either price appreciation and/or dividends. I think we can all agree on that. But the question that is difficult to answer is not whether a company is good or bad. We know the companies in the Dow are 'good' companies. The question is whether we can achieve a decent return by investing in them.
There are many online resources that can provide you with information to make a more informed decision, if not a very in-depth one. There is nothing wrong with leaning on analyst estimates as an input into investment decision-making. It shouldn't be the only information considered, but it can be invaluable to find an analyst or group of analysts that you like and follow their opinions.
Using Online Resources to Evaluate the Dogs
Throughout the rest of this article, I will evaluate the future potential of the 2014 Dogs of the Dow stocks based predominantly on analyst estimates from Morningstar.com. The analysis will based only on Morningstar.com because their analysts are unbiased, and the information is available online.
For me personally, I like to analyze a stock in-depth before making a decision and analysts estimates are data points in my analysis, albeit, a lightly regarded on. For investors that don't want to conduct further analysis or feel more comfortable relying on professional analysts, the following exercise can serve as a guide on how to use these estimates.
Despite my findings, I'll refer back to a previous comment where I stated that picking and choosing individual components of the Dogs could have resulted in a wide range of returns. I'm not suggesting that you should now change the diversified approach and make decisions based on the forecasts for individual companies. (Unless you want to of course). I only want to assess the continued success or possible pullback in some of these stocks. After all, Morningstar could be wrong and our confidence in Morningstar could be misplaced, either on favorably or unfavorably.
Analyst Estimates
The premise of the Dogs of the Dow theory is that higher yielding dow components are more undervalued than lower yielding dow components so there should be more price appreciation from them.
To determine how the stocks might fair over the next 12 months, I looked at Morningstar analysts fair value estimates for each of the stocks and assumed that they would reach those levels within 12 months. I know you're probably thinking that I am giving Morningstar analysts too much credit, but some of them are actually quite good and at least I know they don't have any ulterior motives for determining the price target of a stock. (i.e. investment banks)
I have included the Morningstar Fair Value estimate in the table below, which serves as a price target, if you will, in order to calculate a potential investment return. For the most part, the Fair Value Price provided by Morningstar is in line with the Bloomberg consensus estimates (not shown).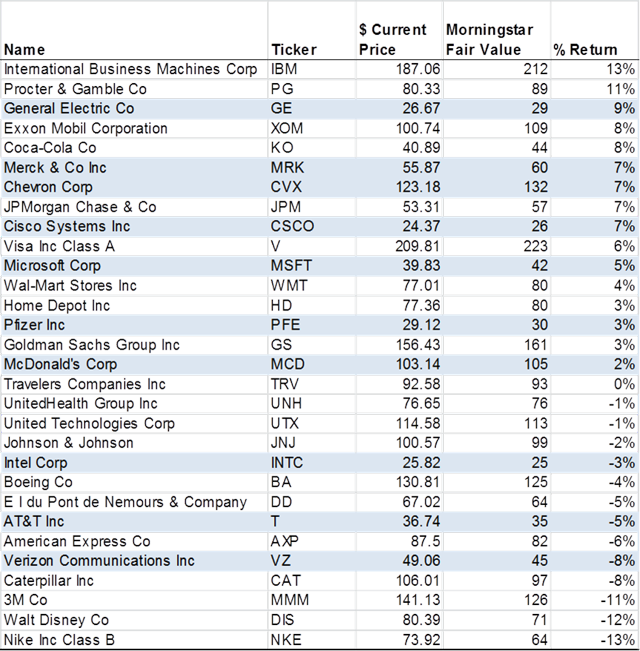 Click to enlarge
Source: Morningstar
So whether you might hold a stock longer or rotate your positions slightly will depend to a great extent on whether you agree with the price targets. The following is my opinion on whether to hold or sell each of the Dogs based only on the information provided above and not my own in-depth analysis.
Merck & Co. - Merck is up over 12% YTD and the Morningstar fair value estimate indicates it has another 7% additional upside, plus a 3% dividend yield. Despite the temptation to take profits and redeploy elsewhere (12%+ return in less than 5 months is a great return!), I would hold this one a bit longer.
Microsoft - With another 5% upside plus dividends, I may hold this one a bit longer as well, but will be watchful of a pullback.
Pfizer - Pfizer is down 3% YTD and the price target indicates a 3% return? That means I'd be right where I started, plus dividends, of course. I'm not a pharma expert but I know that big pharma relies on blockbuster drugs to drive revenues and prices. While I would prefer to conduct further analysis, Ill stick to the original plan to only use analyst estimates. In this case, I just don't know enough about the company's drug pipeline and a 3% return is not enough to compensate me for that uncertainty.
McDonalds (NYSE:MCD) - McDonalds has returned 7% YTD and Morningstar fair value is only 2% higher. Despite the 3% yield, I would consider lightening up my position on this one.
AT&T (NYSE:T) - According to Morningstar, AT&T is already overvalued. Unless I am purely seeking dividend income (it pays a 5% dividend yield), I am selling out and reinvesting elsewhere.
Cisco - Most of Cisco's performance came in the last week when their results were better than expected and the stock spiked. The stock looks like it has another 7% upside. This is a tough decision because of the recent spike, but I like the old tech sector. While new tech, such as Twitter and LinkedIn have taken a beating this year, Cisco has held up well and certain tech sectors are poised to benefit from increases in capital spending. Cisco should benefit from that.
Intel Corp (NASDAQ:INTC) - The Morningstar fair value estimate indicates a possible 3% decline in price. The stock hasn't done much and in an industry with heavy competition, I would sell and wait this one out. I like Intel over the long-run but it needs to show dominance again before I am comfortable holding it.
Chevron (NYSE:CVX) - The energy sector is receiving plenty of attention from both investors and media alike. Whether Chevron can benefit from the oil bonanza currently under way in the US is up for debate. Morningstar thinks it is undervalued by 7%.
Verizon (NYSE:VZ) - Morningstar currently has a fair value price target below the current price. Verizon has been up just 2% YTD and seems to be overvalued. A 4%+ dividend yield is tempting, but if the price estimate is reached, I need two years of dividends to break even. That's not a risk/return payoff I want to take.
General Electric - If any of these stocks looks like a screaming buy based on the information shown, it's this one. Not only is it down over 4% YTD, but analyst consensus calls for almost double digit returns on top of a 3% plus dividend.
Conclusion
As I mentioned earlier in the article, the Dogs of the Dow strategy seems to be working thus far in 2014. It doesn't always work and you may find articles both for and against the strategy. While all of these companies may be considered core portfolio positions and part of a long-term buy-and-hold strategy, you may want to tactically over/under weight positions depending on each company's prospects and valuations.
There is no substitute for in-depth analysis of each stock, but some analyst estimates are readily available online for a reasonable fee and can be used as a guide to making investment decisions. I only used price targets as a determination of potential return, but oftentimes, analyst reports are also available that can provide a rationale behind the target price. When available, I would suggest perusing them. However, when analyst price targets are made available, they can be used not only to evaluate potential returns but can be monitored for upgrades and downgrades. Use them.
Other companies mentioned: International Business Machines (NYSE:IBM), Procter & Gamble (NYSE:PG), Exxon Mobil (NYSE:XOM), Coca Cola (NYSE:KO), JP Morgan Chase (NYSE:JPM), Visa (NYSE:V), Wal-Mart Stores (NYSE:WMT), Home Depot (NYSE:HD), Goldman Sachs (NYSE:GS), Travelers Companies (NYSE:TRV), UnitedHealth Group (NYSE:UNH), United Technologies (NYSE:UTX), Johnson & Johnson (NYSE:JNJ), Boeing (NYSE:BA), E.I. du Pont de Nemours (NYSE:DD), American Express (NYSE:AXP), 3M Co. (NYSE:MMM), Walt Disney (NYSE:DIS), Nike Inc. (NYSE:NKE)
Disclosure: I am long CSCO, MSFT. I wrote this article myself, and it expresses my own opinions. I am not receiving compensation for it (other than from Seeking Alpha). I have no business relationship with any company whose stock is mentioned in this article.