VOXX International Corporation (NASDAQ:VOXX) shares were trading for about $17 earlier this year, but a recent correction in small cap stocks and a disappointing earnings report have combined to hammer this stock down to about $8 per share. This has created a significant buying opportunity for investors since this bargain stock appears to be poised for a significant rebound in the coming days. Let's take a closer look at this company and why the recent pullback appears to be an extremely attractive buying opportunity.
VOXX International might not be a familiar name to some investors but it should be, as it owns an incredible array of well-known brands in the car audio and accessories industry. These brands include: Audiovox, RCA, Acoustic Research, Jensen, Klipsch, Omega, Terk, CodeAlarm, Oehlbach, Mac Audio, Advent, Hirschmann, and many more. VOXX International sells to the consumer markets in the USA, and throughout the world. It is also an original equipment provider to many automakers. It has partnership and supply agreements with companies such as BMW (BAMXY), Chrysler, Ford (NYSE:F), General Motors (NYSE:GM), Porsche (OTCPK:POAHY), Toyota (NYSE:TM) and many more. These partnership and supply deals, along with some of the best-known brands in the industry, give VOXX International a unique and strong position in this market. VOXX manufactures audio, entertainment, security and convenience systems. After a major plunge in the share price, these world famous brands can be bought on the cheap.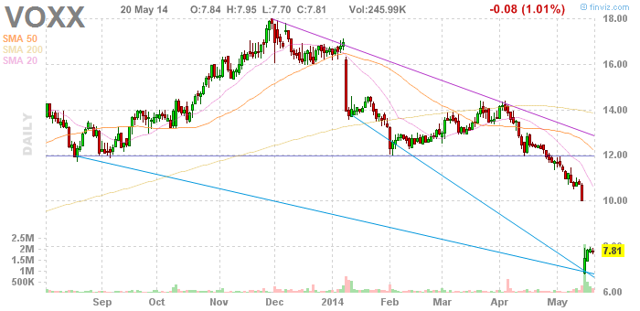 Click to enlarge
As the chart above shows, this stock has been beaten down to what appears to be absolute bargain levels, from about $17 in early 2014 to around $13 in April, thanks to a pullback in many small cap stocks. It now trades for just about $8, due to a disappointing earnings report. At current levels, this company has a market capitalization of just about $191 million. This is incredibly undervalued when you consider the brand names it owns, and that it has over $800 million in annual sales. Based on current book value of about $17.71 per share, it also appears extremely undervalued.
A lousy quarter has given investors an incredible buying opportunity, especially since much of the weakness might be reasonably attributed to very harsh weather conditions throughout the United States this winter. It's worth noting that the winter months are historically weak periods for this industry anyhow. The other reason for disappointing results was a one-time non-cash impairment charge of $57.6 million. This company reported an operating loss of $37.4 million for the fiscal year ended on February 28, which includes the impairment charges. However, excluding these one-time impairment charges, it reported operating income of $20.2 million for the year ended February 28, 2014. While those results are a disappointment for a stock if it were trading at $17 or $13 per share as it recently was, this is an incredible buying opportunity at just around $8. This is especially true since there is reason for optimism and improved financial results in the future. Pat Lavelle, the President and CEO, cited these bullish points:
"New products coming to market, our growing OEM platform, sales from new and exciting biometrics, imagery and action cameras, and our expanding retail distribution are the drivers for our optimism. I believe we are well positioned to drive meaningful growth over the next few years and deliver long-term sustainable value for our shareholders."
With the stock now having a relative strength index or "RSI" of just about 16, these shares are incredibly oversold and therefore quite possibly due for a major rebound. Stocks that have an RSI of 30 or less are considered oversold and therefore probably due for a rebound as the selling pressure fades. A look at the trading volumes also indicates this stock is probably setting up for a solid rebound. Let's look at the price action and trading volumes below, which were sourced from Yahoo Finance:
| Date | Open | High | Low | Close | Volume | Adj Close* |
| --- | --- | --- | --- | --- | --- | --- |
| May 19, 2014 | 7.84 | 7.98 | 7.75 | 7.89 | 312,800 | 7.89 |
| May 16, 2014 | 7.41 | 7.92 | 7.41 | 7.87 | 517,300 | 7.87 |
| May 15, 2014 | 6.90 | 7.96 | 6.84 | 7.51 | 2,260,500 | 7.51 |
| May 14, 2014 | 10.73 | 10.78 | 10.04 | 10.07 | 369,400 | 10.07 |
| May 13, 2014 | 10.87 | 10.95 | 10.76 | 10.78 | 142,400 | 10.78 |
By looking at this data, you can see this stock experienced a high volume capitulation-like sell-off on May 15 with volume of over 2.2 million shares and a closing price of $7.51. This is a huge amount of volume for a stock that (for the past three months) has traded an average daily volume of just about 172,000 shares. The massive volume on May 15 likely indicated a bottom for the stock. The recent significant drop in the volume to about 517,300 shares traded on May 16, and just 312,800 shares traded on May 19, also confirms that the selling pressure has already peaked and that the volume is now "normalizing" back to more average levels. This is yet another reason why I expect the stock to rebound from current levels. As the selling pressure and trading volumes have clearly peaked, and with the volumes normalizing, the next step for an oversold stock like this to take is to make a nice move higher. I recently wrote about this strategy with another small cap stock that was oversold and undervalued and sure enough, that stock (which was also showing signs of normalizing volumes), went on to gain about 25% in just a few trading days after the article was published.
Analysts expect this company to earn nearly $1 per share for the current fiscal year, $1.28 per share for fiscal year 2016, and about $1.70 per share for fiscal year 2017. This gives the stock an incredibly cheap forward price to earnings ratio of just about 6 times earnings. That is an incredible bargain in this market, and this is another reason why this stock is likely to rebound in the coming days and weeks.
At current levels, the potential downside risks appear quite limited. This company has only about $115 million in debt on the balance sheet, and that appears conservative due to the over $800 million in annual revenues. The most significant downside risk could be another major global recession, but with the U.S. and other economies continuing to show signs of improvement, that risk seems very minimal now. In fact, an improving job market and strong auto sales in the U.S. are likely to continue and position VOXX International for improved financial results in the coming months. Furthermore, auto sales in Europe are starting to rebound, and that could become another major upside catalyst for this stock.
In summary, this stock is a bargain that is trading way below book value. It also looks very undervalued considering the famous brands it owns versus the current market capitalization, which is below $200 million. With the shares cheap and at very oversold levels now, this stock is ripe for a rebound. This stock has a 50-day moving average of $12.39 per share and a 200-day moving average of almost $14 per share. Based on this and other factors, I expect this stock to rebound somewhere between the $9 to $10 per share range in the short term. This would give investors who buy now potential gains of between 10% to 25% in a very short time. In the longer term, I expect this stock to rebound back over $12 per share, which would be close to the current 50-day moving average.
Here are some key points for VOXX International:
Current share price: about $8
The 52 week range is $6.84 to $18
Earnings estimates for fiscal year 2015: nearly $1 per share
Earnings estimates for fiscal year 2016: $1.28 per share
Annual dividend: n/a
Data is sourced from Yahoo Finance. No guarantees or representations
are made. Hawkinvest is not a registered investment advisor and does
not provide specific investment advice. The information is for
informational purposes only. You should always consult a financial
advisor.
Disclosure: I am long VOXX. I wrote this article myself, and it expresses my own opinions. I am not receiving compensation for it (other than from Seeking Alpha). I have no business relationship with any company whose stock is mentioned in this article.