Editor's Note: Changes have been made to the article based on feedback from Camac Energy. Please see below for the full text of the corrections.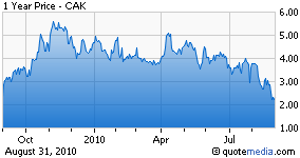 After recently restructuring, junior oil and gas producer Camac Energy (CAK) is looking like a very solid emerging company. The company recently reported its first operating revenues from the Oyo Oilfield, offshore Nigeria and from the commercialization of its Enhanced Oil Recovery and Production (EORP) technology in China. At the same time, Camac benefits from a strong balance sheet, with assets of $419.5 million, no debt and cash and cash equivalents of $22 million.
The Oyo Oilfield is currently the major producing asset owned by CAK and was purchased from Camac Energy Holdings Ltd. for a 62.74% interest in the company. This was made up of 89.5 million shares in CAK, plus two cash payments for a total of $38.84 million. Oyo is located 75 miles offshore from Nigeria in 200-500 meter deep water. The Oilfield has two wells that currently produce 846 barrels of oil per day, and gas of 60 MMCF per day and is operated by ENI/Agip, a major worldwide energy company. Oyo uses a floating production storage and offloading vessel rated at 40,000 barrels per day, with storage capacity of 1 million barrels connected to subsea wellheads. The 10 year development plan for the field envisions the drilling of 2 additional production wells.
CAK has also signed a Memorandum of Understanding ((NASDAQ:MOU)) dated August 6, 2010 to potentially acquire the full interest in OML 120 and OML 121 that surround the Oyo Oilfield and cover a total of 1,803 kms², lie east of the 500 million barrel Erha Field, and have water depths of 150 to 1,000 meters. The vendors of these two lease blocks drilled a shallow well away from the Oyo Oilfield that contained oil in the Upper Miocene interval, and are evaluating the drilling of a deeper well into the Middle Miocene interval, which should be a more productive target.
A well was also drilled in OML 121 in 2008, containing 90 feet of net gas pay in two sets of reservoirs. They also completed over 120 kilometers of 3D seismic, identifying 8 new prospects around Oyo that may contain up to 500 million barrels of gross un-risked oil resources and upside gas potential. An independent third party evaluation has commenced. Other prospects and leads are also under review.
CAK has made a major commitment to growing a number of energy assets based in China, with a team that has a lot of experience and contacts within the local energy sector and government. These projects are mostly in the development stage and will require substantial funding commitments.
China has had an average GDP growth rate of 9% for ten years and is the world's second largest oil importer. It has a ravenous appetite for both oil and coal is looking to diversify to cleaner energy sources. CAK is focusing on production of local heavy oil as a substitute for imported oil and CDM gas as a cleaner substitute for coal.
Chinese oilfields have 20 billion barrels of high viscosity and low pour point oil that remain in the ground, and identified 20,000 wells suitable for retreatment and further oil recovery. CAK has set up an entity to develop energy sources utilizing their patented Enhanced Oil Recovery and Production "EORP" technology. EORP has been successfully tested on hundreds of wells, where it increases oil production by reducing in situ and wellbore viscosity and pour point (waxiness) in oil.
Focus will be on proven fields with underperforming wells where operations with some cash flow have already commenced in Liaoning and Shandong provinces. CAK plans to conduct operations on several hundred wells over the next few years that will see operations expand across the country.
The Shaogen Project is located at Chifeng City, Inner Mongolia, in a cooperation and joint development contract with Chifeng Zhongtang to acquire 95% share of crude oil production revenues. The project covers an area of 136 square miles. CAK controls 175,000 acres in the Zijinshan Gas Block located in the Shanxi Province, which hosts the 2nd largest oil and gas basin in China. The property is a prime coal bed methane development project, where China United Coal Bed Methane Company estimates a potential gas resource in excess of 3.8 TCF. Current resources are at 504 BCF in coal beds and 701 BCF in tight sands.
The company has the approval of the Chinese Ministry of Commerce for a production sharing contract with Petro China CBM Co. (NYSE:PTR) and plans to drill two wells in the current quarter. The Zijinshan leases are located in the eastern section of the Ordos Basin gas fields, and are close to major pipelines running to Beijing and other regional centers.
These string of transactions and milestones put Camac Energy in a interesting position. The company has cash flow from off-shore Nigeria, but with ENI (NYSE:E) as operator, can sharpen its focus on the surrounding prospective area, while also developing an integrated energy company in China.
It is still too early these days for Camac, but the initial signs are encouraging.
Full text of corrections:
Thank you very much for your August 31 article on CAMAC Energy which featured us on your website. There are several pieces of information in the article that we would like to correct for your record: -
The Oyo Oilfield produced an average of 846 net Bopd to CAMAC Energy from two wells in the second quarter of 2010.
The Oyo wells are producing >60MMcf/d gross or ~10,000Boepd natural gas (not 15MMcf)
As of today, CAMAC Energy has not yet executed any agreement in relation to the acquisition of the full interest in OML 120 and 121. We have signed a Memorandum of Understanding (MOU) dated August 6, 2010 to potentially acquire those full interest from CAMAC International/Allied Energy.
Our Enhanced Oil Recovery and Production (EORP) technology increases oil production by reducing in situ and wellbore viscosity and pour point (waxiness) in oil. There is no specific application or development of the EORP technology to extract oils from wells suffering water issues. CAMAC Energy's patent application on this technology is in active progress but the company has not yet received any patents.
Our Chinese partner for the Zijinshan Gas Asset is PetroChina CBM Co. (not PetroChina BCM).
The Letter of Intent on the Handan Gas Distribution project has expired. Given the changes in business factors surrounding this project, CAMAC Energy management has reevaluated the potential returns and has concluded that the opportunity no longer meets with the company's strategic focus and economic interests. As a result, this opportunity is no longer being actively pursued by CAMAC Energy and the agreement has been allowed to lapse.
All of the above information can be found at our website, 10Q and recent press releases.
Disclosure: No position