Hewlett-Packard (NYSE:HPQ) stock has had a wild ride over the last five years, with multiple leadership changes and strategy U-turns. Since Meg Whitman assumed the CEO position, she had led the company's turnaround through a combination of optimizing the company's bloated cost structure and investing in growth opportunities. The five-year chart of HP shows this story clearly, with the stock declining to low double digits before recovering over the past year.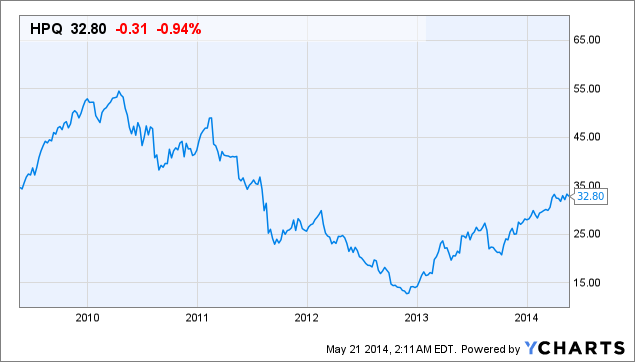 HPQ data by YCharts
This is an attempt to construct a sum-of-the-parts valuation scenario for HP, looking at each of its business segments and evaluating the potential growth opportunities and risks to each segment.
Printing and personal systems group
This is HP's biggest group from a revenue standpoint. The group is comprised of two segments:
Personal Systems - this segment includes commercial and consumer PCs, workstations, thin clients, tablets, retail POS systems, calculators and accessories, as well as support and services for the commercial and consumer markets.
Commercial PCs are optimized for SMB and enterprise customers, and drive much of the profitability of the personal systems group. With Microsoft (NASDAQ:MSFT) ending its support for Windows XP, the commercial PC market can get a short-term boost for the next few quarters as SMBs and enterprises refresh their PCs. HP, as one of the large commercial PC manufacturers along with Dell and Lenovo (OTCPK:LNVGY), is poised to benefit from this. Commercial PCs carry higher margins than consumer PCs and provide the opportunity to add on services, thereby further boosting profitability.
The Consumer PC segment includes the HP consumer PC lines (Spectre, Envy, Pavilion), tablets, as well as Chromebooks. This is an area where HP has been investing recently with Google (NASDAQ:GOOG) (NASDAQ:GOOGL), in an attempt to diversify away from the traditional Windows-based notebooks, especially at the low end PCs.
The personal systems group saw a YoY revenue decline of 10.2%, driven by the decline in the consumer PC market as tablets cannibalized PCs. For FY14, the decline is expected to moderate due to the flattening out of the consumer PC market, the diversification into new product lines, as well as the boost provided by XP end of support. The first signs of this were seen in Q1 of FY14, with personal systems revenue growing 4% on the back of strong performance in commercial notebooks. Operating margins at 3.3% were up sequentially as well as YoY, as HP opted for higher margins at the expense of market share.
For projecting personal systems revenues, I have assumed that HP market share stays roughly flat at current levels on PCs, while it is able to gain some share of the tablet market, both on the Windows and Android ecosystems. The total PC device market (including tablets and traditional PCs) is expected to grow from 536M in 2013 to 678M in 2017. I expect HP revenue to trail the device market as it slowly builds up share on tablets where it is non-existent at the moment, however, it should be able to arrest its decline and grow low single digits.

Profitability in the market is going to be challenged however, and I have not modeled operating margins growing moderately from current levels of around 3% to 4%, which is still below the levels it achieved in 2012.
Printing - This group provides consumer and commercial printer hardware, supplies, software and services as well as scanning devices and commercial imaging solutions. Printing revenue declined 2.6% YoY, again impacted by growth in mobility and increased competition. I have modeled printing revenues to decline 3% in FY14 followed by stabilization, in line with Q1 performance and slightly ahead of the PC market. 3D printing is obviously a huge potential opportunity, but there was nothing in HP's earnings call to suggest that there is any material movement in this direction. I would watch the space for potential acquisitions in the future. If HP can exceed these modest expectations, there is further upside in the share price due to its high operating margins.
Enterprise Group - The EG group provides enterprise technology infrastructure solutions, including servers, storage, networking and technology services. EG revenue shrunk 5.4% YoY due to the general trend towards server virtualization and cloud computing, as well as a decline in the market for UNIX products. The networking segment is performing well and the company expects more traction in this area, as well as in converged storage and infrastructure. One the one hand, this segment faces revenue challenges due to the decline in legacy products, but on the other hand the increasing trend towards hosted environments provides upside. On balance, I believe there is opportunity for low single digit growth in this segment with modest margin expansion.
Enterprise Services - The ES group provides technology consulting, outsourcing and support services across infrastructure, applications and business processes. ES revenue declined 8.4% YoY, again due to increased competition and internal execution challenges. This group continues to face challenges as it appears to be unable to compete with Indian (or primarily India based) outsourcers such as TCS, Infosys (NASDAQ:INFY) and Cognizant Technology Solutions (NASDAQ:CTSH). The operating margin of this business is very low (2.9%), which indicates potential for upside, however management was relatively pessimistic about FY14 performance in the Q1 earnings call. I assume enterprise services revenue to remain roughly flat, with margins growing to around 2012 levels at 4%.
Software - The software group provides IT management, big data and security solutions, augmented by support and professional services. Software revenue declined 3.6% due to the move towards SaaS and execution challenges. This is a potential area of growth for HP, but it has to successfully transition its business to the SaaS model. I estimate mid- single-digit growth in this segment.
HP Financial Services - HPFS provides asset management and financing services for HP customers to acquire complete IT solutions including hardware, software and services. HPFS revenue declined 5% YoY as a result of revenue declines across the rest of the business segments. I estimate that revenue for this segment will be a function of the company's overall revenue.
Corporate Investments - These include HP Labs, webOS and other incubation projects, and are fairly immaterial to the overall valuation.
Here is a chart showing my revenue and operating income assumptions for HP by segment:

Click to enlarge
Source: HP 10-K (2011-2013), Aurium Investments estimates
As can be seen from the charts, I am not expecting HP to deliver any spectacular results. In fact, 2020 revenue is lower than 2012, and operating income is barely catching up to 2011 levels. I believe this to be a pretty conservative scenario, where HP delivers results that trail the market in each of its segments.
Valuation
Using these assumptions for the business segments and taking a discount rate of 10% with a terminal value growth of 3%, I get to a fair market value (FMV) of $38 for HP, which is an 18% upside to the current share price. This suggests that HP is undervalued, even under conservative and near-zero revenue growth assumptions. The complete valuation model is attached below.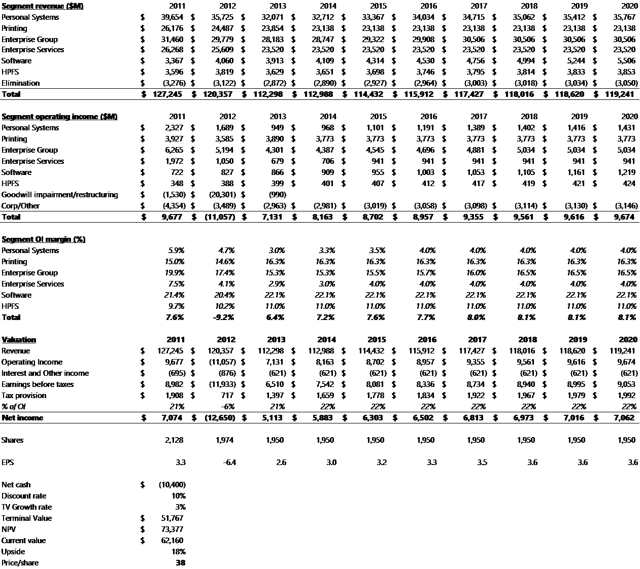 Click to enlarge
Source: 2011-2013: HP 10-K
Financial Analysis: Aurium Investments
Summary
HP is slowly turning around after a challenging few years. The turnaround under Meg Whitman is in full swing, and my analysis shows that the bar for performance is still quite low. HP does not have to perform outstandingly to justify its current share price - it only needs to slightly improve its operating performance. Any improvement on the top line will result in further upside. In spite of the nice uptick over the past year, shares are still materially undervalued. HP is a strong buy.
Disclosure: I am long HPQ, MSFT, GOOG. I wrote this article myself, and it expresses my own opinions. I am not receiving compensation for it (other than from Seeking Alpha). I have no business relationship with any company whose stock is mentioned in this article.
Editor's Note: This article discusses one or more securities that do not trade on a major U.S. exchange. Please be aware of the risks associated with these stocks.