General Electric's (NYSE:GE) $16.9 billion offer for Alstom's (OTCPK:OTCPK:AOMFF) energy business is still causing some irritations in the investor community as well as the political arena. Some investors believe General Electric should pursue the deal and strengthen its emerging market footprint (and make Siemens' (OTCPK:SIEGY) life a little harder and challenge the conglomerate in its European home market). Other investors believe General Electric should abstain and not pursue a takeover, mostly because Alstom isn't doing that great financially and might depend on General Electric's deep pockets.
Let me first say that I fall in the first camp. I think General Electric's takeover proposition allows the company to strengthen its market position in both Europe and emerging markets, and in the process, become less dependent on the U.S. This is going to be a big issue going forward for General Electric: In order to make its equity story more appealing and convince investors of growth catalysts, General Electric need to position itself outside the United States and become even more of an international player. Besides, it is always good to be proactive and put the competition under pressure: Good for consumers, but also good for shareholders.
Alstom is not as weak as it is made out to be
Some investors argue that Alstom is financially not attractive, but I venture to disagree. While it is true, that Alstom achieved a negative free cash flow of euro171 million (approximately $231 million) in the fiscal year 2013/2014 and the company still goes through its own restructuring, the financials actually look quite solid.
While sales have been flat and net income fell 28% y-o-y (in euro terms), Alstom is profitable nonetheless.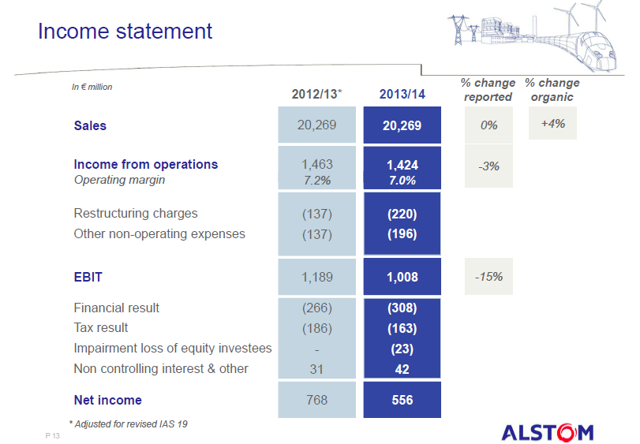 (Source: Alstom Annual Results Presentation, May 7, 2014)
In addition, Alstom has had a variety of successes over the last year, notably in developing countries such Brazil, Iraq, Albania and India, which highlights Alstom's emerging market appeal for General Electric.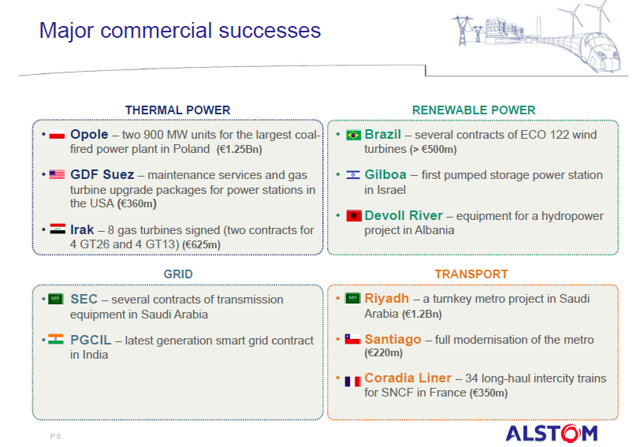 (Source: Alstom Annual Results Presentation, May 7, 2014)
Alstom pushing Paris for deal approval?
Bloomberg reported on May 21, 2014 that Alstom, whose board has already backed General Electric's takeover of the Thermal Power, Renewable Power and Grid segments, is pushing lawmakers to approve the deal:
Alstom SA Chief Executive Officer Patrick Kron called on the French government to back a $17 billion offer by U.S. rival General Electric Co. for its energy units, saying uncertainty about his company's future is making it difficult to win orders.

"GE's offer is an excellent option," Kron told France's National Assembly yesterday. The bid meets government concerns about France's energy independence, local decision making and potential job cuts as there are almost no overlaps between the companies' operations, he said.

Kron's renewed support for GE's bid contrasts with comments by French Economy Minister Arnaud Montebourg, who yesterday reiterated a preference for Siemens AG's proposal to swap most of its rail business for Alstom's energy assets in a deal that would form two leading European energy and rail companies. While Kron said he would examine any rival offer, he told the lawmakers that he wants a swift solution.

"Today, it's not easy to get orders," the executive said. "This current period full of uncertainties mustn't last for a long time."

GE is in early-stage talks with state-controlled nuclear group Areva SA (AREVA) and other French companies about asset sales or partnerships as it awaits direction from the French government on whether it must sell assets to get the deal done, people familiar with the matter said last week. GE is exploring concessions, including entering ventures in areas from nuclear power to wind-turbines to rail signaling, they said.

Areva said yesterday it may examine a tieup with Alstom's offshore wind-turbine business once the merger of its own wind operations with that of Spain's Gamesa Corp. Tecnologica SA is completed.
Technical picture
General Electric's share price has done little over the last few weeks, which should not come as a surprise given that an acquiring firm's share prices tend to move down after deal announcements. A General Electric/Alstom deal, however, should benefit shareholders over time as Alstom's emerging market strength works to the benefit of GE.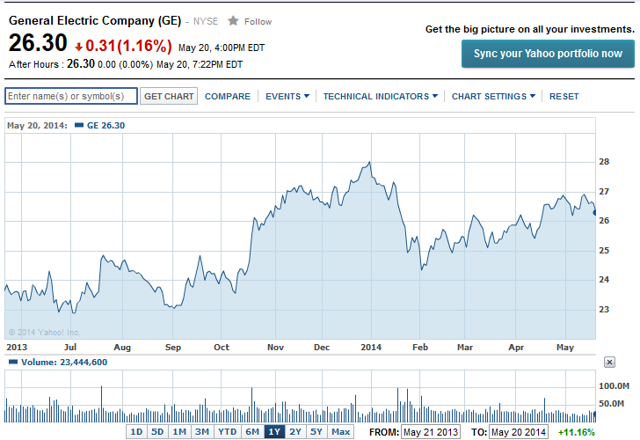 (Source: Yahoo Finance)
Conclusion
It is my understanding that Siemens is currently in the process of conducting its financial due diligence and testing Alstom's books in order to decide whether a counteroffer is feasible. And apparently, according to Reuters, Siemens might call for an asset-swap deal for Alstom's energy division. While I think Siemens has a lot of things on its plate right now and probably should focus first and foremost on its own reorganization, it looks increasingly likely that a competing bid will be submitted.
Alstom, on the other hand, is pushing hard against lawmakers, suggesting the approval of the General Electric deal and ramping up of pressure. Who will win? While the government may be activist and socialist, Alstom ultimately holds the cards in its hands. With billions of dollars in transaction volume on the line and 96,000 employees, the government had better listen to Alstom. In the end, the market makes better decisions than the government.
Disclosure: I have no positions in any stocks mentioned, and no plans to initiate any positions within the next 72 hours. I wrote this article myself, and it expresses my own opinions. I am not receiving compensation for it (other than from Seeking Alpha). I have no business relationship with any company whose stock is mentioned in this article.
Editor's Note: This article discusses one or more securities that do not trade on a major U.S. exchange. Please be aware of the risks associated with these stocks.