The iPhone 6 has been rumored to come with a larger screen putting Apple (NASDAQ:AAPL) squarely into the market trend to smartphones with larger screen sizes. On May 12, 2014, PC Magazine questioned whether Apple really needed an iPhablet and whether one would make it into the market this year.
The question is an important one for Apple investors.
Beginning in 2012 Apple began to notice the growing demand for larger screen sized smartphone in Asia and the rapid growth of lower priced smartphones with quite good features. In that year, Apple surmised that of 228 million new smartphones users added globally in 2012, 91 million purchased a device costing less than $300 with a screen size greater than 4"; another 159 million bought a smartphone priced below $300; and, the rest of the market declined by 22 million units.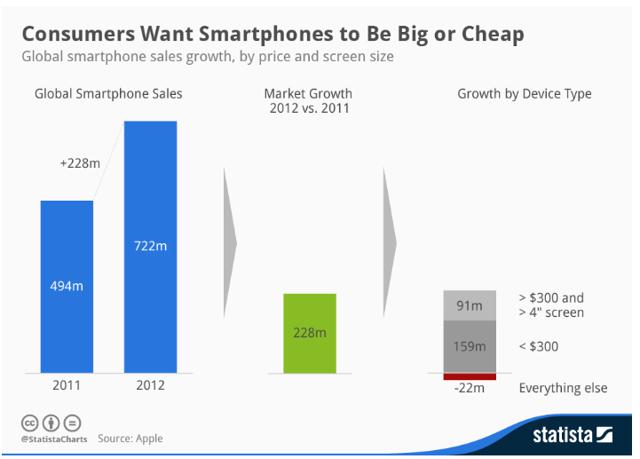 The trend to larger screen sizes for smartphones really began in Asia where ABI Research projected that Asian consumers would purchase over 200 million of the larger screened devices annually by 2017 while North American and European consumers would purchase less than half that number.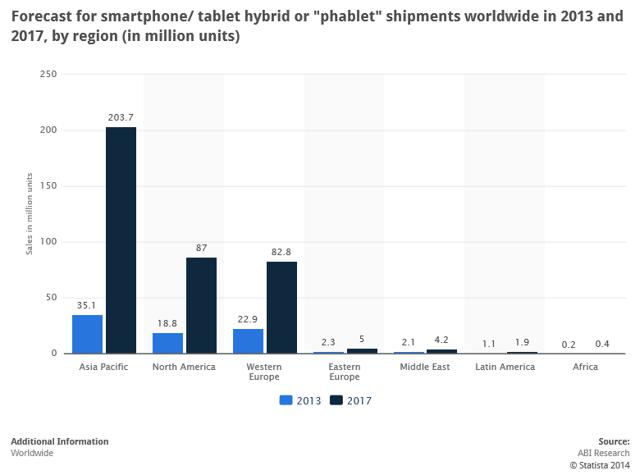 Even in North America there was a shift in demand to larger screened smartphones, but consumers had few options other than an Android device and those buying Android smartphones shifted heavily into those with larger screens.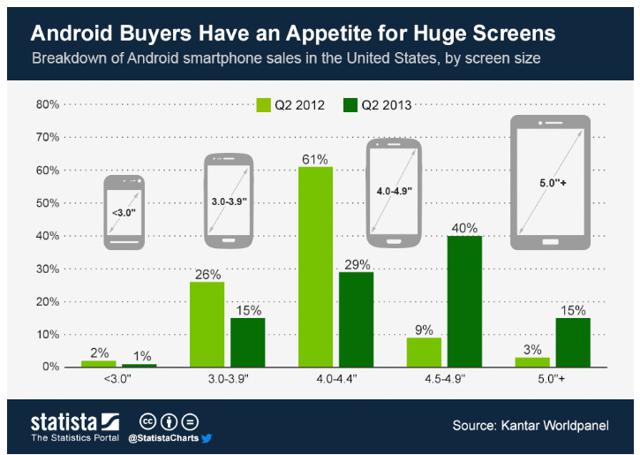 In a somewhat parallel fashion, demand for smaller screen sized tablets grew much more rapidly than for the larger screened variety.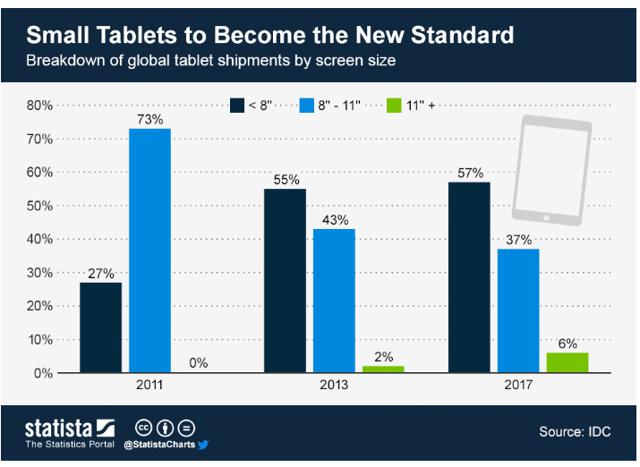 Apple responded to the burgeoning demand for smaller tablets with the very popular iPad mini but to date has not offered a larger screened smartphone.
The effect on Apple has been twofold. First, Apple continued to see its share of the smartphone market erode as consumers increasingly turned to Android devices, many simply to take advantage of the larger screen. Second, in the March quarter Apple's sales of iPads actually declined year over year although a portion of the decline arose from inventory shifts.
I see evidence that tablets and "phablets" are converging. As the demand for phablets grew, the markets for tablets leveled off.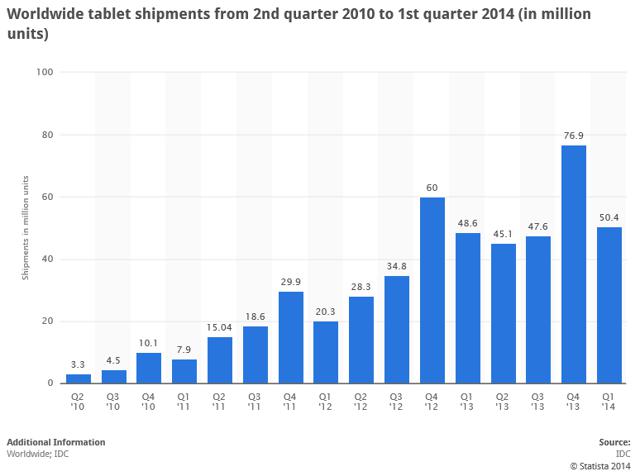 The iPhone 6 is an important step for Apple to stem the erosion of its worldwide share, and early indications are that demand for a larger screened iPhone could be very high but some observers think the iPhone 6 as likely to have a devastating effect on iPad sales. Influential Morgan Stanley analyst Katy Huberty chopped her 2014 forecast for tablet market growth from 26% to 12%. Huberty has been quite reliable in forecasting key items such as iPhone sales and her forecast should be not ignored.
One piece of analysis that investors need to consider is what the effect of a blow-out success of the iPhone 6 coupled with a decline in iPad sales will mean to Apple.
Assuming Apple is able to realize an average selling price of $749 for the iPhone 6 and an estimated bill of material for the device of approximately $300, each iPhone 6 sold will generate a contributed value to Apple of $449. Of course the bill of materials is not the only cost Apple must pay, but if one assumes the royalties paid to ARM Holdings (NASDAQ:ARMH) and Qualcomm (NASDAQ:QCOM) and other direct costs are similar across these devices those costs can be ignored for the purposes of this rough analysis.
Data from IHSuppli and other sources on the approximate bill of materials of the iPad Air; iPad mini; and iPhone 5S are included in the table below together with my "wild ass guess" that the iPhone 6 will have a bill of materials of around $300. The added cost arises from the larger screen; expected use of sapphire rather than gorilla glass; more costly processor (A8 versus A7); and, generally higher end components.

Many iPhone 6 devices will be sold to users simply as an upgrade to their older model and many will be sold to entirely new users. Your guess is as good as mine as to how many will be sold but I have no doubt it will be a popular product.
Excluding those sales, whatever their volume, the "cannibalization effect" can be dimensioned.
For those who buy an iPhone 6 in preference to an iPhone 5S and an iPad Air, Apple will receive $749 in revenue and $449 contributed value instead of $1,098 in revenue and $625 in contributed value.
For those who buy an iPhone 6 in preference to an iPhone 5S and an iPad Mini, Apple will receive $749 in revenue and $449 in contributed value instead of $1,048 in revenue and $601 in contributed value.
Apple is rumored to be building 90 million iPhone 6 units this year. Assume that all are sold but that one third of the sales replace what would have been sales of an iPhone 5S and an iPad Mini.
In that case, the result would be lower sales and lower contributed value for the iPhone 6 as set out below:

Similarly, lower sales and profits result from cannibalization of the iPad Air by the iPhone 6.

The differences are not monumental, and will be more than offset by additional sales and margins if the demand for the iPhone 6 is greater than demand for a conventionally sized iPhone that did not risk any cannibalization of the iPad line.
As a result I am mildly bullish about the prospects for the iPhone 6 which I expect to set new sales records for iPhones even if those sales come at the expense of some iPad volume.
Other changes may also have an impact on the success of the new iPhone. Carriers are quietly abandoning the subsidy model in favor of financing the consumers to buy a new phone on an installment plan.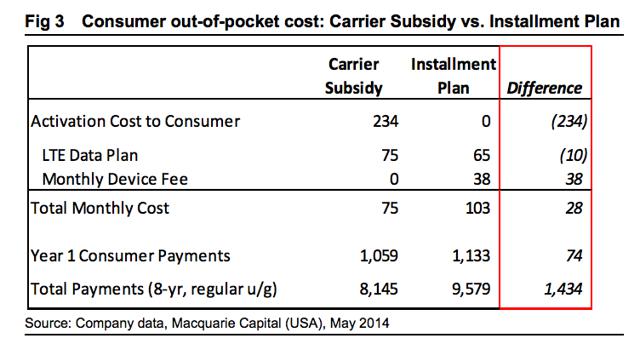 The activation fee will disappear but the monthly "device fee" will be added. That "device fee" is the monthly payment to pay for the new smartphone by installments and the amount will depend on the phone's price. In total, over an 8-year period, a typical user would pay about $1,434 more than a current subsidized plan.
For most people, that extra $15 a month is no big deal but for others it matters. Smartphone suppliers will create "trade in" plans to encourage consumers to upgrade their smartphones more frequently, but the sale of the used smartphones into the market will necessarily shrink the market for new smartphones by extending the lives of those traded in.
In the meantime, until the iPhone 6 is released, Apple is likely to lose some sales to competition. ChangeWave Research estimates that half of future smartphone buyers through June 2014 plan to buy a device with a 5" or larger screen, and Apple has no product in that category today. Moreover, many customers who prefer to buy an iPhone will simply wait for the iPhone 6 reducing demand until the new product is available.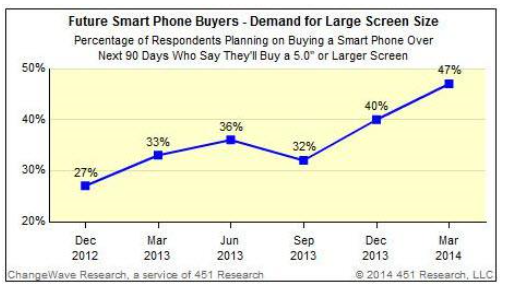 With rumors that Apple is planning to release two devices with differing screen sizes, it is likely that some consumers will wait until they can compare those options before buying. All of these factors suggest the June quarter may be light in sales and to some extent the impact of the iPhone 6 in the September quarter could be muted.
For Apple, the iPhone 6 is likely to encounter high demand regardless of the carrier pricing or the higher price of the device, at least in North America where consumers are less price sensitive and where Apple has an enormous franchise. Abroad, that might be another story, but on balance I believe Apple will turn in a reasonably strong Q4 if it announces the iPhone 6 in August as expected, and can look forward to a good Christmas selling season as it enters its next fiscal year.
Having said that, I remain short the stock. The good news about the stock buyback, dividend hike and stock split is in the market now. Expectations for the iPhone 6 are at euphoric levels and even a massive sales success may disappoint some investors. And, in my opinion the market as a whole is overvalued and ripe for a sell off.
Highly liquid large capitalization companies like Apple are usually among the first casualties of a market sell off as investors seek to raise cash simply because they are very liquid and for most investors do no necessitate booking a loss to increase cash holdings.
I had hedged my short but recently covered all hedges when it seemed likely the bullish run in the stock was running out of steam and at this point I am simply short the stock.
Good luck on your investments.
Disclosure: I am short AAPL. I wrote this article myself, and it expresses my own opinions. I am not receiving compensation for it (other than from Seeking Alpha). I have no business relationship with any company whose stock is mentioned in this article.