With emerging markets exchange traded funds on the mend, investors should also be cognizant of growing developing world dividends.
There is also a growing number of exchange traded funds with which to play the trend of rising emerging markets payouts. One of the new entrants to the fray is the Market Vectors MSCI Emerging Markets Quality Dividend ETF (NYSEARCA:QDEM), which debuted in January.
Factor and quality ETFs fall under the purview of the smart beta theme. In 2013, smart beta ETFs attracted $65.1 billion in new assets, nearly double the $34.2 billion hauled in by the group in 2012. QDEM tracks the MSCI Emerging Markets High Dividend Yield Index, which is home to companies that have above average yields and sustainable payouts.
Among emerging markets dividend ETFs, QDEM's country lineup is sensible if not predictable. China accounts for 31.3% of the new ETF's weight, more than double the 13.7% allocation assigned to South Africa.
That may seem like an excessive weight to China, but the country is the largest emerging markets dividend payer in dollar terms. More importantly, the largest Chinese companies, including controversial banks, are boosting payouts. Financial services is QDEM's largest sector weight at 30.4% and three Chinese banks are found among the ETF's top-10 holdings.
After South Africa, Russia is QDEM's third-largest country allocation. Russian stocks have endured plenty of criticism this year and deservedly so. However, the market is deeply discounted and one of the fastest-growing dividend destinations in the developed world.
Gazprom (OTCPK:OGZPY) and Lukoil (OTCPK:LUKOY), two of QDEM's top-10 holdings, are expected to pay at least 15% of this year's profits in dividends. Those stocks trade at an average discount of 49% to their 10-year average P/E ratios.
At 9%, Brazil is QDEM's fourth-largest country allocation. Latin America's largest economy is expected to be, on a percentage basis, the largest grower of emerging markets dividends this year.
While much has been made of the quality factor and its impact on ETF and index construction, "quality" among emerging markets dividends payers often means an encounter with large, state-run companies. Until recently, that group has not been delivering a lot in the way of quality returns.
However, as Market Vectors notes, the quality dividend factor as measured by MSCI has historically provided solid long-term returns. MSCI's high dividend yield index features companies with a higher return on equity and lower long-term debt-to-capital ratio than the traditional cap-weighted benchmark, according to Market Vectors data.
Market Vectors MSCI Emerging Markets Quality Dividend ETF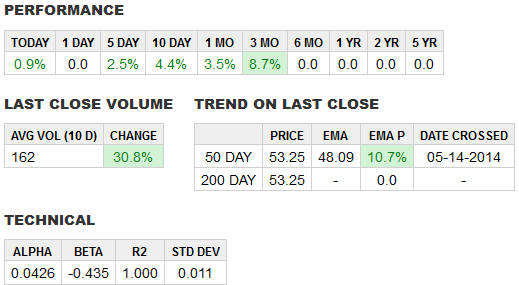 Disclosure: I have no positions in any stocks mentioned, and no plans to initiate any positions within the next 72 hours. I wrote this article myself, and it expresses my own opinions. I am not receiving compensation for it. I have no business relationship with any company whose stock is mentioned in this article.