Green energy gets all the publicity these days. Even China, which has a reputation as the world's biggest greenhouse gas emitter, is cracking down hard on energy usage.
Premier Wen Jiabao vows to use an "iron hand" to improve China's energy efficiency. Beijing has just ordered more than 2,000 steel mills, cement plants and other energy-guzzling industries to shut down by September 30th. And Premier Wen means business this time.
The government has been trying for five years to enforce a plan to use 20 percent less energy per unit of economic output. But balky regional governments have frustrated Beijing by blocking every effort to close aging factories. Now, 2,000 factories will be barred from obtaining bank loans, business licenses, and even land.
Only China could take such drastic steps to cut energy demand. Beijing has also offered subsidies to consumers who buy small, fuel-efficient cars. Not surprisingly, the China Petroleum Association says crude oil demand growth will slow in the third quarter.
China's total energy consumption jumped by 11.2 percent during the first half of 2010. But oil demand in China rose much more quickly. Oil consumption was up by 15 percent during the second quarter. That's after jumping by a breathtaking 22 percent during the first quarter of the year.
Oil Is Key Target
With auto sales soaring in China, rising oil consumption is a long-term trend that won't quit. Even during the third-quarter slowdown, oil demand will rise by 5.8 percent.
China's oil consumption ramped up relentlessly through the first ten years of this century. Recently, the China's thirst for oil has quickened even more.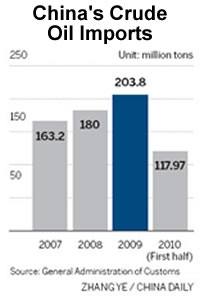 World oil markets are soft due to the economic slowdown in the U.S. and Europe. But China appears to be the market which will never stop growing.
China used to tap most of its oil from the old Daqing field in the country's north. But those days are long gone. China must now import 55 percent of its oil from abroad. The Chinese are second only to the U.S. in oil consumption. And, China is more reliant on the Middle-Eastern oil than the U.S.
Beijing has taken dramatic steps to increase and diversify its oil supply. National oil companies have bought fields and signed contracts in some of the most inhospitable countries in the world including Sudan and Iraq. Hard-to-get oil supplies from Canada's tar sands are high on China's shopping list.
CNOOC (NYSE:CEO), China's biggest offshore oil producer, is scrambling to find new wells to drill in Bohai Bay and the South China Sea. The company aims to boost output by 290 million barrels this year. The firm's profits doubled during the first half.
Vladimir Putin has just opened a new oil pipeline to deliver as much as 30 million tons of Siberian oil to China. Argentina's Bridas Corp. [of which CNOOC is part owner] has just signed a multi-billion dollar contract to send oil halfway around the world.
Demand Won't Quit
The International Energy Agency predicts China will remain the world's engine of oil demand in 2010. China will account for more than 40% of the estimated growth in global oil demand during this year.
The IEA says Chinese consumption will rise by 761,000 barrels a day this year to 9.13 million barrels a day. Next year China will use more than 9.3 million barrels per day – up 4.5 percent from this year.
China's booming auto market remains crucial to oil demand. During the first seven months of this year auto sales rose more than 43 percent.
Adding to the demand is the construction of China's national oil reserve. Construction of the first phase of the oil reserve is complete and the tanks are being filled as quickly as possible.
But China still lags behind the U.S. and Japan in the amount of oil held in strategic reserves. The IEA requires member countries to hold a ninety day supply of oil in reserve. China has only thirty days' worth. A second phase of the strategic oil reserve is under construction and will soon add to China's need for more oil.
Although China's relentless demand hasn't prevented an easing of world oil prices, the future may be different. As western economies recover and global oil demand increases, oil consumers will face ever-increasing competition from China.
Commodity investors take note. A period of tight supply may be closer than anyone imagines.
Disclosure:
No positions