Linn Energy (LINE) finally did it. The company has agreed to trade a large chunk of its Permian acreage to Exxon Mobil (NYSE:XOM) subsidiary XTO Energy Inc for mostly natural gas assets in the Hugoton Basin located mostly in Kansas. This transaction is a major deal for Linn Energy as it frees up capital for the distribution and as a result will improve its coverage ratio going forward. The closing is expected for sometime in Q3 2014.
The trade details:
Below is a direct quote from the press release announcing the transaction:
LINN will receive a portion of ExxonMobil's interest in its Hugoton Field, which is currently producing approximately 85 MMcfe/d (80% natural gas and 20% NGL) with a shallow base decline of approximately 6%. Total reserves are estimated to be approximately 700 Bcfe (80% natural gas and 78% PDP). The field is comprised of more than 500,000 net acres and has approximately 2,300 operated wells. LINN has identified more than 400 future drilling locations, doubling the company's inventory in the Hugoton Field.

In exchange, ExxonMobil will receive approximately 25,000 net acres in the Midland Basin, which are located primarily in Midland, Martin, Upton and Glasscock Counties. ExxonMobil will obtain approximately 2.0 MBoe/d of current production, and LINN will retain approximately 3.0 MBoe/d of production from the aforementioned acreage. Additionally, ExxonMobil will receive approximately 1,000 acres in Lea County, New Mexico.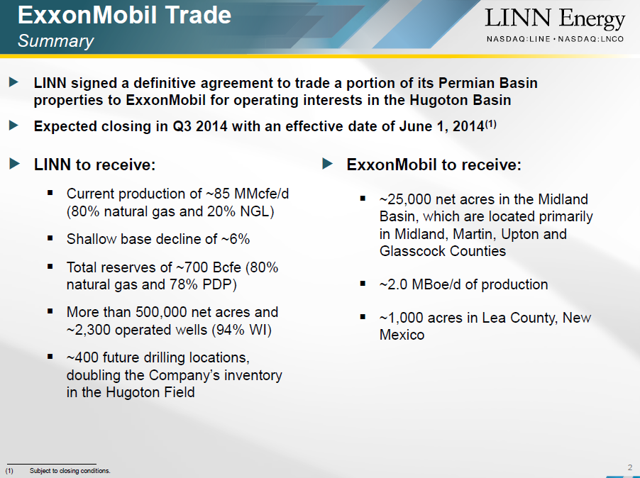 Source: Linn Energy
What is Linn Energy getting?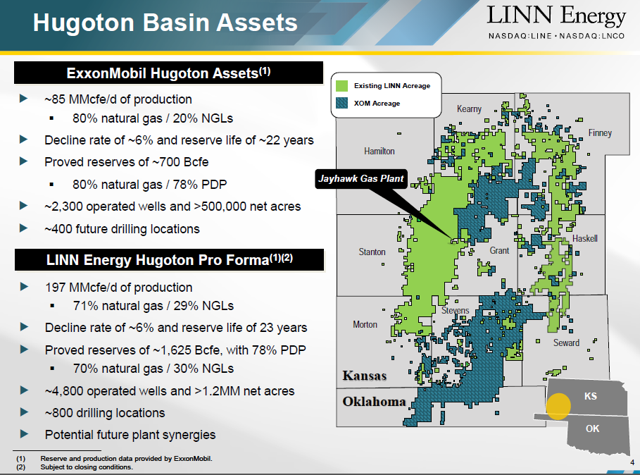 Source: Linn Energy
In exchange for a portion of its Permian Wolfcamp holdings, Linn Energy will be receiving 85,000 MCFE/D (around 14,000 BOE/D) of current production in the Hugoton Field in Kansas and Oklahoma. Total reserves are 700 BCFE of which 80% is natural gas. This production consists of 2,300 operated wells spread across 500K net acres of which the company will have a working interest of 94%.
As a result, Linn Energy will be doubling its drilling inventory to 800 locations and become the largest producer in the Hugoton Basin. The company also anticipates to have future synergies with its Jayhawk gas plant, a nameplate 450 MMCFE/D natural gas processing plant located in the region.
These assets are a great fit for Linn Energy as they have a very low decline rate (6%), offer a steady cash flow stream, have very little capital intensity due to being mostly devolved, and provide an immediate boost to production. In essence, these are the typical assets upstream MLPs look for.
However, the major benefit Linn Energy will see is via its DCF. As a direct result of the transaction, Linn Energy is anticipating to see an accretion to "excess of net cash available for distribution" of between $30 million to $40 million per year. In addition, this transaction should solve analysts worries regarding Linn Energy's distribution and boost the coverage ratio to above 1.00x.
What is Exxon Mobil getting?
Exxon will be receiving 25,000 net acres and 2,000 BOE/D of production in the Permian Midland Basin from Linn Energy. In addition, Exxon will receive 1,000 net acres in Lea County, New Mexico.
According to initial reports, these acres are among the highest quality of Linn Energy's portfolio and offer the most potential for horizontal drilling. I expect Exxon to have no problems deploying the necessary capital to develop these assets.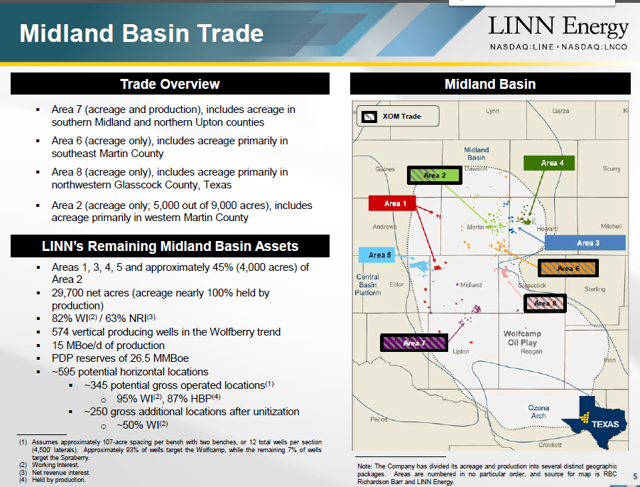 Source: Linn Energy
Who got the better deal? It is hard to say.
I am sure the Linn Energy bears will say that the company is getting fleeced in the transaction. However, I actually think both sides have their reasons to do the trade.
For Linn Energy, the trade is very tax efficient as an outright sale would have been a taxable event. Linn Energy solves its short-term cash flow problems at the cost of future production growth. However, one has remember that the company is gaining a net 12,000 BOE/D of production of which about at least 9,600 BOE/D is natural gas and 2,400 BOE/D are liquids.
In addition, Linn Energy only traded a portion of its Permian assets and still holds a net 30,000 acre position and 15,000 BOE/D of production. I expect that given that this transaction was so accretive ($30MM to $40MM per year), the company will be in no hurry to sell or trade the rump acreage.
For Exxon, it is able to acquire some high-quality Permian acres in exchange for older, mature, natural gas production. As Exxon is not a MLP, these sort of assets tend to languish in its portfolio. The company will likely see a minor short-term negative EPS impact, but should make it up within a few quarters.
As for the market, I think they approve of the trade. Linn Energy and LinnCo (LNCO) are currently surging in the after-hours trading, up over 6% to over $30 per unit and $29 per share on fairly heavy volume. Meanwhile, Exxon is mostly trading flat. I suspect more than a few of these buyers are short-sellers covering their positions.
Conclusion
Linn Energy has made an incredibly smart decision in trading a portion of the Permian assets to Exxon. In doing so it will likely see a major boost to DCF and ease investor concerns regarding the sustainability of the distribution.
Disclaimer: The opinions in this article are for informational purposes only and should not be construed as a recommendation to buy or sell the stocks mentioned. Please do your own due diligence before making any investment decision.
Disclosure: I have no positions in any stocks mentioned, and no plans to initiate any positions within the next 72 hours. I wrote this article myself, and it expresses my own opinions. I am not receiving compensation for it (other than from Seeking Alpha). I have no business relationship with any company whose stock is mentioned in this article.