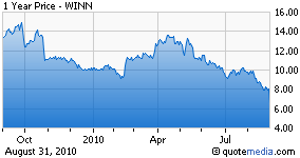 Winn-Dixie Stores Inc. (NASDAQ:WINN) reported fiscal 2010 fourth-quarter results after the closing bell on Monday. Net income jumped 48.8% to $14.0 million or 25 cents per share from $9.4 million or 17 cents per share in the year-ago period. Quarterly earnings also surpassed the Zacks Consensus Estimate of 13 cents. The growth in earnings was mainly attributable to an extra week of sales and absence of a significant income tax expense recorded in the year-ago period. (See conference call transcript here.)
Quarterly Details
Winn-Dixie's sales grew 1.8% year-over-year to $1.75 billion, missing the Zacks Consensus Estimate of $1.79 billion. The year-over-year growth was primarily the result of an additional week in fiscal 2010. Same-store sales declined 5.2% year-over-year mainly due to increased competition, conservative approach towards promotions and higher sales of generic drugs, compared to branded ones.
Gross profit rose 1.6% year-over-year to $508.4 million, while gross margin dipped 10 basis points (bps) to 29.1%. The decline in margins was primarily caused by cost inflation in certain categories, which Winn-Dixie was unable to pass on entirely due to a competitive pricing environment.
Winn-Dixie's other operating and administrative expenses increased 3.2% to $493.0 million mainly due to higher payroll and occupancy costs related to the extra week. Consequently, operating income slipped 24.7% year-over-year to $14.2 million from $18.9 million in the year-ago period, while operating margin dipped 30 bps to 0.8%.
Balance Sheet and Cash Flow
Winn-Dixie ended the quarter with cash and cash equivalents of $152.3 million, compared to $182.8 million in the year-ago quarter. During fiscal 2010, the company generated $172.0 million of cash from operating activities and deployed $189.1 million towards capital expenditure. For fiscal 2011, the company plans to utilize $158 million towards capital expenditure, $80 million of which will be spent on the store-remodeling program.
Outlook and Zacks Consensus
Moving forward, Winn-Dixie expects earnings before interest, taxes, depreciation and amortization (EBITDA) to be in a range of $100 million to $130 million in fiscal 2011. The Zacks Consensus Estimate on the company's earnings for the fiscal presently stands at 31 cents per share, which has remained constant over the past 3 months.
Winn-Dixie, a Zacks #3 Rank (Hold) company, is one of the leading food retailers in the US and currently operates 514 grocery locations, which includes more than 400 in-store pharmacies across Florida, Alabama, Louisiana, Georgia and Mississippi.
Disclosure: No position